Cypherglass & Morpheus Labs announce an Educational Partnership!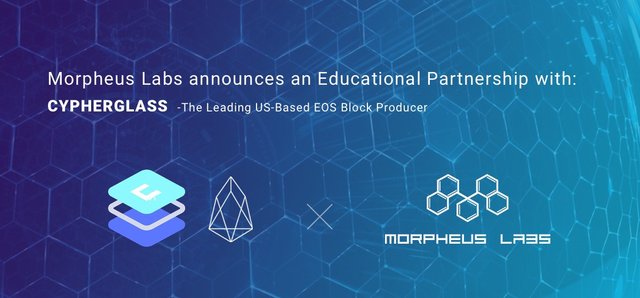 Morpheus Labs Blockchain-Platform-as-a-Service (BPaaS) are one of the top emerging technology solutions providers that can support greater industry growth and efficiency.
Blockchain technology can reshape whole industries, such as; Healthcare, Supply Chain, Fintech and Technologies industries, Governments, Payment industries - the options are endless. While the technology is still in its infancy, a growing number of industries are discovering the potential of distributed ledger technology.
Morpheus Labs' vision is for this emerging technology to reach mass adoption, and believe that education is paramount to achieve exactly this. By facilitating blockchain development and deployment, Morpheus Labs is speeding up the technology's advancement and mass adoption.
Morpheus Labs has a direct interest in aiding talented developers, smart contract writers, and blockchain specialists. Fortunately, more blockchains, companies, and universities are joining hands to facilitate educational opportunities across the globe to ensure blockchain will grow to its full potential.
Morpheus Labs is proud to announce a collaboration with Cypherglass, one of EOS's biggest block producers to ensure education remains a hot topic within the industry.
Cypherglass consists of industry experts in the fields of infrastructure, cryptocurrency, and finance to bring you the most credible, transparent Block Producer for the EOS network. Check out Cypherglass at www.cypherglass.com
---
"Our main goal at Cypherglass is to on-board developers and users into the EOS ecosystem through education. This partnership with Morpheus Labs is the next logical step in this journey, and will result in more developer and user adoption of EOS. We are incredibly excited for the months ahead. Go EOS!" said Rob Finch, Cypherglass CEO.
---
"Morpheus Labs BPaaS aims to be the leading go-to platform to help the developers and enterprises with their development of the blockchain tech. We had partnered with Dreamplus Blockchain Academy earlier to reinforce our goals to increase awareness and stickiness of user adoption. With Cypherglass now onboard, it would be a strong boost to the user confidence and together, we will aim to push the boundaries of blockchain." commented by Dorel D Burcea, Morpheus Labs CIO.
---
Morpheus Labs and Cypherglass will be working together to ensure every student and developer has a chance to educate themselves to truly reap the benefits of EOSio software and blockchain technology, gearing up for the future mass adoption years ahead.
---
Learn more about Morpheus Labs here:
---
Learn more about Cypherglass on our Steemit channel here… https://steemit.com/@cypherglass
Join us in discussions on our Telegram channel here… https://t.me/cypherglass
Twitter… @CypherglassBP
Or check out our website at… http://www.cypherglass.com