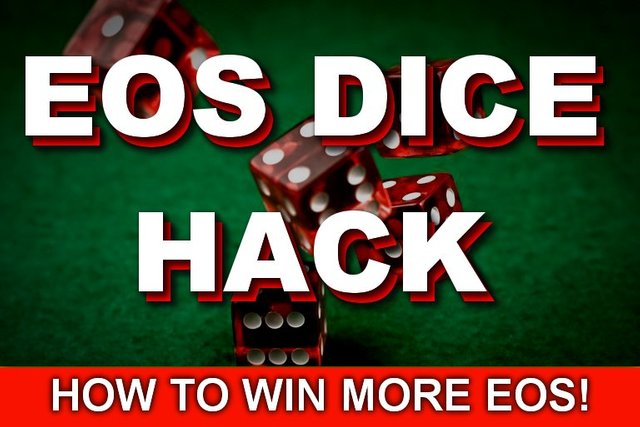 EOS is an amazing blockchain because, unlike Ethereum, there are no transaction fees (or "gas" fees) that need to be paid. Because of this, transactions are FREE and very, very fast. These advantages have caused several dice games to migrate from Ethereum to EOS, and the result is fantastic! Free to play (no transaction fees, but you do have to bet real EOS) and no delays!
In this article, I'm going to explain:
How to get started playing Dice on EOS;
A PROVEN strategy to win more EOS when playing dice;
How to win actual EOS instead of a blockchain casino's native token; and
How to get BIGGER payouts!
HOW TO GET STARTED
Buy some EOS on an exchange. I'd recommend you start with 100 or more.

Create an EOS wallet.
If you're an Android user, you can download the Lynx wallet for free. Creating a wallet is $0.99 paid one time. Note: You get to name your wallet which must be 12 alphanumeric characters long. Your wallet name will be public, so if you want to maintain your privacy you might not want to use your actual name in your wallet name.

Transfer EOS from your exchange to your wallet.
Note: Unlike other blockchains, you'll send your EOS to your wallet name, not your public key. If it asks you to put something in the memo field, you can put "Hi," or the name of the exchange, or if you have the option, you can check the box to not have a memo.

Stake some EOS
Once you have EOS in your wallet, I recommend you stake 9 EOS for CPU and buy 1 EOS worth of RAM. The easiest way to do this is to use the Greymass "EOS-voter" Dapp. You can get the latest release from:
https://github.com/greymass/eos-voter/releases

Get Scatter
Scatter is very similar to Metamask, as it lets your wallet interact with the EOS blockchain. You can download a desktop version or a chrome extension from https://get-scatter.com/
A PROVEN STRATEGY TO WIN MORE WHEN PLAYING DICE
Many of the dice games have rolls from 1 to 100. A slider allows you increase or decrease your odds. For example, the default on most games is 50, which gives you a 49% chance of winning (because it must roll UNDER 50 for you to win) ... which is about the odds of winning a coin toss. You could move the slider up to about 96 (most won't allow you to slide any higher) and if it rolls a 95 or lower, you win ... but the payout would be significantly smaller.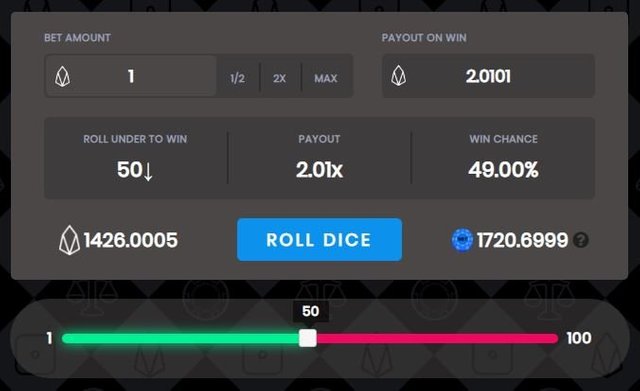 A popular strategy which has been proven to increase wins is to leave the slider at 50 and to double every bet until you win. To use this strategy, you want to bet the smallest amount possible, because you will be doubling it as each roll progresses.
For example:
Bet Roll Outcome Win Approx odds of losing
1 50 Lose -1 1/2
2 52 Lose -2 1/2
4 61 Lose -4 1/8
8 87 Lose -8 1/16
16 98 Lose -16 1/32
32 11 WIN +32 1/64
Betting starting with just 1 might seem like a slow way to accumulate EOS, but this strategy is more about minimizing losses than winning big payouts. I know of someone who used this strategy to win over 1,000 EOS in a day progressively doubling each bet but starting with just 1 EOS. It's a proven strategy, but how long you'll win is related to how deep you can go. If you had 65,000 EOS, for example, you could use this strategy and would need to have 16 losses in a row in order to lose. The odds of that happening is approximately 1/64,000! It could still happen ... but it's pretty unlikely.
HOW TO GET BIGGER PAYOUTS
I recommend playing dice on dice.eosbet.io, but instead of going directly to their site, use ...
https://dice.eosbet.io/?ref=eosbonuslink
By using the above link, you'll receive an extra .5% payout from EOSbet which can really can add up over time!
If you liked this article, please up vote and share it on social media. I hope you found it of value. :)