Good Bye EOS Governance? The constitution just has been dropped!
Just watching the EOS GO launch party, when through the ongoing BP and Dapp introductions when this bomb was droppen:
The carefully drafted and discussed constitution was dropped in a matter of minutes, when a few loudmouths successfully managed to discredit important additions recently made:

Main controversy was an addition, that over 1% owners of bp would have to been disclosed. A very important aspect, that would have helped to prevent sybillian attacks on the Bp side.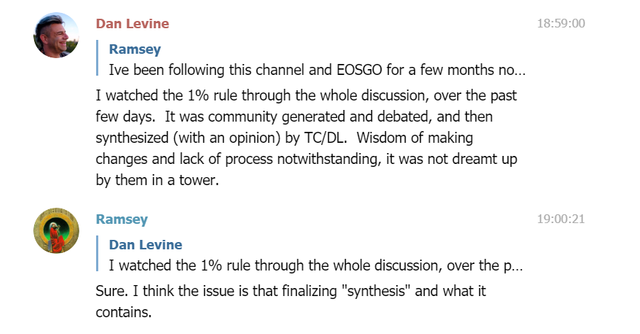 But now we have nothing, no arbitration, not block producer agreement, nothing. There you have the efficiency of lobbying.
The EOS Constitution has been carefully drafted and taken many legal aspects into account. If you have liked it or not, it would have set up a regulatory system of how the blockchain works. That is now gone, and it will certainly very hard to get anything near this.
It is a major blow to eos, and devaluates the whole project. Block.one has pushing the community base of anything that the EOS launch should be very far, bit i feel with this, it has gone beyond, what can be handled by an emerging community. It has reset EOS from a outstanding project, to yet another coin....
I can only hope that some basic reason reemerges.....