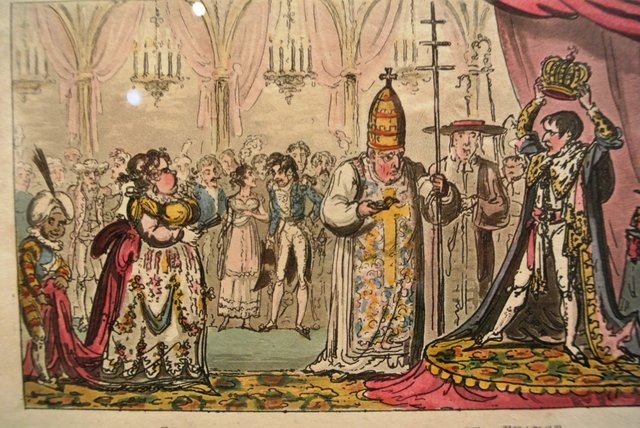 Napoleon crwoning himself
In a nutshell, those two proposals come down to this
The User Agreement is a very light weight agreement, that focuses on enforcability and hands decision making to the BP majority of 15/21. It offers no base layer recourse for token holders and rather aims to protect the bp majority from legal actions. The only mechanism for holders is to vote in and out bps.

The so called Community Constitution (presumably originated by the EOS Alliance) calls for governance beyond mere blockchain operationals, with additional authority being derived from the referendum system (which is basically voided in the EOS NY proposal) and a system of arbitration, that aims to establish proper regulatory system.
You can clearly see a distinction between an libertarian american and a etatistic european approach here.
I personally tend to be in favour the approach of the community constitution, in particular for its goal to establish a legal governance structure inside EOS, which would basically be untouchable by most national jurisdictions. It would establish a legal framework proper to the blockchain, which would really a big boost in regulatory security:
https://eosauthority.com/polls_details?proposal=ecc_20190226&lnc=en
On the other side, it is obvious, that the community constitution, as it doesn't describe any means of execution, it would remain just as unenforcable as the current interim one and many bps would just ignore it and nothing could be done.
And if you look at the voting behaviour, the proposal doesn't even get votes from their own community.
Now on Thursday, March 14, EOS New York now but out this tweet:
https://twitter.com/eosnewyork/status/1106280180425863168
The have set up a upgrade proposal for the bp majority to replace the interim constitution:
https://eosauthority.com/approval/view?scope=eosnewyorkio&name=eosuseragree&lnc=en
Of course this is clearly in breach of the interim constitution, which does ask for any proposal to pass a referendum with a treshold of 15% of tokens. Yet as it looks now, with the current criteria, no referendum proposal will ever get passed within any acceptable timeframe. The best faring proposal so far, which is Rex4all has only received some 2.4% of votes within some 50 days.
Now the BP update proposal has within 2 days already gained the votes of 8 bps, and not only from those with a loud voice on governance. So it does seem very likely that his is going to be passed, and that we will have a new constitution within just a few days.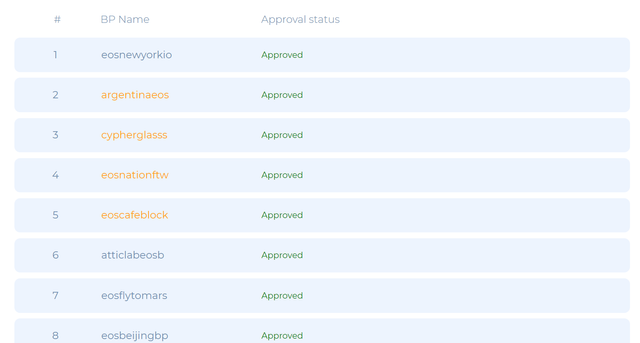 Has there been an outcry, a big call for rally behind bps that support the proposal or not? Or has there been any impact on the bps that voted or not in those 2 days? Just look for yourself: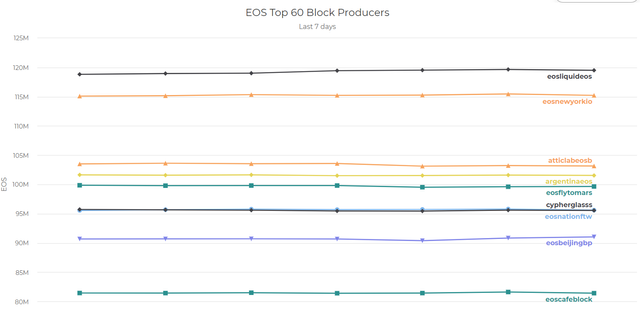 Maybe holders just aren't aware, as the proposal is only 2 days old, is about to pass. This is the perfect example of one of my biggest criticisms about the new constitution as bps can, and will make changes more or less overnight, and the holders might not even be able to react properly before after the fact, and things are literarily too late.
Having said this BP voting will become all the more important, as BPs will soon have (given themselves) the mandate to change the EOS network in its entirety at will, and in particular without any notice given. It will be important, to have reliable and trustworthy bps in place, that assure, that there is a fair and diligent process in policy making.
I am also really curious if, once this becomes more widely known, this will boost bp voting of token holders, or not.
What do you think about recent developments? Will it incentivise you to vote? Does it incentivise you to change your bp votes?