The comparison of transaction between EOS and Bitcoin - Ethereum
In this post, I just compare the detailed transaction between EOS and Bitcoin-Ethereum.
Here is the summary:
1 . Share supply
EOS has no hard cap, the current cap is 1 billion EOSs. There will be an annual increase in token supply does not exceed 5%.
Bitcoin is limited to 21 million bitcoins, of which 17 million have been created so far.
Ethereum also has no hard cap currently, there are currently 99.7 million ethers on the market. But there are plans to reduce or stop issuance in the future.
2 . Consensus mechanism
EOS uses Delegated Proof of Stake. Typical DPoS have 100% block producer participation. The DPoS has more decentralized, and more efficiency, Just need basic hardware for maintaining.
Bitcoin and Ethereum use Proof of Stake. Basically, PoW need expensive hardware as well as Power for mining.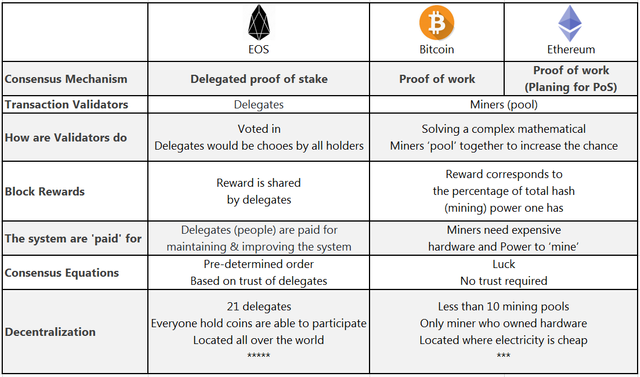 To understand more about consensus mechanism, please read this page
https://steemit.com/bitcoin/@mooncryption/guide-proof-of-work-pow-vs-proof-of-stake-pos-vs-delegated-proof-of-stake-dpos
3 . Transaction
EOS:
A transaction can be considered confirmed with 99.9% certainty after an average of 0.25 seconds from time of broadcast. In addition to DPOS, EOS adds asynchronous Byzantine Fault Tolerance (aBFT) for faster achievement of irreversibility. The aBFT algorithm provides 100% confirmation of irreversibility within 1 second.
Currently, The transaction load up to 10.000 tps in testnet. It will be scale up to million transaction per second when the system run in parallel.
Bitcoin:
Each block in bitcoin is limited to 1MB in size. In practice bitcoin can process 4 transactions per second. With this blocksize limit encourages higher transactions fees to incentivize miners.
Ethereum:
Currently, Ethereum has roughly 15 transactions per second and its block time is 14 to 15 seconds.
4 . Transaction fee
EOS has no fee for any transactions. Instead of getting fee, there will be an inflation of 5% per annum to reward the block producers.
Bitcoin transaction costs are based simply on their size while Ethereum assigns a cost, known as gas, to every operation or use of storage on the Ethereum blockchain.
5 . Conclusion
Advantages:
With DPoS consensus, EOS has more efficiency and removing mining action which need a huge energy to confirm transaction.
EOS is creating a revolution in transaction time, fee that will make DApp become popular in near future.
Disadvantages:
There will be an inflation of 5% per annum. This is too high compare with Ethereum and Bitcoin
EOS now in testnet phase, with great technical its value will be increased time by time.
In the next post, I will go through the detailed feature of these coins.
As of writing, the stats are as follows: $17.54 per EOS, $725.21 per ETH, $9099,81 per BTC
Refer:
https://github.com/EOSIO/Documentation/blob/master/TechnicalWhitePaper.md