History of EOS. Part 1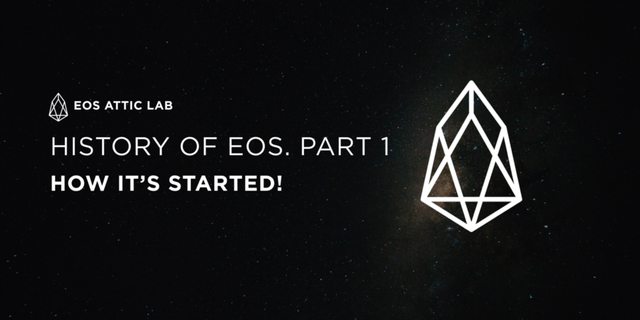 Attic lab gives an additional opportunity to follow the info cycle with focus on the history of EOS and highlight all the stories and concepts surrounding its development. It is intended for all who want to trace the EOS-development in search of insights for further app implementation or join user community.
Let's get it started!
EOS ICO was developed by the private company block.one, registered in the Cayman Islands, and is regulated by the main document, white paper, published in 2017. One billion tokens were released and distributed as the efforts to promote the native cryptocurrency engagement and uptake. Also, a billion USD was announced and invested in funding from the token sale, said Brendan Blumer, the CEO of block.one. Later $ 4 billion was raised by block.one., that's really hard to believe.
The original test net, Dawn 1.0, was released on September, 2017,with test net versions Dawn 2.0 released on December 4th, 2017, Dawn 3.0 on January 25th, 2018 and Dawn 4.0 on May 7th, 2018.
EOSIO's Dawn 1.0 was launched on the EOSIO mainnet on June 1st 2018 and currently operating under version 1.1.4.[19]
Dan Larimer, the co-founder, and the EOS-developers' crew
(Brendan Blumer, CEO: with relevant blockchain background since 2014. 
 Brock Pierce, partner: the Chairman of the Bitcoin Foundation and a Co-Founder of Blockchain Capital. 
 Ian Grigg, partner: 20 years'+ experience in cryptographic ledger platforms developing).
launched the project that aimed smart-&-business oriented platform creation to perform transactions much faster with fewer fees. The concept is based on horizontal and vertical scaling with the high protection of single personal data and low net control by means of decentralization. It enables a person to perform thousands of transaction per a sec and that velocity makes EOS really the second-to-none leader of the pack of all blockchains existed for now that hasn't failed. The EOS speed is declared to be 1000 transactions/a sec while its nearest blockchain, Ethereum, makes 30/a sec. But the major platform feature is EOS-app development participating for free. 21 of Block Producers are to guarantee smart system performance with all the merits stated. If you are a token holder you are much appreciated to vote for thirty candidates to Block Producers and stake weights the votes. You as a token holder can change your votes as many times as you want but remember that your tokens will be frozen for three times after staking (every time while revoting as well). The smooth performance is based on a consensus of BPs, which guarantees all the capacities of EOS-system with EOS-transaction speed claimed.
The market strong need for scalable blockchains model solutions with high speed capacities could be measured by great eos-success with $4 bln raised.
EOS model infrastructure makes EOS token currency quite attractive asset to trade on. Steemit, twitter and telegram, youtube are the bridging channels for market players to communicate along with the offline Meetups to discuss the hottest topics and hacks for altering our reality.
Appreciate your vote, time and efforts. Stay tuned with us.
Follow us!
Website: https://atticlab.net/eos/
Twitter: https://twitter.com/atticlabit
Facebook: https://www.facebook.com/atticlab/
Reddit: https://www.reddit.com/r/atticlabeosb/
Steemit: https://steemit.com/eos/@attic-lab
Medium: https://medium.com/eosatticlab
Golos: https://golos.io/@atticlab
Telegram Chat: https://t.me/atticlabeosb
Telegram channel: https://t.me/eosatticlab