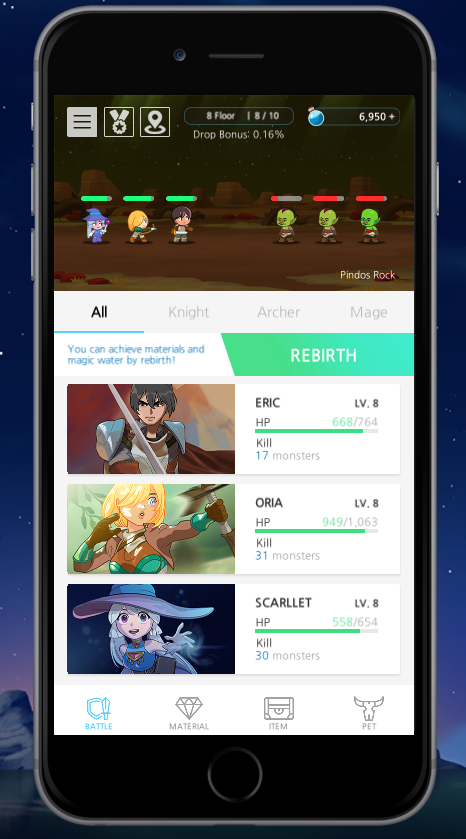 OK, so I have been playing EOS Knights for a little bit now, and I think that it is a terrific concept. It is a game that practically plays itself and all you are required to do is manage the items that you get after each battle. The kicker is that the further you get in the game, the better the items dropped. This means that paying for items can "get you ahead" and therefore, there is a demand for items.
Thus far, I have sold items to the tune of 1.6 EOS. I have likely paid slightly over 3 EOS into the game but I think at this point, I will likely be selling more than buying.
This game is kind of like a mining app for EOS. You let the knights fight, check on them ever 30 minutes or so, and when the battle is done, work with your item drops to power up your team, or sell items on the open market.
Magic water is how the developers make money on this game. It is required to level up characters and weapons. It is also required to get pets that can power up your knights. They sell magic water for EOS so you can do what you need to do. Early adopters of the game got a free 10,000 magic water. I am not sure if that is still up for grabs, but it helped me out a lot.
The pet tickets remind me a lot of steemmonster booster packs. You can get Legendary pets, Unique (aka Epic) pets, rare pets and common pets. You can get 5 good pets for 5000 magic water (0.5 EOS (ish)). They do help level up your characters a lot. I have bought 3 packs of 5 in hpoes of getting a legendary, but they are hard to come by. I do have 2 unique pets however.
Either way, it is a fun way to get involved on the EOS blockchain, which I am quite a big fan of. I am currently staking 15 EOS on CPU and 10 on RAM and am having minimal issues. Granted, I am not playing all day (and maybe you shouldn't be either ;), but it is a small price to pay to get to play around with what is going on on EOS. Also, don't forget that the 25 EOS that I have staked will likely hold their value and / or rise up drastically in value. Maybe I will even make a profit on this game (or maybe I am dreaming).
I have had some issues with transactions just stalling out, but not for the last few days. I think it is a node issue more than anything else, but it looks like they are getting that sorted too.
Comment and let me know your thoughts on the game, I would love to hear your thoughts.