REMINDER: The EOSTalk MeetUp Challenge will continue for the next few weeks. We encourage everyone who is able to host a meetup to do so and earn 100 EOSBits, and for others to help us promote these challenges and meetups by sharing the links, ReSteeming these posts, and taking part in the supporting Tokens for Tweets challenges and earn some Whaleshares.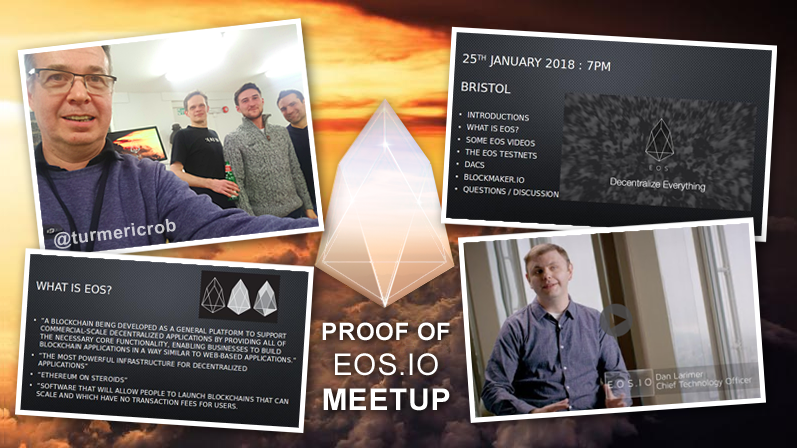 Photos from @turmericrob EOS.IO Meetup in Bristol
We Are Proud to Spotlight @turmericrob
as the first EOSTalk Meetup holder to provide us with "Proof of EOS.IO Meetup" and Earn 100 EOSBit!
You can check out all the photos are read about the Meetup here...
https://steemit.com/eos/@turmericrob/the-first-bristol-eos-meetup
We also want to thank you for using our EOSTalk.io Community Outreach Team presentation slides at your Meetup!
~-~-~-~-~-~-~-~-~-~-~-~-~-~-~-~-~-~-~-~-~-~-~-~-~
✅ We just ask that everyone please remember to include these tags in your Meetup post #eos-meetups #eos #eosbit so we can better organize and promote your efforts on EOSTalk.io
---
What are EOSBits?
EOSBits, like Beyondbits, started as a conversations in the BeyondBitcoin hangout series shortly after Steem was launched historically in those very hangouts. It began as "community tokens" or "tag coins". These cross-chain tokens give their holders the power to Summon a Whalevote to posts without having to pay for attention. And they are only given to people who Participate in Challenges, Win Contests and do other things of value for the community!
BeyondBit and EOSBits tokens are on BitShares! So make sure you have a BitShares/OpenLedger account to receive and send them for upvotes on your Steem posts!
HOLD on to your EOSBits!
These powerful cross-chain tokens will be very valuable in the future once EOS.IO has launched and associated DApps are brought online. We encourage you to participate in as many challenges as you are capable of and save up your EOSBits!
---

Join the BeyondBitcoin Communities
Please join in the discussions with us by becoming a member in ANY or ALL of the BeyondBitcoin and Bitshares communities. We have a wealth of knowledge and information waiting for you.
EOSTalk Discord
EOS.IO related community and topic discussions.
https://discord.gg/WaN27D2
Whaleshares Discord
Steemit community discussions, contests and events.
https://discord.gg/E9Rm9yT
Bitshares Discord
Bishares development community and discussions.
https://discord.gg/z2MSfWg
---
WE LOOK FORWARD TO HEARING ABOUT
YOUR EOSTALK MEETUPS