What do Dusky Gopher Frogs and property rights have in common? I wish I could think of a punchline, but neither the environment nor property rights are a joke.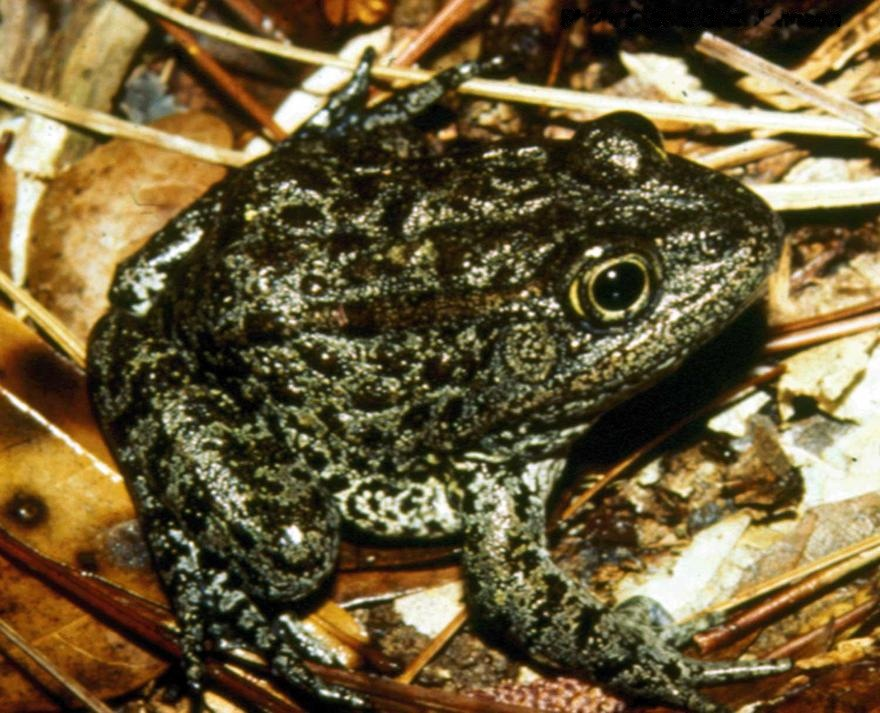 A Dusky Gopher Frog. Image taken from Wikipedia.
Frog vs. the world
The Dusky Gopher Frog, Lithobates sevosa, is a critically endangered species, in part due to its inflexible habitat requirements. Perhaps the most problematic habitat requirement is open canopy ponds, which require wildfires to maintain. It is one in a long list of species impacted by the widespread devastation of longleaf pine forests, and there are only 100-250 adults remaining in the wild. Historically, this frog used to inhabit pockets of the southeastern U.S., including three parishes in Louisiana. Today, it is only found in the wild in three ponds in Mississippi, and no Dusky Gopher Frogs have been seen in Louisiana since 1967. However, this didn't stop the U.S. Fish and Wildlife Service from designating 6,477 acres as critical habitat in 2012 in Louisiana, Mississippi, and Alabama.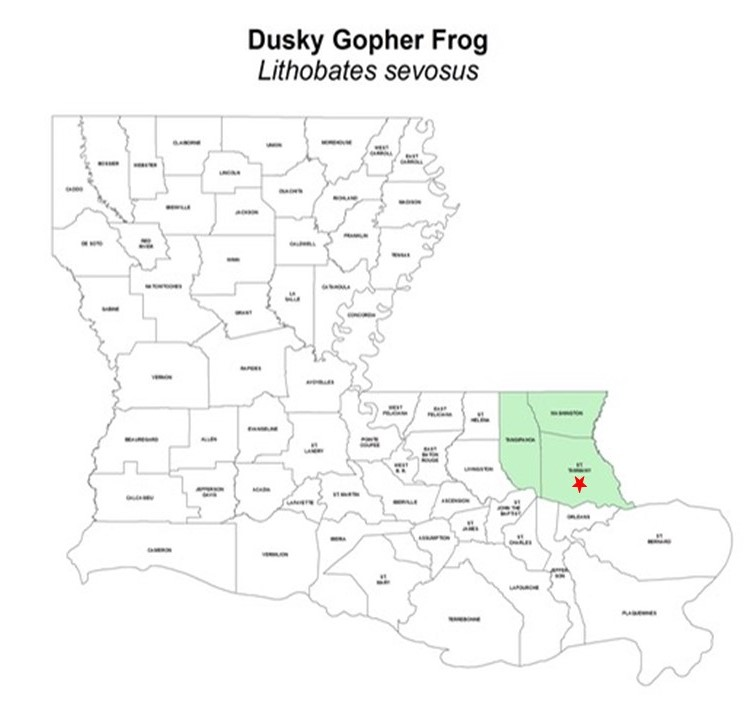 Historic range of the Dusky Gopher Frog in Louisiana. St. Tammany Parish is indicated by the red star. Image taken from louisianaherps.com

Private landowner vs. the federal government

Of the acreage designated critical habitat, 2,711 acres were privately owned, and one of those private owners took exception to his land's new federal designation. Edward Poitevent II, a lawyer, owns about 1,600 acres in St. Tammany Parish that were designated critical habitat for the Dusky Gopher Frog. He was interviewed by Fox and Friends in 2012, which was rebutted by the USFWS. In 2013, Sean Hannity did a segment on him. Poitevant said something in this segment that no conservationist wants to hear but that all landowners would agree with: "That's correct, it (my land) will not be, and we do not intend to use it, for a wildlife refuge (for the frogs), we intend to use it for the benefit of the citizens of St. Tammany and the state of Louisiana." In other words, Poitevant believes in property rights.

Does it have to be a conflict?

So what to do? Edward Poitevant doesn't want to have his land transformed to a longleaf pine forest, be managed with fires, and become a wildlife refuge. He wants to develop it and make money, which is his prerogative. But his land is some of the most viable in Louisiana to return to longleaf pine forest and reintroduce the Dusky Gopher Frog. The answer to this dilemma is in environmental innovation and entrepreneurship, not in bigger government enforcing restrictive and counterproductive laws.
Instead of designating this land critical habitat and incurring $0-30 million in economic analysis costs for land that is not likely to be used for conservation, the USFWS could have better spent its time and money by looking for landowners that are willing to convert their land to wildlife refuges. One reason why Poitevant is unwilling to leave his land undeveloped is that it lies alongside Louisiana Highway 36 which is just a few miles north of Interstate 12 and runs between Baton Rouge and the Mississippi coast. Perhaps an environmental philanthropist could find land situated more remotely and purchase it for restoration to longleaf pine forest. A similar project in Mississippi was funded by a non-profit. Or perhaps an environmental entrepreneur (enviropreneur) could approach Poitevant and convince him to sell research rights to scientists for a large-scale restoration experiment, returning science to the private domain. I myself know a dozen biologists in Louisiana that would be happy to remove the loblolly pine, replace it with longleaf pine, and reintroduce the unique species that depend on that ecosystem, from pitcher plants to Red-cockaded Woodpeckers. I personally volunteer to handle the reintroduction of vulnerable Gopher Tortoises and endangered Black Pine Snakes.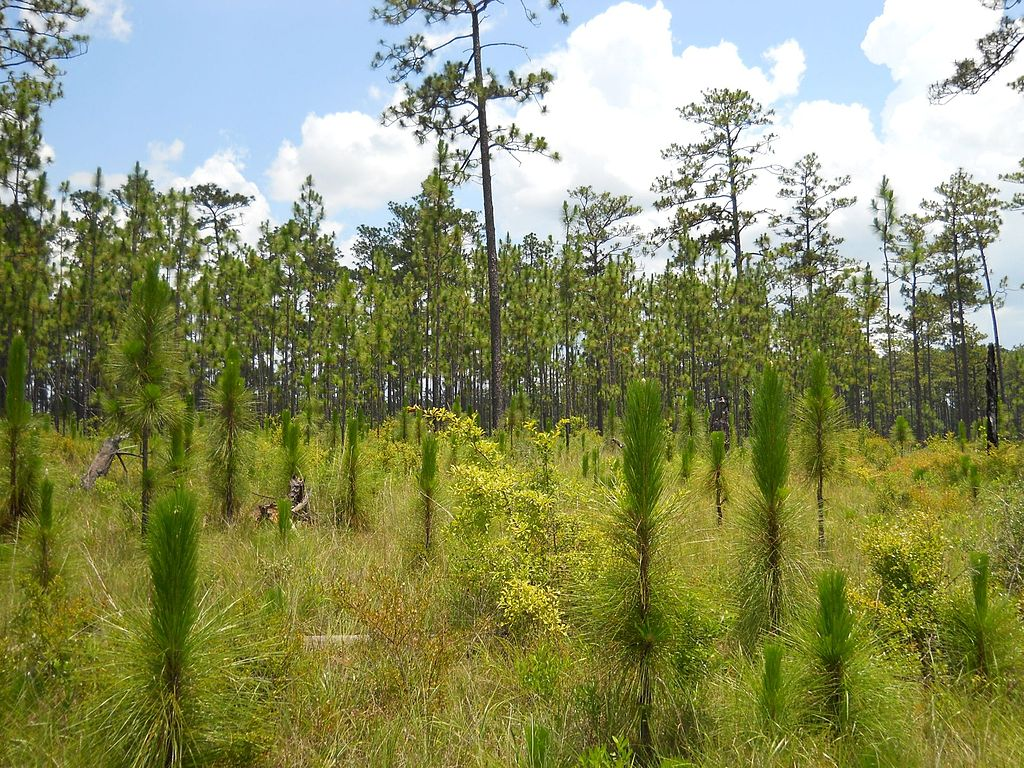 Longleaf pine forest in DeSoto National Forest, Mississippi. Image taken from Wikipedia
The land could also be used in such a way that leaves it largely undeveloped; perhaps the longleaf pine ecosystem could be restored and then it could be marketed as an ecotourist's destination. Longleaf pines can also be harvested for their timber and non-timber products. If harvested intelligently, they can both bring in money and maintain their unique ecosystem. Their non-timber products, dropped needles, also called pine straw, can bring in $100-400 per acre. If coupled with economically feasible and beneficial species like longleaf pines, Dusky Gopher Frogs and other species that don't have high market value can still enjoy protection and conservation. However, none of these options include Big Government stepping in when it isn't wanted and trying to force a one-size-fits-all solution to the problem that is the conservation of the Dusky Gopher Frog.
---
As always, comments and questions are appreciated!

---
Originally posted 11/14/2017
Edited 11/20/2017