Hello Steemians!
I think everyone has seen them before. The number on the bottom of your plastic bottle. Of course, this number in the midst of the barely visible triangle has a meaning. This triangle graces so pretty much every plastic part. Today I want to show you what these numbers mean by 1-7.
As already mentioned, these numbers range from 1 to 7. This number is used to facilitate the sorting of plastics during recycling. This system was introduced in 1988.
These substances are listed with the numbers from 1 to 7.
1. PET - Polyethylene terephthalates are mainly the drink bottles and food packaging.
2. HDPE - High Density Polyethylene is mainly used for the production of trash cans, shampoo bottles or pipes.
3. PVC - Polyvinyl chloride is mainly found in the non-food sector. Window frames, billboards or playing cards are made of it.
4. LDPE - Low Density Polyethylene can be found, for example, as an undisputed "plastic bag" or generally as a packaging film.
5. PP - Polypropylene is also found in the food industry. Yogurt cups or interior linings in our cars are the application areas.
6. PS - polystyrene is also found as a yogurt cup or toy. Also as food packaging it is used.
7. O - Other is used for all other plastics such as polyamide (PA), polycarbonate (PC) or PTFE (Teflon).
I have been doing the goods-in inspection for 2 years in our company. For me, of course, this knowledge was one of the basics. Of course, it helped a lot that there is this label. This is just a small part of the plastics. There are now thousands of different plastics for every application. I know that it is not healthy but I can see hundreds of plastics alone by their smell.
My next post will be about the recycling lie. As much as we are taught, we do not recycle! I'll show you what's behind it!

for more information about Recycling follow me: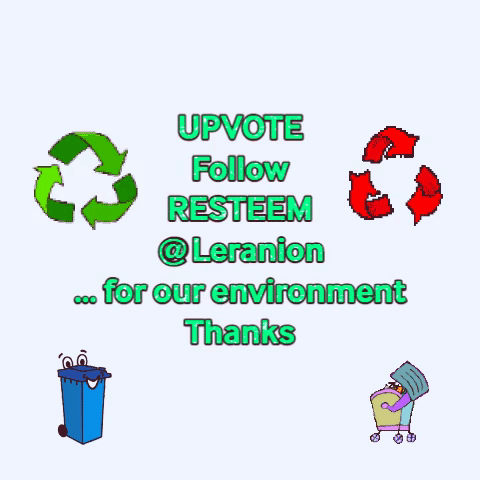 You want a Crypro-Wallet? --> https://www.coinbase.com/join/5a2ba1c08f092300e5e862da
Follow me on Discord: https://discord.gg/RSFdbQ
maybe I can get you rethinking
Regards,
@Leranion
Hallo Steemians!
Ich denke, jeder hat sie schon einmal gesehen. Die Zahl am Boden deiner Plastikflasche. Diese Zahl inmitten des kaum sichbaren Dreiecks hat natürlich eine bedeutung. Dieses Dreieck ziert so ziehmlich jeden Kunststoffteil. Heute will ich euch zeigen was diese zahlen von 1- 7 bedeuten.
Wie schon gesagt gehen diese Zahlen von 1 bis 7. Diese zahl dient dazu, die Sortierung der Kunststoffe beim Recycling zu erleichtern. Dieses System wurde 1988 eingeführt.
Diese Stoffe sind mit den zahlen von 1 bis 7 angeführt.
1. PET - Polyethyleneterephthalate sind vor allem die Drink Flaschen und Lebensmittelverpackungen.
2. HDPE - High Density Polyethylen wird hauptsächlich für die Herstellung von Abfalleimer, Shampooflaschen oder Rohre verwendet.
3. PVC - Polyvinychlorid ist vorwiegend im Nicht-Lebensmittel bereich zu finden. Fensterrahmen, Werbetafeln oder Spielkarten werden daraus gemacht.
4. LDPE - Low Density Polyethylen findet man in zum Beispiel als unstrittenes "Plastiksackerl" oder allgemein als Verpackunsfolie.
5. PP - Polypropylen finet man ebensooft in der Lebensmittelindustrie. Joghurtbecher oder Innenraumverkleidungen in unseren Autos sind die Anwendungsbereiche.
6. PS - Polystyrol findet man ebenfalls als Joghurtbecher oder Spielzeug. Auch als Lebensmittelverpackung kommt es zum Einsatz.
7. O - Other wird für alle anderen Kunststoffe verwendet wie Polyamid (PA), Polycarbonat (PC) oder PTFE (Teflon).
Ich habe 2 Jahre in unserem Betrieb die Wareneinganskontrolle gemacht. Für mich gehörte dieses Wissen natürlich zu den Basics. Selbstverständlich hat es mir sehr geholfen das es diese Kennzeichnung gibt. Dies ist lediglich ein ein kleiner Teil der Kunststoffe. Mittlerweile gibt es Tausende verschiedene Kunststoffe für jeden Anwendungsbereich. Ich weiß das es nicht gesund ist aber ich kann hunderte Kunststofe alleine durch deren Geruch erkennen.
In meinem nächsten Post wird es um die Recycling Lüge gehen. Den so viel wie es uns vermittelt wird, recyceln wir nicht! Ich werde euch zeigen was dahinter steckt!

for more information about Recycling follow me: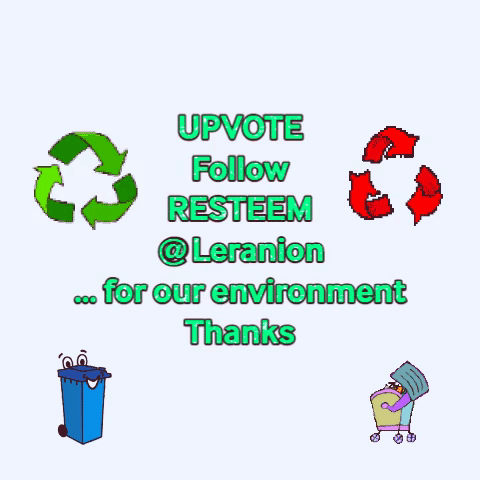 You want a Crypro-Wallet? --> https://www.coinbase.com/join/5a2ba1c08f092300e5e862da
Follow me on Discord: https://discord.gg/RSFdbQ
maybe I can get you rethinking
Regards,
@Leranion