Entrust is a Bot that Gives 20% ROI and Distribute 100% to Delegators
Hello All!
We would like to give out some important emphasis on how the bot's performance so far focusing on the idea of "post promotion" and giving back the rewards to our delegators. Here's what @entrust assured to offer :
Steemians using our service best receives 20% ROI from their post-promotion.

100% of @entrust earnings gets distributed to our delegators. We take no cut.

We have an easy to use website at https://entrust.netlify.com in which users can easily BID and DELEGATE on the desired amounts they have.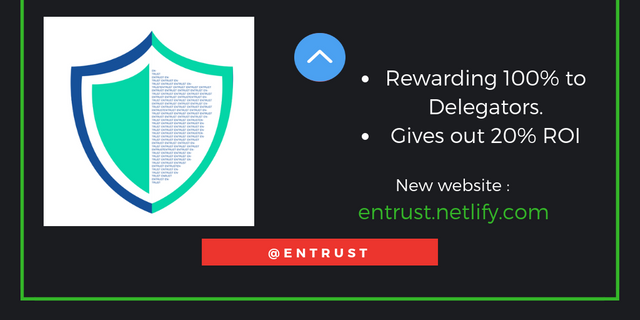 @entrust website is very simple and easy to use. If you want to bid/promote your post there, the process is very simple so as for delegating.
Another great thing about our website is that it can give you approximate time when will @entrust distribute the vote from the bids it received.
It also provides a list of current list of posts being promoted and the previous rounds. We believe those are necessary for users to have an amazing experience with us.
Entrust with us your SP and we'll take care of it for you.
Visit https://entrust.netlify.com to delegate with us. We're looking forward for your support.