When I work with clients, I make sure to always have phonecalls with them. In fact, prospects will send me contracts before we've even talked on the phone and I'll stop them: *"I don't start a project until we get on a phonecall first." *
I actually wrote this to a prospect yesterday: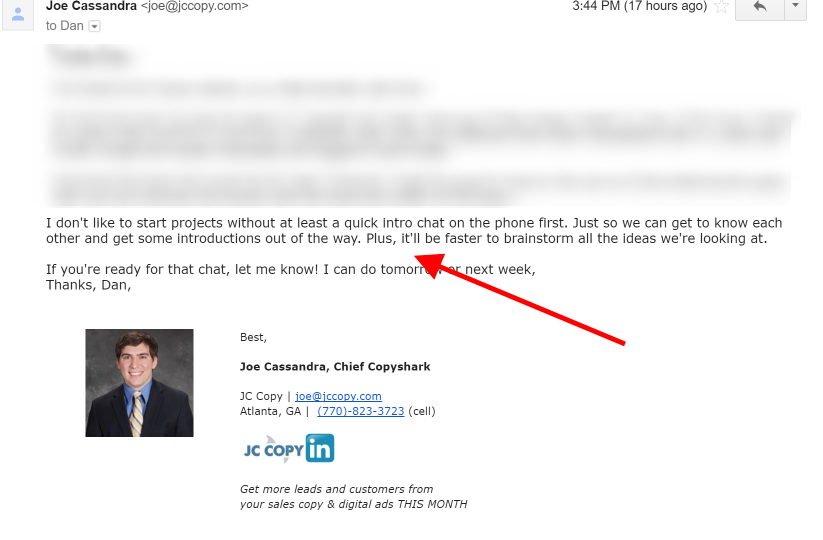 WHY?
Because you get to know the prospect better, get them to trust you more, plus you can really dig into issues they've had in the past...
One question I ask every one of the prospects I'll work with ---
"What issues have you had with other writers in the past?"
HERE'S THE MAIN ISSUES:
---> Freelancers don't send work in on time
---> They tell you 'I'll send this to you tomorrow' and a month passes...
---> Slow to respond to emails (seems to happen after the check is cut)
---> They write the draft, get paid, and walk...no follow-up or help
---
I met a client for coffee last week. He said he loves working with me because:
---> I get stuff to him on time
---> I provide ideas that are valuable to him above and beyond the normal scope of the work
Let's be clear... I AM NOT THE BEST WRITER THEY'VE HIRED. THEY'VE HIRED WRITERS WITH 30 YEARS EXP (I'm only 29)
But, I do these simple things the others don't.
Another client I chatted with on the phone. He had hired a guy who is pretty popular in the copy world. The writer gives talks at conferences...charges $15,000 for a 15 page sales letter... a dream writer's life.
My client told me how he hired this guy in November...paid up the 5-figures...and this superstar writer promised the work in December...my client told me this story in February and still hadn't received the work.
But, my client was so desperate for a writer, he put up with this abuse!!
I come in...less experience...not as good...and I get work on-time. I follow-up with changes quick. I pick up the phone when he calls, answer emails within 12 hours...he's hired me again and again since!
---
--->Do the easy little things.
---> Be nice to your clients and add value where you can
---> Think long-term (not just the next check)
---> Quit job.