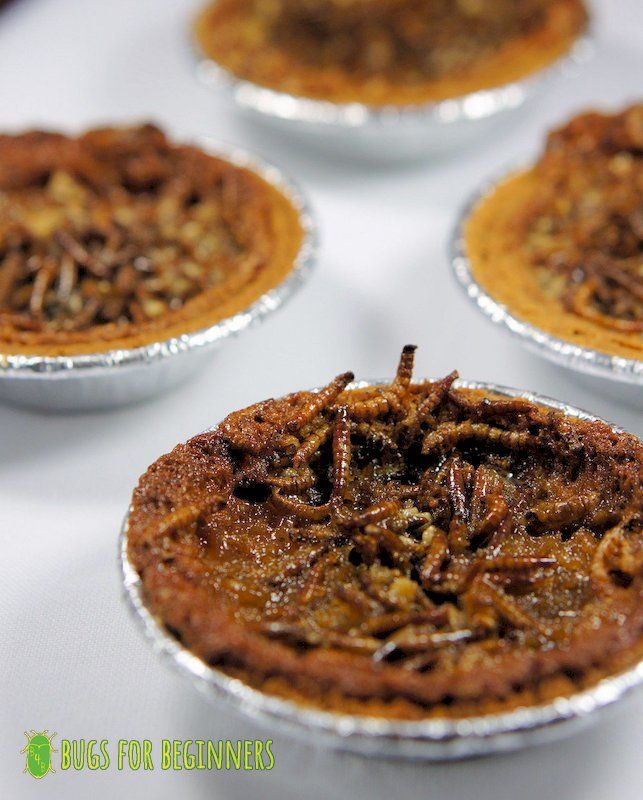 The mealworms and chopped pecans blend well together, adding an interesting visible texture to these delicious little treats! For extra flavor, try using cinnamon-fed mealworms.
Time: 40 mins; Active: 15 mins;
Serves: 12
INGREDIENTS
1/3 cup roasted mealworms
1/3 cup light corn syrup
1/4 cup brown sugar
1 and 1/2 tablespoons unsalted butter, melted
1 egg, beaten
1/2 teaspoon vanilla extract
1/2 cup chopped pecans
12 mini pie crusts
INSTRUCTIONS
BOIL MEALWORMS If you are using ready-to-eat mealworms, skip to step 3; all you have to do is open the bag. If you are using frozen mealworms, follow provider instructions on the package. If you have raised your own mealworms, you will need to euthanize them in the freezer a day ahead of time, then boil for 3-5 minutes to kill any parasites, and drain. The easiest way to boil something tiny, like mealworms, is to bring water in a small pot to a rolling boil, then place mealworms in a fine mesh stainless steel strainer, and lower into boiling water for 3-5 minutes. Then, all you need to do is lift the strainer out of the boiling water and rinse the mealworms, still in the strainer, with cool water.

ROAST MEALWORMS To roast mealworms, preheat oven to 320 degrees Fahrenheit (160 Celsius), and spread mealworms over a pan or piece of tin foil. You don't need any oil, they are fatty enough. Roast in the oven for 10-15 minutes until they are fragrant, and lightly crispy and dry to the touch. You can mix the pie filling while the mealworms are roasting, but be sure to watch carefully, as they can burn very quickly! When mealworms are finished, raise oven temperature to preheat to 350 degrees, and set mealworms aside.

PIE FILLING In a medium mixing bowl, lightly beat the egg, then add to it corn syrup, brown sugar, melted butter, and vanilla. In another mixing bowl, combine pecans and most of the roasted mealworms, reserving some mealworms for topping the pies with. Pour egg mixture over mealworm and pecan mixture, and stir gingerly, taking care not to crush the mealworms.

BAKE Disperse the filing into your mini pie crusts, about 1 tablespoon at a time. Make sure you do not overfill, as the filling will bubble up when baking, and you don't want it to overflow. Leave a little bit of room in each mini pie, to accommodate this. After you have filled the mini pies, go ahead and top them with the reserved mealworms. Adding extra mealworms last ensures that mealworms are prominently displayed on top of each mini pie, and it's clear what kind of pecan pie this is. Bake the mini pies for 20-25 minutes, until the filling has started to brown and set. Remove pan from the oven and let cool for about 10 minutes before serving.
NOTE After baking, pies may be frozen for 2-3 months. Before serving, thaw overnight in the refrigerator, then bake just long enough to warm, before serving.
This recipe is included in Bugs for Beginners, a cookbook which teaches Westerners how to prepare and safely eat insects. Text includes affiliate links