Let's talk ENKRONOS
One of the greatest audio tapes I have heard of late is that of Shetty Jay where he talked about data and its management. The Economist once wrote that the worlds greatest resources is not oil anymore but data, in 2017 alone more data was created than it has ever been and since the world is jot saturated of data yet, the trend will continue in 2018 and beyond and these data are created by the over 3 billion smartphone users across the world, so much so that we don't know when we are moving, sitting in traffic and all that stuff.
Well, these data are footprints of our daily activities and If the worlds greatest resources are data, then best skill now is focusing it in one place.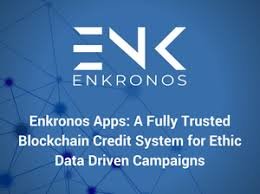 With the advent of the blockchain technology and its increased acceptance lately, almost every other day if you have inclined the happenings around it, you will discover that new projects are being launched almost at an alarming rate, the big question, therefore, is how do we find something special? ENKRONOS team have managed that feet, presenting us with something unique on the blockchain.
It is a completely decentralized system that encompasses apps that deal with trading, gaming, marketing advertising, artificial intelligence, bigdata applications amongst others. When a variety of platforms like this are made to work in a single space there are high chances of irregularities like the one with Facebook not long ago, where trust was the main topic for a business as big as Facebook.
I will attempt to mention just a few of the problems that Enkronos project aims to combat effectively.
The absence of trust that emerges from data management.
Privacy for personal data because not all that you put online are supposed to be out there for unauthorized sources.
The abuse of data
And of course the absence of privacy in its totality.
The aim basically is to produce an ecosystem where those with effective and working solutions can bring it out and have a conducive environment where they place these solutions and those who need these solutions to apply them in real life scenarios will meet in an atmosphere where there is mutual respect for content and persons.
Ehkronos App.
This perhaps is the hub for all the solutions to hitches earlier listed as it has been developed to curb these challenges. It features that can help import existing databases and managed them effectively on the new decentralized network, some of the fundamental advantages that are gained from this project are;
It has a high level of security and transparency thanks to the blockchain technology which serves as the building block of the platform.
It has a centralized user database that helps to monitor and distribute the acquired resources effectively as well as the security system.
there are buses and loyalty programs.
Promoting ethical behavior among community members and users.
Development of a healthy and beneficial relationship between the content creators and consumers which is hard to find these days.
Because it is a hub for apps with a variety of helps, it is easy for one to find solutions much more readily in a single place.
There are frequent and regular updates to apps and solutions on the platform.
content developers can share their innovations and developments on the platform.
Almost most importantly is the fact that so long your content is useful, you'd get rewarded.
Enkronos app operates a universal billing system so anywhere in the world, you can find and use the services on the platform at the same cost and enjoy the same satisfaction so whatever the service you subscribe for be it e-Learning, e-commerce, e-Voting, democracy amongst others.
The ENK token.
You know something like this will not be complete without details of the token and other ICO information.
The token is a utility token to be used on the app and it is the only accepted means of exchange around the platform because one of the reasons this project is unique in having many services and being transparent and the value of the coins in circulation will be proportional to the worth of the platform and same applies to people on the platform.
Token Details
Ticker: ENK
Total Supply:500 000 000
Platform: Ethereum
Type: Utility
Below is an image of the planned ICO details from the whitepaper as well as other useful demographics.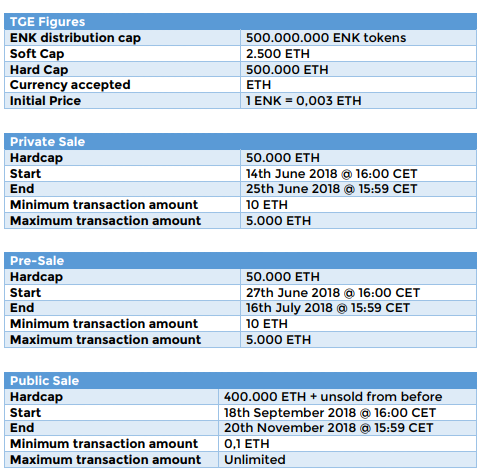 The planned used of generated funds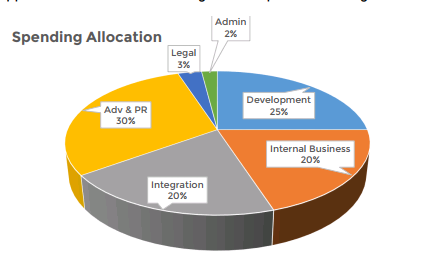 The roadmap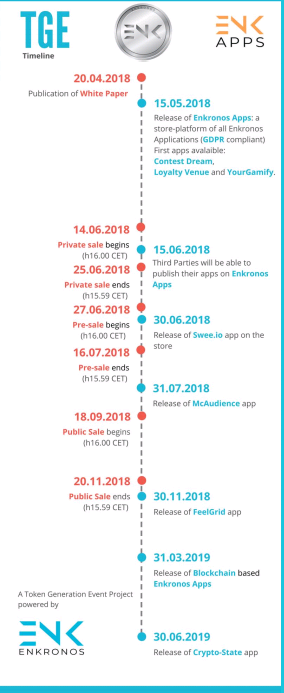 The team
The company is called Enkronos d.o.o a digital strategy company based in Slovenia and are responsible for the organization and sales of this project. The team includes;
Gianluca Busato, CEO and Founder,
Jure Vela, CIO;
Spela Malmolja, Project Manager;
Luka Mladenovic, Backend Developer; Jan Rozic, Frontend Developer;
Mojca Mir, Business Assistant;
Matjaz Prijatelj, System Administrator; Tomaz Ursic, IoT Developer;
Niko Bergles, UX/UI Graphic Designer; Matej Hladnek, Frontend Programmer; Netj Cotic, Sales Accountant;
Yuliana Yarotska, Backend Programmer, including the Advisors among others.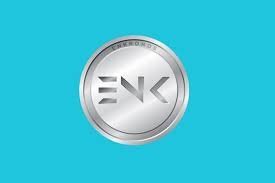 From the roadmap above, it is obvious that the plan is already in motion with more to come.
Here are some useful links to get more information on the project.
||Whitepaper||Website||ICO site||Telegram||Facebook||Twitter||Linkedin
My bountyOx username is gjoe64
Hope you enjoyed the talk?
✌