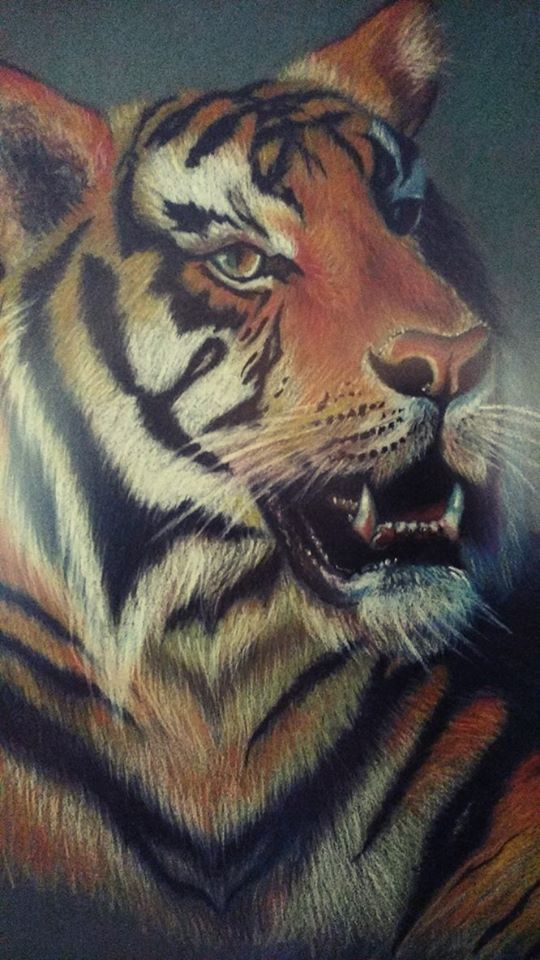 TIGER IN "OIL PASTELS" TECHNIQUE
The technique "oil cake" is one of my favorite techniques. Especially if it is about painting animals. The strokes manage to give character and personality to the animal.
The materials that I have used are: 1. Thick gauge "canson" paper. 2. "Oil pastels" bars 3. Esfumino 4. Light blue pencil
PROCESS
The "canson" paper comes in different colors to choose from, so it seemed appropriate to use green and paint over it as a background. To draw I used a light blue pencil, or failing that you can use a gray. This is for the purpose of not seeing the lines at the time of painting, since the color resembles air. Something of great importance when painting or interpreting any subject with this technique is to go singing the whole drawing at the same time and from less to more. Since if a stroke is done too energetically, this could damage the final result. These bars "hold" so strongly to the paper that it is very difficult to return the walked, so for that reason you have to go cautiously and little by little, working a couple of hours and leave it for the next day with the objective of look from time to time to detect possible failures and be able to correct when it is still time. If left to the end, it will be practically impossible to do so. As for the scissors, I do not use it too much. It is not good to abuse him, since it could give him a snooty look, which in some cases may be good, but not here. In this painting, because I did it some years ago, I do not have photographs of the process, but I already have others that will.