Greetings my nice friends
Today I bring a very special post for all in order to pamper our body a little. In a previous publication I had written about couples' massage "A practice that without a doubt manages that two are based on one," one of my readers, my friend
@reciclajeymas
told me about self-massage and would like to see some ideas about this theme. Today, in view of your suggestion and request, I bring these advice for you, as well as for all of you.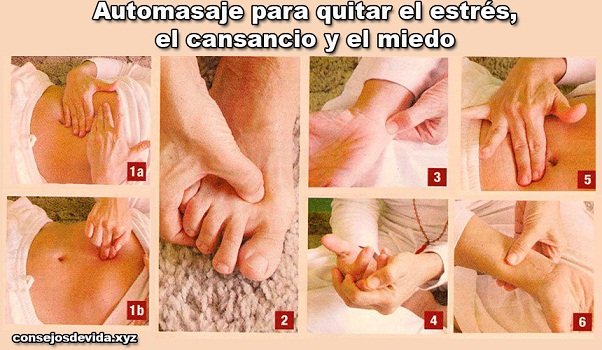 Automassage to remove stress, fear and fatigue

¿What do we mean by self-massage?
As the word "AUTOMASAJE" correctly says, it represents the execution of kneading, pressing, rubbing, rubbing ... our body ourselves without the intervention of another (s), corresponding to a therapeutic method that contains a series of big benefits. It is important that you are clear about the value of the dedication of time, attention and greater care of ourselves, which corresponds to an important investment in our health and happiness.
It should be noted that we can find a variety of books in bookstores, as well as valuable information on the web, with extensive descriptions and valuable data, with illustrations of the different techniques and practices on this subject that we are dealing with today. But before the vast amount of techniques only you are the one who will know which of them adapts to you, your body and sensations, as well as what kind of pressure makes you feel good or at what point your pain is relieved of presenting any discomfort or ailment .

¡Pay attention to these tips!
It is advisable that you first take a good bath if it is aromatic even better.

The lighting with candles (if you wish) and soft music are extraordinary in this therapy.

Place yourself in a corner or quiet, warm and comfortable place of your room.

You can sit on a towel on the floor or on a chair, you can use cushions if you see it necessary.

Burn some incense of aroma and fragrance of your preference and breathe a few times to relax.

Pour a small amount of special oil for massage or some body cream for example; the starting point is your face with light massages where you start the sensitive exploration.

¡Your body speaks, listen to it!
Listen to the inside of your body and relax your breathing at the moment of self-massage. When you feel that a movement of the massage has been pleasant, that is your body that begins to give you the answers; before this, repeat the movement you made several times creating the sense of rhythm, being very aware of each of the sensations.

¡Starting with the face!
As I said before, the starting point is the face, then let yourself be massaged all over the body until you reach the toes. Visualize each of the needs presented by your body, usually your hands can get tired or your arms, by the movement of the exercise and the pressure you exert (if it is strong), in such a case, rest or massage with your elbow .

¡Applying self-massage!
Next, I briefly mentioned how to apply self-massage in some areas of our body:
Hands: Place the elbows on the thighs, rub the right hand on the left and then repeat the step on the other. Place your hand palm up holding the wrist between the thumb and index finger (somewhat like taking the pulse), massage the wrist and base of the palm with the thumb, make circular movements holding the back of the hand with your fingers.
Legs: Make friction, friction, kneading and vibration by placing both hands on the sides of the leg.
Foot area: With both hands, make a rubbing from the fingers to the heel or ankle. Followed by friction in the same direction. You can also apply sliding frictions in the interdigital areas. Knead both sides of your foot with your hands.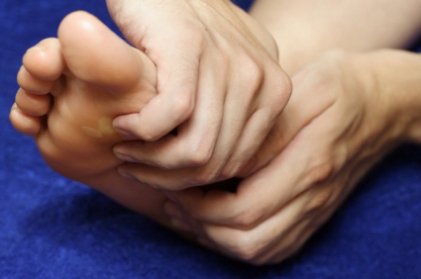 self-massage
This is one of my favorite massages since using the thumbs of my hands I relax everything that is the arch of the foot, feeling like I reduce the tension and excessive load of these. Also, I also stretch my fingers gently with my hands, just as if I were to separate it from my foot.
To close this content on this day, I can tell you that a self-massage corresponds to one of the best forms and therapies to calm our nerves and eliminate stress, provides relief, relaxes us fully; approximately 20 to 30 minutes, which are appropriate and recommended, really represent a gift with notes of harmony and well-being.
¡I hope you liked my content and the information will be useful for you!
¡Do not miss the clue!
Thank you for visiting me.
Regards.