At present, tourism represents an economic activity with great relevance in a country or a region, which we can easily deglaze into many advantages as it is:
Job Generation
New and innovative infrastructures adapted to the specific region.
Gastronomic establishments.
Hotels and inns.
Increase in air, land and sea traffic.
and many alternatives...
Many agree that tourism will be one of the engines of the world economy in the coming decade.
In spite of this, there are some limitations that I would like to discuss, such as the competition between large chains and small companies that do not have the financial tools to attract tourists, which results in tourists generally visit the same place which generates high costs, many believe that because tourism grows the tourist will have a unique experience, but not so.
Many have gone through uncomfortable experiences on a sightseeing trip, they feel cheated because the tour operators offer unforgettable attention on paper and when you arrive at your destination it is not only the operators but also the taxi drivers, guides, the food, even the inhabitants of the region when they recognize a tourist cheat him with false offers and much more.
Even in the market there are limited tools that can help you, but they are very complex, not adapted to your language, very expensive and almost always do not comply with the contract.
I like to travel, and the truth is that I have lived some bitter experiences, but this project really caught my attention and I will explain it to you later.
I want to introduce you to the platform that really connects the tourist with the service providers, Smart Trip Platform is an ecosystem based on the blockchain.
Smart Trip Platform
The Smart Trip Platform(STP) is a social network based on a decentralized ecosystem that will connect travelers and service providers, bringing together all the necessary functionalities for making safe, comfortable and authentic trips, both for pleasure and business. It can be said that it is a new model of travel that seeks to minimize the time spent on research and optimize the authenticity of the experience.
Smart Trip Platform will offer:
Great prices on travel services.
A travel planning tool from A to Z.
A dynamic community of travellers and tourism industry professionals.
The Smart Trip Platform offers you an extraordinarily wide range of services: from airline tickets to booking jungle tours, from detailed information on local attractions to finding travel companions.
One of the features of this platform is that it is based on blockchain which allows you to provide security and transparency in transactions, Smart Trip Platform includes a range of social networking features where you can use chatrooms, blogs, photos and videos.
Advantages
share experiences.
asking and giving advice to other tourists.
increase your score.
to become an influential person.
create itineraries and much more...
Who's it for?
Travellers
The Smart Trip Platform, which allows passengers to book tickets, rooms and cars, as well as to make reservations:
Organize trips in their entirety, book and find travel companions
Contact the best guides and drivers directly.
Join a lively and enjoyable travel community with its own knowledge base and experienced travel gurus!
Travel Service Providers
Leaving aside the typical simplicity and convenience, the Smart Trip Platform allows service providers:
Continuously receive a flow of bona fide customers from all over the world.
Have a new channel to reach the audience and get feedback.
Run your business in a secure economic environment.
About Blockchain
We will ensure secure data storage and transparency of all transactions. We have a number of smart contracts that will ensure instant payments and efficient dispute resolution. The system will be largely decentralized and community-managed, where users can freely add information about attractions and services, earning points in return.
TripCash is the official token of the Smart Trip Platform and is the next one for all internal payments. Users will have the ability to store both TripCash and a wide range of cryptocurrencies in their different
Universal Cryptocurrency Wallet (UCW), exchanging instantly between them; at a later stage,
Debit Cards (Cash Travel Cards) will be introduced, making it possible to use TripCash and other cryptocurrencies for online and offline purchases.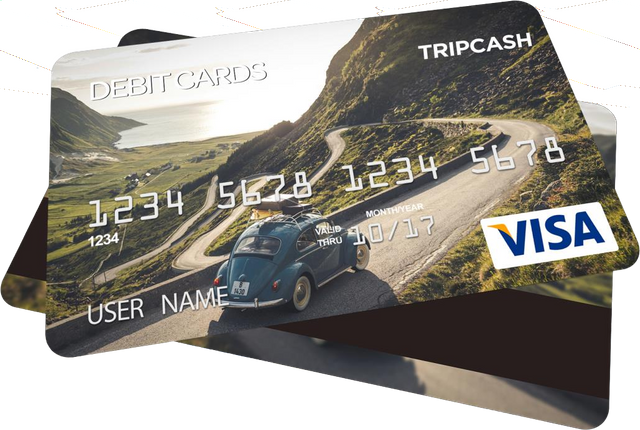 How does TripCash work?
TripCash is the official token of the Smart Trip Platform ERC20 utility and will be used to book travel services on the platform. Users will be able to store both TripCash and a wide range of cryptocurrencies in their individual Universal Cryptocurrency Wallet (UCW) and instantly exchange them with each other; in this second phase of the project, Debit Cards (TripСash Cards) will be introduced, enabling the use of TripCash for online and offline purchases.
The Smart Trip Platform is a product that is easy to explain, easy to understand and easy to market, just like TripCash.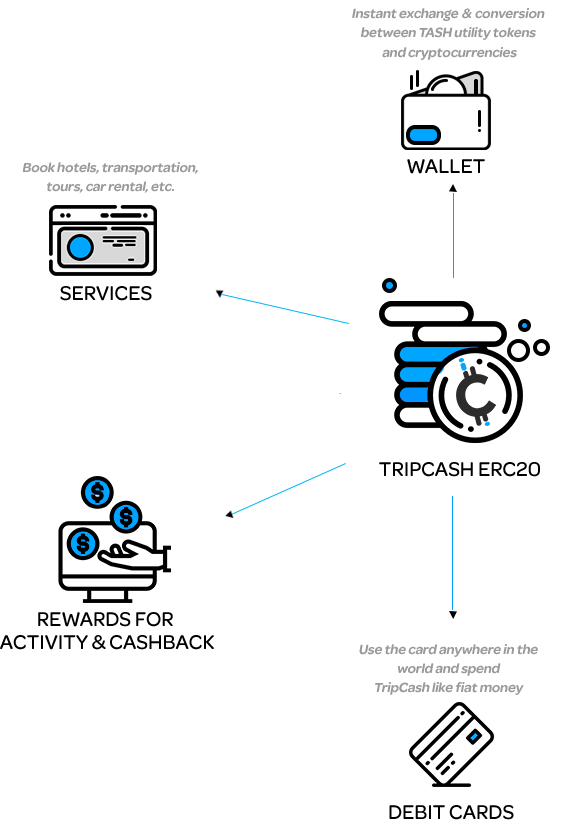 Sobre el Token TripCash?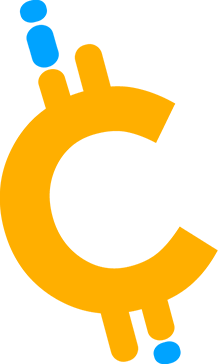 | - | - |
| --- | --- |
| Token | TASH |
| Price | 1 TASH = 0.01 USD |
| Bonus | Available |
| Bounty | Available |
| Platform | Ethereum |
| Accepting | BTC, ETH, LTC, BCH, XRP, DASH, ADA |
| Soft cap | 1,000,000 USD |
| Hard cap | 25,000,000 USD |
| Country | USA |
| Whitelist/KYC | KYC |
TASH tokens are the main means of payment within the Smart Trip Platform. All newly registered users will need to purchase a certain number of TASH tokens (which can be done using the built-in instantaneous cryptocurrency exchange tool) in order to pay for various services. In addition, TASH will reward members of arbitration commissions for their mediation services and grant various discounts to platform users.
Milestones
Q2 2017
Inception of the Smart Trip platform project.
Q3 2017
Planning of the ICO campaign.
Q4 2017 - Q1 2018
Creation of the White Paper and the official website.
Q1 2018
Development of Ethereum-based smart contracts.
Q1 2018
Pre-sale, work on the demo version of the platform.
Q1 - Q2 2018
Main round of the ICO, work on the final version of the platform, development of iOS and Android Smart Trip Platform apps.
Q3 - Q4 2018
Testing the Smart Trip Platform, integration of the TripCash token, creation of personal cryptocurrency wallets.
Q4 2018 - Q1 2019
Launch of integrated debit cards
Q4 2018 AND BEYOND
The Smart Trip platform becomes fully operational; extensive marketing campaign.
Team
Ronald Slobodchikov - COO
Uldis Gaismins - CFO
Arkadijs Slobodkins - CTO
jacob Cadena - Lead Engineer
Olha Rymar - Head of Marketing and Communications Chief marketing consultant
Branco Petrovic - Business Development officer
Alice Orlova - Project/ Content Manager
Victor Sulikovsky - Product Designer, UI/UX
Nikola Petrovic - Business Development Officer
Kristina Kubayati - Marketing Manager
Rick Tapia - ICO Analystics Expert
P.B. Stanton - Cryptocurrency Attorney
Simon Cocking - Business mentor and advisor, top-ranked 'People of Blockchain' list, Senior Editor at Irish Tech News, Editor in Chief at CryptoCoinNews, well-known public speaker and global crypto community influencer
By Bitcointalk user: jpirulo
Profile: https://bitcointalk.org/index.php?action=profile;u=1192567
MyetherWallet: 0x4312006E30A82664F5b7EF51B2cE5c864F54cb1f