!!!!PALO A PIQUE VENEZUELAN DISH!!!
PALE TO PIQUE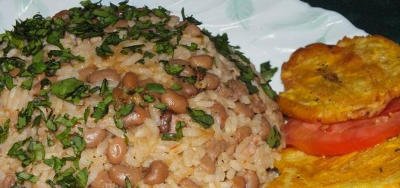 Paloapique is a typical Venezuelan dish that is eaten in the high and low plains, in savannas such as those of the state of Cojedes and Carabobo, as well as in the region of Guayana. It is prepared with white or red beans and seasoned with cochino, spices and paprika, accompanied with tomatoes and sweet or hot peppers, depending on the region where it is prepared or the taste of diners. This dish is usually accompanied with green "topocho" and is a typical culinary expression of the life of the Venezuelan llanero. The recipe that I provide of the Paloapique is the barinesa and its flavor expresses the task of the extensive and beautiful plains of that Venezuelan zone.
Ingredients
500 grams of white or red beans
2 Litres of water
250 grams of chopped bacon
8 cloves of garlic
2 medium onions
5 ripe tomatoes
1 green pepper
2 sweet peppers
1 teaspoon cumin
1 tsp. thyme
2 cloves
2 small pieces of papier-mâché salt to taste
Preparation
Boil beans in 2 liters of water until tender, in a separate pot cook bacon cut into small cubes, add chopped garlic, chopped onion, tomato and pepper very finely chopped, and sweet pepper. Sauté and then add the spices and paprika, and salt, let it cook briefly until the flavors are mixed, add the drained beans and let them unite very well until the sofrito beans are impregnated. Serve them warm, usually accompanied with fried egg and topocho toast.