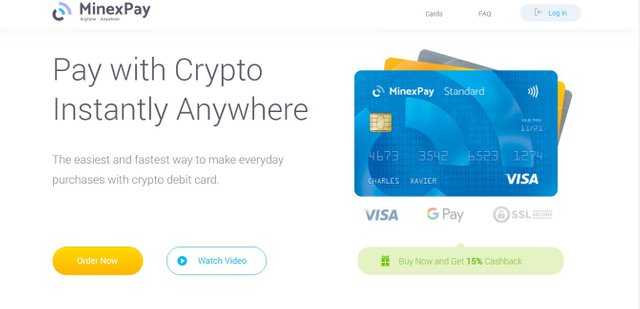 🎼🔹("Debit Card Minexpay")🎼🔹
@criptosonido | 12 of september de 2018


¡Hello! Crypto-Entrepreneurs Steemians, happy day for all.


🎼🔹Now You Can Request The Debit Card MinexPay:🎼🔹
The MinexPay Card allows you to pay with crytomonedas in any store or cafeteria that supports Visa payments. (Also For Online Purchases)

The entire process lasts less than 3 seconds, you can withdraw the money by BTC and ETH at any ATM in your national currency, with minimal or nil fees, you can easily convert crypto assets to Fiat and vice versa.
🎼🔹Request your card here:
"BLOCKCHAIN ​​TECHNOLOGY IS A TECHNOLOGY OF THE FUTURE ... AND THE FUTURE IS ALREADY HERE!"
"

And remember...
"There is no virtue more important than Patience and Perseverance "
(This is a principle to advance in Steemit)
"If you improve 1% every day, in 365 days you will have improved a 365%!"





(Traveling Through The Valley Of The CryptoAmperators & Promoting Blockchain Technology)
If you want to see more of my Publications, I invite you to look at the following link:
My Actifit Report Card: septiembre 8 2018(Conoce "Actifit": La Aplicación Blockchain que monetiza tus ejercicios)

Get favorable votes, followers, sell your vote or delegate your power of Steem, visit smartsteem!: