How to Install Canopy On The Terrace Home (Functions and Benefits)
Almost every house has installed a canopy. Canopy is very useful to withstand rain or heat, to cover the terrace, and also for car parking.
In Big Indonesian Dictionary, the canopy is a curtain or roof frame made of metal, iron, curtains, and so on and there is a separate pole with the outside of the house. While the world of architecture, the term canopy is a kind of roof that protects the outside of the building.
For installation is easy and does not cost a lot. To make money, we can create our own canopy. We do not have to pay the fare for the welder.
---
Canopy Functions and Benefits
---
The function of the canopy is to protect the occupants and the outside of a house or other building from sunlight or rainfall, besides the function of the canopy also has a function and usefulness that is important, among others :
Canopy provides protection from objects that fall from the top and is able to provide privacy for the inhabitants.
Canopies are able to add to the beauty of the design or appearance of a house or building by providing additional decorative value to the building.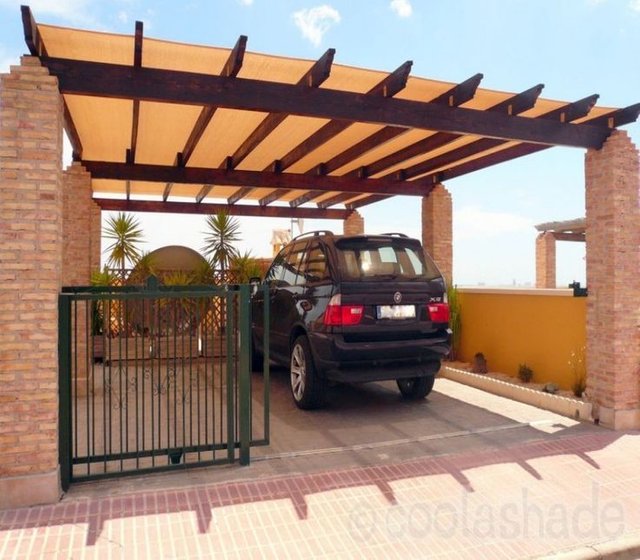 Source: Image
The canopy has many functions, besides that there are also many benefits of the canopy to maintain the physical variety of your home.
Here's more reviews:
1. Become a Vehicle Garage
If your house does not have a garage, or because the cost of making a garage is too expensive you can use the canopy as your vehicle's garage. With a canopy, cars, motorcycles and bicycles can be protected from heat and rain.
2. Protecting the Patio Wall Paint
This canopy can reduce direct irradiation to the wall. Paint on the walls of your house was so durable and durable.
3. Soothing Terrace Terrace
The terrace is usually used for gathering places, children's playground and also family. Generally in a house there are two terraces, front porch / back and patio inside. With the canopy can make the terrace feel cool and if the rain water does not go in and the children can play without getting exposed to heat.
4. Beautify the outer appearance of the house.
Canopies also show your home will look more beautiful, more elegant.
---
How to Install Easy Canopy
---
Design the canopy to be made first, then buy the necessary tools and materials.
Tools used :
Welding machine
Grinding machine
Drilling machine
Elbow ruler
Iron pencil
Tang clamp / clamp
Materials used :
4x4cm elbow
Hollow iron
Iron plate
The roof of zinc waves
Dynabolt
Drill screws for roofing
Base paint
Colored paint
Thinner
Steps of Work
First cut all the iron according to the size of the drawing.
Then, prepare pole holder using plate with thickness 3mm, with size 6 × 6 cm. Next, pour the two sides in the opposite direction using a drill machine.
Las iron holder that has been perforated on the 4 pillars.
Next, cut the plate 1mm, adjust the large size of the hollow iron tip and weld on the outside of the iron. (as a deterrent of water into the iron that causes rust).
Establish a buffer pole, then locate the position where the pole will be installed, mark then surface / floor drill using 10mm concrete drill bit.
Insert the dynabolt and attach the buffer on the already drilled surface of the floor (attach the nut to avoid loose).
Continue to install the other pole parallel to the first pole. By means of binding / clamp crossbar between the first pole and the pole to be installed.
After all the poles are installed, attach the connecting bar to the top of the two posts. Make sure the 90 ° elbow pole uses an angled ruler first before welding it. It's important to get a neat and solid result.
Do the same for the next connecting bar.
After all poles and bars have been installed and welded neatly, then attach the bar to the roof holder.
Then tighten all the bolts on the pole (weld if you want to be stronger). Followed by installing the roof, but better paint first all the frames using basic paint
After the base paint is dry, paint with the desired color. Then continue by installing the roof on the canopy .. Put the roof neatly then drill and tighten using self drilling screw to penetrate the roof cradle bar.
---
Conclusion
---
As the saying goes My house is my Istan. The house is one of the most comfortable places in the world, home sweet home. So, a comfortable home can be likened to a paradise of the world. Not everyone has a luxurious house, so it must be smart to decorate a minimalist home to stay comfortable. One of them by making a canopy on your terrace to be protected from the sun during the day.
---
Bahasa Indonesia
---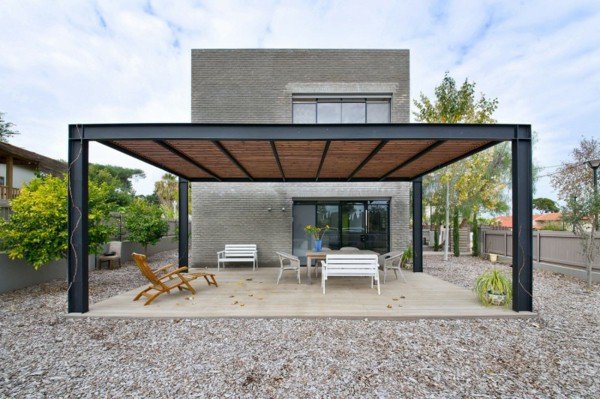 Sumber : Gambar
Hampir di setiap rumah sudah memasang kanopi. Kanopi sangat berfungsi untuk menahan hujan atau panas, untuk penutup teras, dan juga untuk parkiran mobil.
Dalam Kamus Besar Bahasa Indonesia, kanopi merupakan tirai atau rangka atap yang terbuat dari bahan logam, besi, tirai, dan sebagainya dan terdapat terdapat tiang yang terpisah dngan bagian luar rumah. Sedangkan alam dunia arsitektur, istilah kanopi merupakan sejenis atap yang melindungi bagian luar bangunan.
Untuk pemasangannya pun mudah dan tidak menghabiskan banyak biaya. Untuk mengemat uang, kita bisa membuat kanopi sendiri. Kita tidak perlu membayar ongkos untuk tukang las.
---
Fungsi dan Manfaat Kanopi
---
Fungsi kanopi ialah untuk melindungi penghuni maupun bagian luar suatu rumah atau bangunan yang lain dari sinar matahari atau terpaan hujan, selain itu fungsi kanopi juga mempunyai fungsi dan kegunaan yang terbilang pentingnya, diantarannya :
Kanopi memberikan perlindungan dari benda yang jatuh dari atas dan serta mampu memberikan privasi bagi penghuninya.
Kanopi mampu mampu menambah keindahan desain atau tampak dari suatu rumah atau bangunan dengan cara memberikan nilai dekoratif tambahan pada bangunan.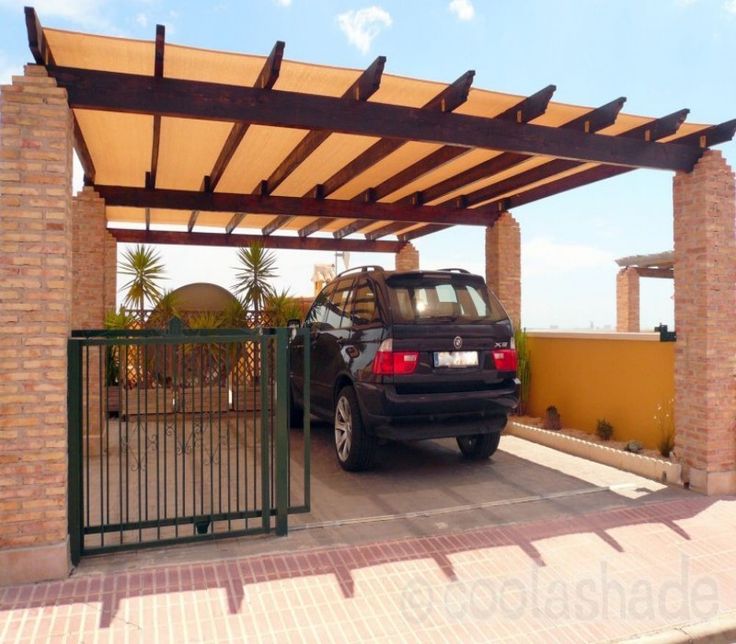 Sumber : Gambar
Kanopi mempunyai banyak fungsinya, selain itu banyak juga manfaat dari kanopi untuk menjaga berbagai fisik rumah anda.
Berikut ulasan selengkapnya :
1. Menjadi Garasi Kendaraan
Jika rumah anda tidak memiliki garasi, atau karena biaya membuat garasi terlalu mahal anda bisa memanfaatkan kanopi sebagai garasi kendaraan anda. Dengan ada kanopi, mobil, motor, dan sepeda bisa terlindung dari panas dan hujan.
2. Melindungi Cat Dinding Teras
Kanopi ini bisa mengurangi penyinaran langsung ke dinding. Cat pada dinding rumah anda pun jadi awet dan tahan lama.
3. Menyejukkan Teras
Teras biasanya digunakan untuk tempat berkumpul, tempat bermain anak dan juga keluarga. Umumnya di suatu rumah terdapat dua teras, teras depan/belakang dan teras dalam. Dengan adanya kanopi dapat membuat teras terasa sejuk dan kalau hujan airnya tidak masuk dan anak-anak bisa bermain tanpa terkena panas.
4. Mempercantik tampilan luar rumah.
Kanopi juga menampilkan rumah Anda akan terlihat lebih indah, lebih elegan.
---
Cara Memasang Kanopi dengan Mudah
---
Desain kanopi yang akan dibuat terlebih dahulu, kemudian beli alat dan bahan yang diperlukan.
Alat yang digunakan :
Mesin las
Mesin gerinda
Mesin bor
Penggaris siku
Pensil besi
Tang penjepit/clamp
Bahan yang digunakan :
Besi siku 4x4cm
Besi hollow
Plat Besi
Atap seng gelombang
Dynabolt
Selft drilling screw (sekrup bor untuk memasang atap)
Cat epoxy (cat dasar)
Cat warna
Thinner
Langkah Pengerjaan
Potong terlebih dahulu semua besi sesuai dengan ukuran pada gambar.
Kemudian, siapkan dudukan tiang menggunakan plat dengan ketebalan 3mm, dengan ukuran 6×6 cm. Selanjutnya, lubangi ke 2 sisinya secara berlawanan menggunakan mesin bor.
Las besi dudukan yang telah dilubangi tersebut pada ke 4 tiang.
selanjutnya, potong plat 1mm, sesuaikan ukuran besar ujung besi hollow dan las pada bagian ujung luar besi tersebut. (sebagai pencegah air masuk ke dalam besi yang menyebabkan karat).
Dirikan tiang penyangga, kemudian tentukan posisi dimana tiang akan dipasang, beri tanda kemudian bor permukaan/lantai menggunakan mata bor beton 10mm.
Masukkan dynabolt dan pasang besi penyangga pada permukaan lantai yang telah dibor (pasang mur agar tidak lepas).
Lanjutkan memasang tiang yang lain sejajar dengan tiang pertama. Dengan cara mengikat/clamp palang penghubung antara tiang pertama dan tiang yang akan dipasang.
Setelah semua tiang terpasang, pasang palang penghubung ke atas kedua tiang. Pastikan tiang siku 90° menggunakan penggaris siku terlebih dahulu sebelum mengelasnya. Ini penting untuk memperoleh hasil yang rapi dan kokoh.
Lakukan cara yang sama untuk pemasangan palang penghubung selanjutnya.
Setelah seluruh tiang dan palang sudah terpasang dan dilas dengan rapi, kemudian pasang palang untuk dudukan atap.
Kemudia kencangkan semua baut-baut pada tiang (las jika ingin lebih kuat). Dilanjutkan dengan memasang atap, tapi lebih baik mengecat dulu semua rangka menggunakan cat dasar
Setelah cat dasar kering, cat dengan warna yang diinginkan. Kemudian lanjut dengan memasang atap pada kanopi tersebut.. Pasang atap dengan rapi lalu bor dan kencangkan menggunakan self drilling screw hingga menembus palang dudukan atap.
---
Kesimpulan
---
Seperti kata pepatah Rumahku adalah Istanaku. Rumah merupakan salah satu tempat ternyaman di dunia, home sweet home. Jadi, rumah yang nyaman bisa diibaratkan sebagai surga dunia. Tidak semua orang mempunyai rumah yang mewah, jadi harus pintar mendekorasi rumah minimalis agar tetap nyaman. Salah satunya dengan membuat kanopi pada teras anda agar terlindung dari sinar matahari saat siang.
---
Reference Source
---

www.pakeotac.com | Cara membuat kanopi sendiri
hargacanopybandung.blogspot.co.id |Fungsi dan manfaat kanopi minimalis
iconsteelmdn.wordpress.com | Tentang kanopi dan fungsinya
bijibersemi.com | Cara membuat kanopi dari baja ringan
rumahkanopi.blogspot.co.id | Kelebiahn dan kekurangan kanopi galvalum
www.metrobajaringan.com | 5 manfaat utama kanopi dan tips memilih
jayagemilang.co.id |Pengertian kanopi serta funsinya