Energiswap Is Live on Energi Mainnet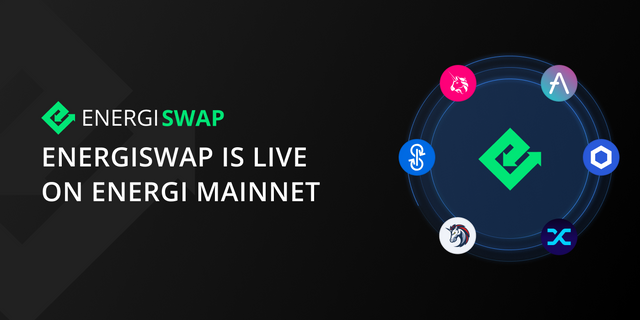 After launching on the Energi Testnet just over a week ago to great success, we are very happy to announce that Energiswap is live on the Energi Mainnet! Users can now trade crypto and synthetic assets with the lowest gas fees in the space, backed by the security and stability of the Energi Blockchain.
What is Energiswap?
Energiswap is the first of many Energi DeFi products. Built using a modified version of the Uniswap protocol, Energiswap is a decentralized exchange and crypto swap protocol powered by the Energi blockchain. This means that in addition to the power of decentralized trading, it also benefits from:
Significantly lower gas fees than competitors
Unrivaled security thanks to the expertise of the Energi Bureau of Investigations
World-class 24/7 support from our Community Management team
On-chain governance powered by our masternode network
For a full breakdown of how Energiswap works, check out our article covering the launch of Energiswap on our Testnet.
What Tokens Are Available to Trade?
Energiswap has launched with a core set of tokens available for immediate trading and yield farming. However, we will be following up soon with several rounds of new token launches for both crypto and synthetic assets. Ultimately, the goal is for Energiswap to be the most comprehensive decentralized exchange for all digital assets. The tokens available for immediate trading are:
NRG
eDAI
eBTC
eETH
eUNI
eYFI
eLINK
eAAVE
eSNX
e1INCH
How Do I Use Energiswap?
Energiswap has been designed from the ground up to be as easy to use as possible. All you need to get started is an Energi Wallet, some NRG, and MetaMask or a similar app to connect to the Energi blockchain. You can read all about how to get started in the Energiswap section of our DeFi Support page. If you need any additional help, just hit the live chat widget on that page to get in touch with our dedicated support team.