The Future of Funding? Why Energi 'Bootstrapped' rather than 'ICO-ed'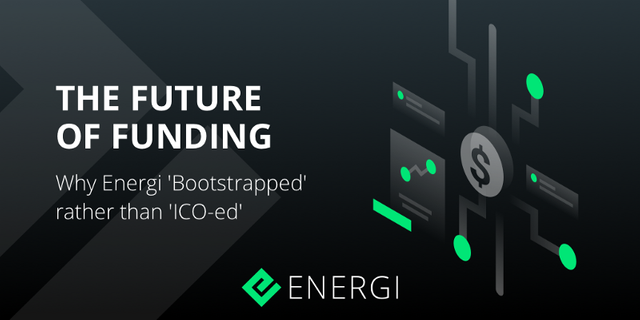 One of the most common questions the Energi team gets asked centers around one thing: funding. Whether it's ICOs (Initial Coin Offering), IEOs (Initial Exchange Offering) or seed money, funding is the foundation of any project. So why did we decide to go at it alone, rather than launch an ICO like so many others? And what does this mean for the future of Energi? We'll answer all of these questions and more in this blog.
It all starts with our founder. Back in 2017, Tommy World Power saw some serious problems emerging in the crypto space. While he couldn't predict the future, he could see many projects were being funded without an end goal in mind. Sure, ICOs could raise funds for now, but what about in a few years time?
Since 2017, so many projects have died and so many founders have gotten rich — yet few of the actual products that were promised have reached the market. It's fair to say that it's the community, not the founders, that have paid the price. Tommy came from the crypto community and decided that rather than advising on projects, many of which were too stuck in their ways to change, he'd create one. And so Energi was born.
That's also why, from day one, Tommy built Energi to be different. As many of you know, he decided to fund the project through bootstrapping instead of crowdfunding (by 'bootstrapping', we mean that he started the project using his own money, not outside investments). Compared to an ICO, IEO or traditional funding round, there's a significant amount of regulatory risk with doing an ICO/IEO that many projects ignored — choosing instead to play the game of jurisdictional arbitrage. This may come back to haunt many of them in the coming years. By being self-funded, Tommy operated within the existing regulatory structures. We can do what's right for the project and our community long-term without being influenced by outside shareholders.
So how does it work in practice? Well, instead of a founder percentage as in a typical ICO, Tommy is on a 'vesting' schedule. This is an idea popular with members of the Bitcoin community, such as Andreas Antonopoulos, and we adapted it for Energi as our 'Backbone'. Basically, 'vesting' means that our founder doesn't get a lump sum upfront, he has to work towards it over a number of years — just like an earn-out clause in a typical merger or acquisition. This gives the project stability. Whereas many founders obsess over market price and short-term concerns, ours takes a more long-term view. The focus, then, is on mass adoption and the ultimate success of the project. Isn't that how a project should be funded?
It's also more transparent because instead of all the funds ending up in an ICO wallet, funding is built into the cryptocurrency. Anyone can check the Energi website to see how the treasury is spent each month and what the team is working on. And, instead of one unaccountable ICO pot that can be mismanaged, funds are released in smaller increments in an auditable manner month after month.
The value of this stability and transparency is huge. Especially today, when so many projects are going under or scaling back on their vision, which often happens without informing the people who funded them in the first place. Of course, there will still be periods of instability, but our model means we're able to ride out the market and deliver on our founding vision — while bringing the community with us.
And the benefits of bootstrapping don't stop at stability and transparency. A side effect of this long-term focus is that it frees us up to look at what's really important. We aren't the first to notice that blockchain enables a better future with the possibility of having direct sovereignty over your money and bringing financial services to around a third of the world's unbanked population. However, we have to be conscious that our world is facing huge environmental challenges, and resource-intensive solutions that underpin major cryptocurrencies like Bitcoin are unsustainable for mass adoption. Thus Energi has chosen to implement a far greener solution via proof-of-stake rather than the arms race that is proof-of-work.
Keeping with our vision of making the world a better place, a portion of the proceeds from the Backbone also funds the development of Energi Impact, our charity arm. Energi Impact's focus is ambitious, we know. Confronting climate change, cleaning the ocean and helping disadvantaged children are just some of the challenges we're working on. Currently, the project is building an initial base in Bali, Indonesia and the movement has already grown to six inspirational individuals. Energi Impact is a project that's not just changing the way charities are funded, but it's changing the world in the process.
Another major cornerstone of Energi's self-funding treasury is our Defense department. This is essentially a group of cybersecurity experts who not only help community members if they've fallen victim to scams or hacks, but proactively put out valuable educational content to better equip everyone to fend off these attacks in the first place. This is unique in the Cryptocurrency space and another philanthropic effort on our part to better the entire ecosystem.
Conclusion
In the years since crypto exploded, we've seen many projects continue to take the ICO route to secure their funding. Many of these projects have faced scrutiny from the SEC for the unlicensed sale of securities and numerous other legal missteps leading to their demise.
Perhaps, though, there's a better approach after all. Let us know what you think in the comments below.
We hope you agree that while there are many ways to fund a project like ours, a model like Energi's may well be the future of funding. We are in uncharted waters here folks, but we believe we are revolutionizing not only the cryptocurrency space but finance as a whole.