Energi's Impact - Beyond Blockchain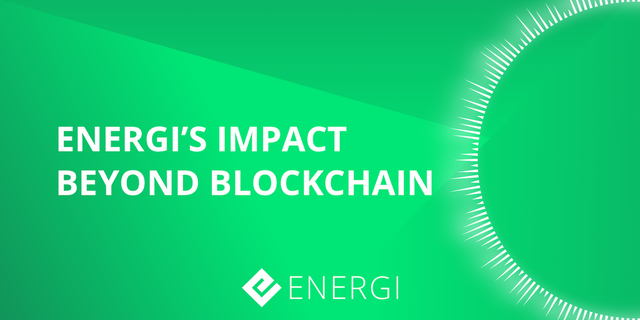 Since we started Energi, we've noticed organizations talking more and more about changing the world. You can probably think of countless companies that are trying to tackle the most significant issues of our time. But how many actually put this at the heart of their organization, rather than just as part of a slick marketing campaign?
In this blog, we're going to look at one of Energi's fundamental values — Impact — and some of the ways the Energi project, team, and community are actually changing the world around us for the better.
Making an Impact
It's easy to see the problems in the world, yet it's a lot harder to actually solve them. It takes a belief in the power of positivity to make real change. It was this thinking that inspired our recent Earndrop, which impacted positively on the lives of over 45,000 people.
Many other projects have had airdrops, but none have been as ambitious as ours. We didn't just want to get our name out there, dropping coins into random wallets like so many others do; we wanted to launch a campaign that would change people's lives around the world. Right from the beginning, we wanted to take our entire community on a journey with us.
And you responded. We distributed close to 4 million NRG which, for some members of our community, was life-changing. More people than we ever expected got involved and learned about the project — and we built a strong, active community in the process. A community that's not only supporting the future of Energi but the wider world too.
"Never doubt that a small group of thoughtful, committed citizens can change the world: indeed, it's the only thing that ever has." — Margaret Mead
It's the same spirit that drives our team. When Energi started, Tommy had a vision that has since grown into a movement through the hard work of a group of volunteers (who are now full-time members of the Energi team). Today, there's a diverse, global team of over 60 people who are turning their passion into a career, showing the crypto space there's another way to build and run a project.
Together, we've since migrated our entire blockchain to proof-of-stake, launched one of the biggest airdrops ever, and are quickly closing in on developing a smart contract platform — all in less than two years. We know lasting change isn't easy, but it's our belief that the community and team combined can be a powerful force for good. And if this is what we can do in less than two years, imagine what we could accomplish this decade.
Impact Beyond Blockchain
Beyond our own industry, we want to help tackle some of the biggest environmental challenges of our time. Here, the current climate emergency stands head and shoulders above the rest. That's why we launched Energi Impact, our self-funded charity arm.
Energi Impact's not only helping to improve the environment but also changing the way charities raise capital (through our self-funding treasury). What started as an initiative to support an orphanage in Bali led to beach clean-ups, wildlife conservation, and helping underprivileged children in the local area. This year, the project has gone further by developing an online education platform, including a 'Mental Health & Wellness' podcast, and a documentary about conservation in the region.
It's a small initiative right now, but it's growing — and with its unique funding model, the potential is enormous. As part of the Energi project, it's informing and inspiring the rest of the organization to kickstart their own change.
Where Next?
While making an impact takes time and commitment, the potential is unlimited and it's something all of us at Energi believe passionately in. If you would like to get involved and let us know what you think, join the community on Discord.