Energi Gen 3: Understanding the Potential of the New Energi Platform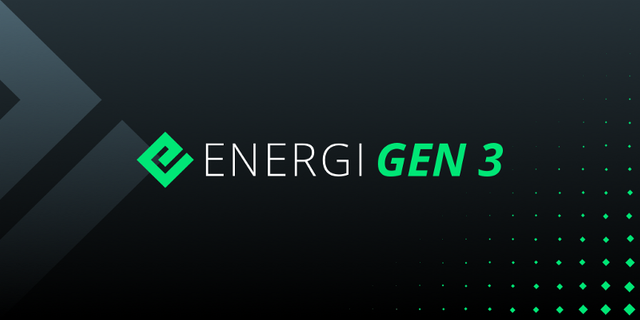 Since its launch back in April 2018, we've always strived to make Energi one of the best cryptocurrencies, incorporating the best processes and tools a blockchain can offer its users. We launched with Energi v1, hard forked to PoS (Proof of Stake) in Energi v2, and are now launching smart contracts with Energi v3 (Gen 3). This is truly Generation 3 (or Gen 3) of Energi and of blockchain projects generally. Gen 3 brings Smart Contracts and decentralized applications (dApps) to our platform. With this evolution, we are one step closer to reaching Energi's true potential of being a world-class cryptocurrency. We have taken extreme precautionary measures with the development of this new version to vigorous testing of every single scenario, validating that Energi will operate as intended.
In our latest article, we discuss the upcoming launch of Energi Gen 3 which will include all of Ethereum's smart contract capabilities while incorporating Energi's strong Masternode structure, self-funding treasury, and decentralized governance models. This advanced approach shows that our project is in a league of its own and will be at the forefront within this rapidly evolving space.
Smart Contract Capabilities
The most significant enhancement within Energi Gen 3 is the move onto an Ethereum-like platform. It will allow existing and new ERC20 tokens to be stored on Energi as well as the incorporation of existing and newly developed dApps. Shortly after Energi becomes a smart contract platform, the system will migrate existing Ethereum infrastructure such as MyEtherWallet (MEW) written for the Ethereum Blockchain onto its network. This will allow users to generate wallets and interact with smart contracts right on the Energi network! These new capabilities will organically attract new users and further increase the growth and potential applications of Energi.
Energi's Incubator Program
With the launch of Energi Gen 3, the project will initiate the Energi Incubator Program which will focus on advancing early-stage blockchain projects development on the Energi platform. The program will build relationships with high-quality blockchain startups by encouraging collaborative efforts while also fostering integral economic and business support. As well, Energi's core team will also provide new startups with access to a database of metrics and assessment tools used to evaluate the viability of a project's long-term business plan.
Additionally, as part of the Energi Incubator Program, engineering support will be provided for selected early-stage start-ups. Initially, blockchain enterprises are often small with limited budgets and undergo a time-sensitive process to develop and build out their businesses. Energi will provide ongoing support to these new projects to help address smart contract auditing processes, security issues, and by offering technical guidance directly from the team.
Conclusion
Energi's highly anticipated upgrade will give the space a cryptocurrency unlike any other. From smart contract and dApp functionality to one of the largest treasuries, Energi will be in a position to continuously innovate within the space. Because of this and many other features, Energi is the perfect example of the modern blockchain enterprise.