A Year of Major Milestones and Growth — Energi 2020 Recap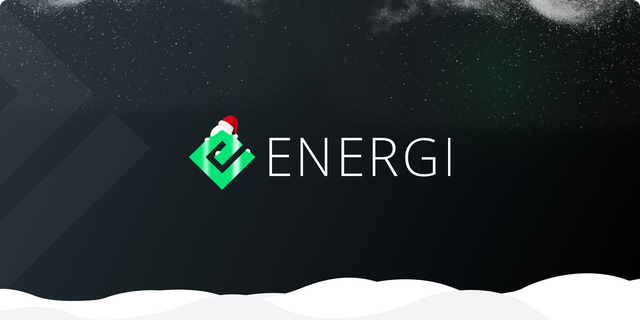 2020 has come and gone, and what a year it's been. Filled with challenges for the whole world, as well as opportunities for growth, it has certainly been anything but boring! For Energi, 2020 has been a year of incredible growth, starting with the migration to our revolutionary Gen 3 platform and accelerating from there.
Across the Energi organization, 2020 has been marked by major milestones in our journey to global adoption. With a historic year behind us, and a new one ahead, we take a look back at the biggest achievements for Energi over the past year.

Gen 3 Migration
In March 2020, we made the game-changing migration to our Gen 3 platform. Moving from Energi Gen 2 to an Ethereum compatible smart contract platform, Gen 3 opened up a new world of possibilities for Energi.
One of the immediate impacts of the Gen 3 platform was the simultaneous release of MyEnergiWallet and the Energi Nexus. MyEnergiWallet allowed our users to manage their NRG locally with a stable and UX-optimized desktop wallet. Energi Nexus created an ever-growing information portal that serves as a resource for our entire community.
Most importantly, Gen 3 made Energi one of the most Ethereum compatible platforms in the industry. This included a move to the same 0x address prefix format as Ethereum itself. This level of compatibility laid the foundation for our goal of cultivating a thriving ecosystem of dApps on our platform in the future.

Security Improvements
2020 has also been a huge year for security, with the Energi Bureau of Investigations (EBI) having some big wins. With the launch of our Gen 3 platform, we also introduced new on-chain governance security measures. This represented a huge step forward in our goal of protecting the Energi community, providing the infrastructure to identify bad actors and potentially recover lost funds.
However, it wasn't just our own platform's security that we improved in 2020. Our dedicated EBI team also took down one of the biggest crypto scammers on Discord, identifying his real-world identity and recovering a massive amount of stolen NRG in the process. This kind of investigation, coupled with our new EBI recovery tool, resulted in an almost 100% reduction in cybercrime targeting the Energi community.

Exchanges
As part of our goal for widespread adoption, we continued to pursue listings on new exchanges throughout 2020. Our aim is always to balance accessibility for our users with considerations of security and stability when evaluating new exchanges. NRG has been listed on six new exchanges in 2020. We also launched our tokenized NRG (NRGE) on Uniswap in November, allowing for NRG to be traded directly on the Ethereum blockchain. Uniswap is now the highest liquidity exchange for NRG, marking a major milestone in Energi's growth.
Here are the exchanges we were listed on last year:

Our Community
At Energi, we've always understood that our community is the foundation of everything we do. Supporting and growing the Energi community is always at the heart of our strategy and, in 2020, that didn't change. We expanded and improved our world-class Discord community with the launch of our Energi Arcade bot, as well as a series of contests.

Energi Support
A huge part of how we keep our community healthy is through our incredible support team. Unlike most organizations in the crypto space, we have dedicated live support through our @energisupport & @energixsupport Twitter accounts. These operate in conjunction with our extensive and ever-evolving support documentation to provide the best community assistance in the space and will only continue to get better in 2021.

Energi Arcade & More
Energi Arcade is our new and improved replacement for the Energi Rainbot, which provides users with a fun way to engage each other on Discord and earn NRG in the process. But, the Energi Arcade isn't the only way to snag NRG. We also held 10 contests in 2020, giving away a total of 3700 NRG.

Influencer Spotlights
A big part of growing our community is also about getting the word out there about Energi. We partnered with 25 influencers last year for a total of 60 features, amounting to 1.32M+ views. Here are some of Energi's influencer feature highlights from 2020:
VoskCoin did a deep-dive into the Energi staking rewards that generated a huge amount of engagement.
Our president, Ryan Lucchese, did an interview with DataDash.
Altcoin Daily featured us in their video covering the top 5 staking coins in 2020.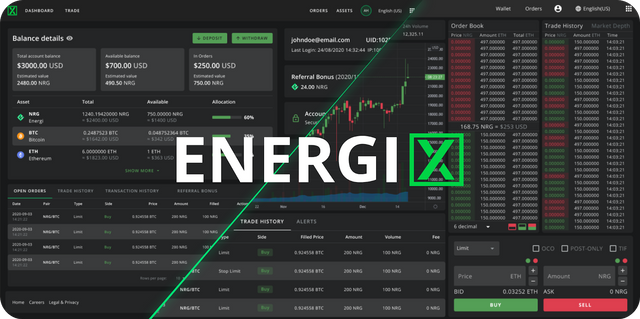 Energi X
We also began development this year on our upcoming exchange, Energi X. With a unique hybrid fee structure, Energi X will allow users to trade all NRG pairs completely commission-free. We have begun internal testing, with the launch tentatively scheduled for early 2021.

Team Growth
Naturally, this past year of incredible growth for Energi has also involved a lot of growth for our team. Just two short years since our launch, we have expanded our organization to more than 60 members spread across over 10 timezones. Each new member has been selected for their expertise in their field, bringing with them valuable best practices. We look forward to continuing our growth in 2021 and adding more top-quality talent to our team as we go.

Energi Impact
In 2020, Energi Impact's work continued to deliver positive results across the globe through a variety of educational and humanitarian projects. Energi Impact's focus in 2020 was directed to both environmental work and developing vital educational resources, with a number of successful projects. Here are a few of their highlights for the past year:
Planted 500 native trees in New Zealand by hand, as well as 4000 trees through the One Tree foundation.
Launched the Energi Impact educational website, featuring a podcast with 27 episodes and a 12-strong educational video series covering environmental and humanitarian issues.
Funded a documentary on the world-famous "Shark Girl", Madison Stewart and her marine conservation efforts.
Provided financial support to a number of Balinese orphanages to help feed and clothe their children.

Onward to 2021!
So, with a strong year behind us and a bright one ahead, we would like to thank all of you for your continued support. We could not do what we do without our community. Together, we have made huge strides toward our goal of changing the world through crypto. Here's to the end of 2020, and to the great things coming in 2021!