Blockchain Startup Endor wins MetLife Korea Contract !!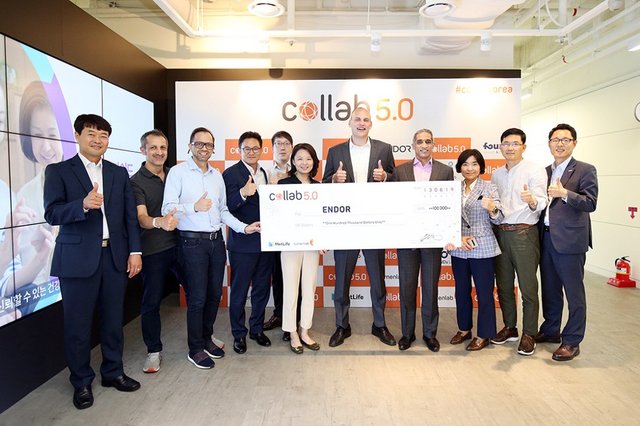 On June 13, 2019, MetLife Korea announced Blockchain Startup "Endor" as the winner of its open innovation program, collab 5.0. Endor won a USD 100,000 contract beating all other six finalists.As a reward Endor, won a contract to provide $100,000 worth of its AI and predictive analytic services to MetLife Korea across its insurance value chain. The insurance service provider is hoping to use Endor's services to upgrade the quality of its customer engagement, sales processes, and operational efficiency in pilot programs that could be adopted throughout the company.
Endor, "Google for Predictive Analysis".

Endor is an Israeli based startup founded in 2014 by a group of PhDs, data scientists, and product experts and is lead by Dr Yaniv Altshuler who is a co-founder as well as the CEO.Endor has been dubbed the "Google for Predictive Analysis" and rightly so, after being founded as a tool to provide business owners with automated, accurate predictions without requiring prior knowledge of coding or data science.Built on Blockchain technology, Endor is leveraging artificial intelligence and the idea of Social Physics developed in MIT. As per the new science of Social Physics, any event large or small contains specific human activity patterns within the data. If one can detect these patterns, we can create more accurate predictive analytics than normal machine learning. This, in turn, helps business owners analyse big data to identify trends, predict events, and make informed business decisions.Endor also places a premium on data privacy, it can analyse encrypted data without decrypting it, and it is GDPR compliant. Many global brands such as Coca-Cola, MasterCard and other Fortune 500 companies are currently using Endor to improve the decision-making processes.
Rapid Progress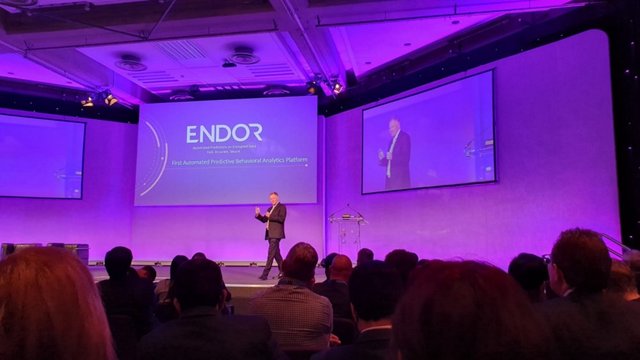 Endor Senior Director EMEA, Steve McNickle at TCS Innovation Forum in London
Keeping true to the roadmap, Endor has recently released its Endor Protocolv.1 to the public. The Endor Protocol introduces another layer of data integrity and security by allowing users to share datasets over a decentralized network. Participants can leverage Endor's ERC-20 EDR token to access the Blockchain and perform network actions. Endor believes that offering prediction as a service could lower many of the barriers that had previously made predictive analysis only available to the largest corporations.
collab 5.0
collab 5.0 is the innovation arm of MetLife Asia developed by LumenLab to bring the most innovative ideas in the InsureTech industry to the attention of MetLife executives and industry stakeholders. LumenLab is committed to empowering a culture of innovation as part of business development processes that position it as a pacesetter in how the industry engages with its customers.The collab 5.0 innovation challenge had 184 applications from 36 countries, out of which seven finalists emerged, and five startups got the winning prizes.Zia Zaman, the CEO of LumenLab's who also doubles as the Chief Innovation Officer at MetLife Asia revealed that
"innovation is a business imperative and external collaboration forms a key component of MetLife's efforts to transform the insurance sector. Collab is about building partnerships that help us innovate ahead of tomorrow's challenges to have a greater impact on those we serve,"
Dr Yaniv Altshuler, CEO of Endor remarked
"we are incredibly honoured to be selected the winner of MetLife Korea's Innovation Program, collab 5.0. This is a huge vote of confidence in the unique predictive analytics capabilities our platform offers". Dr Altshuler also observes that "MetLife is one of the largest insurance companies in the world and we are excited to participate in advancing innovation with such an important player in the insuretech industry, particularly in such an important market as South Korea, which pioneers disruptive technologies"
You can Read the press release from here.
EDR is listed on the following exchanges:Upbit , Bitrrex ,Hotbit , BitForex ,Houbi korea , CoinTiger ,Bilaxy,Trade.io , Coinall , KuCoin , Idex , DigiFinex , P2PB2B , OAX , CoinBene , LATOKEN , BitMart , Coinbit , ABCC .
To know more about the project, you can visit Medium blog | website |Twitter | Facebook | LinkedIn | Telegram
Disclaimer: This article is not intended as investment advice. You should always do your research and invest your capital wisely. I don't own the token, neither will I be rewarded in any way for writing this article.