Signs that prove you like him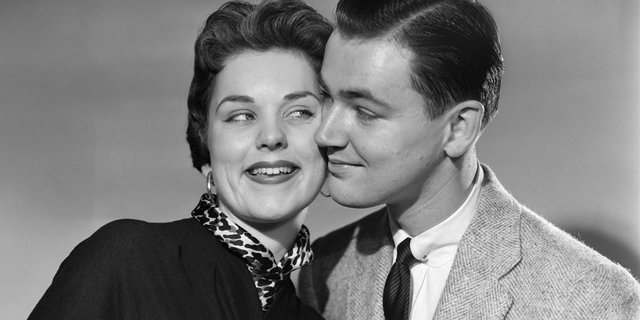 Source
There are signs that do not deceive and that are indicative of a nascent love ... Here are some ways to detect them and avoid missing a good meeting.
In his book "The Real Signs of Emerging Love in 50 Experiments" *, Lubomir Lamy analyzes the different mechanisms of love relationships and tries to make us recognize lasting and happy love. But before living the great love , must not be missed! And for that, it is important to know decode encouraging clues, which allow to enter with the other in a game of seduction . And especially some physical signs that betray an attraction ...
The dilation of the pupils
According to Lubomir Lamy, our pupils dilate when we are attracted to someone. And conversely, a face with dilated pupils seems more attractive to us. Eckhard Hess, former director of the Department of Psychology at the University of Chicago and pioneer pupillometry, has found that between two photographs of the same woman, men prefer the one on which his pupils are dilated, a sign of desire.
When a person is excited, his pupil can reach a size 4 times greater than its normal size. Difficult, of course, to fix a man we do not know to check the state of his pupils, but if the discussion starts, scan!
The orientation of the body towards the person
By turning his body towards someone, it is imperceptibly meant to him that he focuses our attention. We "open" to this person and we often say that the body goes where the spirit wants to go. In the same way, a euphoric or disapproving mood shows that one person is troubled by another ... it remains to be seen if it is by you! In short, the important thing is to feel if the other is trying to get noticed by sending the message "I'm here".
The gaze directed towards the other
A glance pressed for a few seconds at someone is a sign of attraction. Indeed, when one is in love, one is focused on the other, and one looks elsewhere than towards oneself. On the other hand, a person who avoids our gaze can also mean that she is disturbed by our presence. However, if you try to catch the eye of a man and he acts as if he did not notice you or he looks through the exit, it can be a bad sign ...
The reduction of distance
When one is attracted to someone, everything is an excuse to get close to it, to touch it ... like a magnet, we want to eliminate any distance or obstacle between the chosen being and us. If this man tries to stand next to you at the table, follows you when you change rooms at a party, or he walks past you as you brush past, this may already be a good sign and that he is looking for your company.
The voice
If you have already managed to approach (or get approached) by the one that interests you, the voice can be a very good indicator to know if your interlocutor is in a phase of seduction. Indeed, Luigi Anolli, an Italian psychologist, demonstrated in a study of Italian students that successful seducers are able to better vary the characteristics of their voice (tone, intensity and rhythm). If at first, this man speaks to you loudly and quickly, it is because he wants to show you that he has confidence in him. In a second step, if he adopts a voice more serious and softer, it is that he tries to establish a more intimate climate, conducive to seduction and confidences, which refers to the warmth of his feelings.
If one or more of these signals have been sent to you by a man, you can predict that it is on the right track! Now you have to define whether it is a simple attraction, a more marked interest or a true love ... it's up to you to find out!