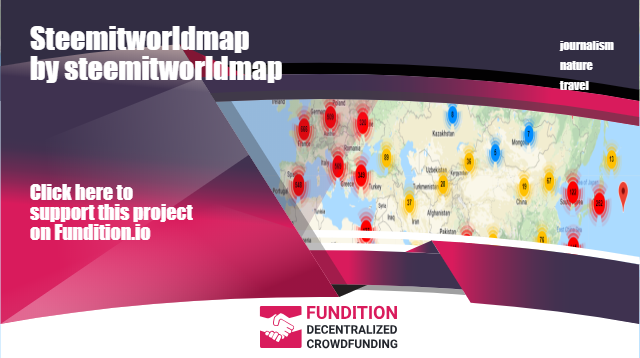 Why Steemitworldmap
In a time of internet and globalization the way we travel is changing rapidly. Instead of going to a travel agency to get information and book a trip, more and more people are researching where to go and what to do by themselves.
The best way to get reliable information on travel destinations is to find like-minded travelers sharing their personal experiences. Nowadays, there are a lot of great blogs and videos out there. This content is incredibly valuable for other travelers. It helps making your trip the best trip it can be.
If we could all build out a map together on which we share our travel experiences and get rewarded for doing so, we can all agree that that would be amazing. No more need for endless browsing through Google in the hope you can find that one blogpost you were looking for. Or as a creator, no more strong content that goes unrewarded and unnoticed.
This is why we created Steemitworldmap. A map that makes it easy to find incredible travel content on the places you're interested in. Your personal digital travel guide and travel diary all in one. A map that rewards you for adding your experiences to it!
---
How does it work?
If you are a content creator, you are able to pin your content to Steemitworldmap by adding an auto-generated, invisible bit of code at the end of your post. After adding this code, your post will be made available on your personal map a few minutes after. You will know your post is live on the map when you get the notification comment.
On a daily basis all the content added to the map is curated. If the content is deemed of the highest quality you will get rewarded by an upvote from @steemitworldmap, a feature in the daily #traveldigest and your post will be visible for everyone visiting Steemitworldmap.
If you are a traveler looking for new places to read up about, we have included multiple options to easily filter the map. You can filter by location, author, tag, date range and quality.
See the videos below for a more in depth video tutorial.
---
How do we guarantee quality?
Our team checks every new post added to the map with an internal tool called Fastcurate, developed by @martibis. It shows all the posts added to the map and makes it easy to make a selection of the good and best posts. This is done on a daily basis. After the selection we create a #traveldigest post where it's easy to find the best travel content added to the map on any given day. The selected posts also get an upvote from @steemitworldmap and a manually written comment congratulating the authors and notifying them that their post has been selected for today's #traveldigest.
Each day we update the project to be a bit better for travelers, each day we support amazing content creators and each day we grow together as travelers a bit more! All #traveldigest's can be seen as an incremental improvement to Steemitworldmap and the travel community as a whole!
---
The team
Steemitworldmap has a highly experienced, and of course well traveled team. Between us we have been involved with several big projects on the STEEM blockchain. To name just a few projects the team has been involved with: @curie, @utopian-io , @ocd, @teamaustralia, @promo-mentors, @ladiesofasia, @globalschool,...
Feel free to check out our personal blogs or reach to anyone of us if you have more questions: @martibis, @livinguktaiwan, @choogirl, @itchyfeetdonica and @lizanomadsoul

---
What have we achieved so far?
When we started Steemitworldmap two years ago, we had no idea how far it would take us. Nowadays we are proud to say we have over 36.000 posts on Steemitworldmap added by over 2.000 content creators.
The team has put together 490 #traveldigest's and upvoted over 9.000 posts, helping content creators all over the world.
To top it all of we have had 14.000 unique visitors on Steemitworldmap so far! Making it one of the bigger projects on the Steem blockchain, with a reach outside of the STEEM community as well.
---
Why do we need funding?
Constantly improving and upkeeping Steemitworldmap takes a lot of work. At all times we have a team of five people working on the project on a daily basis. Fixing bugs, curating the content, rewarding travelers, reaching out to content creators, etc.
We love doing what we do, but with the map growing ever bigger, the workload is becoming bigger too. The entire team is working longer hours, trying to keep up! Behind the screens, we are constantly optimizing the current version of Steemitworldmap whilst working on Steemitworldmap 2.0 aka Haveyoubeenhere!
Even though our curators work on a voluntary basis, only earning the SBD rewards from the #traveldigest's they write we still have monthly payments that have to be made to keep the project running. Theoretically we could power down to cover these costs, but this would mean we are no longer able to support amazing content creators to our fullest potential.
Our monthly costs are:
20 SBD for SteemSQL
20 SBD for hosting and domain costs
It would be great if we were also able to reward the team for their hard voluntary work on a daily basis:
10 SBD per day (curating)
10 SBD per day (development)
Any support we get over the initial 640 monthly SBD will go to improving Steemitworldmap and making Haveyoubeenhere a reality!
---
Haveyoubeenhere?
Haveyoubeenhere will be a big upgrade to Steemitworldmap. It is a fully functional, stand-alone platform connected to the STEEM blockchain. It will be able to be utilized by Steemians and people that have no experience whatsoever with blockchain technology. Some of the features you can expect:
Use your phone's GPS to draw out your travel route
Upload a photo and automatically have it pinned to the right location
A personalized feed with travelers you can follow
An easy way to look back at your travels on a day by day basis
@martibis is working on a functional prototype in his spare time. Everything is still in its early stages. So for more information please reach out to him!
---
What do our users think of us?
We asked our users why they think Steemitworldmap is awesome, here are some of the videos we got back. This really brought a smile to our faces and we hope it can showcase the reach this project has.
---
Other ways to support Steemitworldmap
Vote for the Daily Traveldigest
Follow our curation trail
Delegate Steempower