Project Giving and Fundition are now collaborating!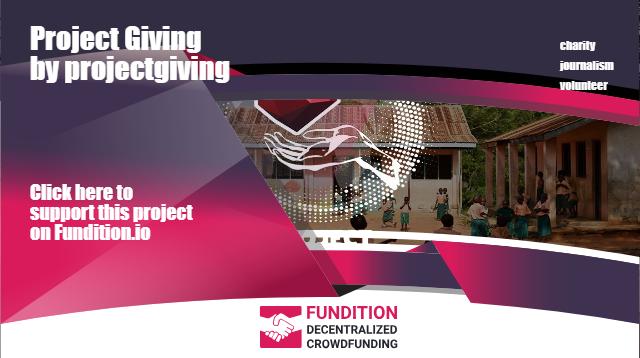 Support this project on Fundition.io

Dear Steemians,
We are so happy to share with you all that we have officially registered as a project on Fundition. @Fundition is an incredible movement which seeks to bring blockchain crowdfunding to the mainstream. They have been responsible for the funding of numerous successful Steem Blockchain based projects and we are thoroughly looking forwards to working with them.
Every time we seek to fund-raise for a new charitable community initiative around the world, we will be updating our goals on the fundition page so that donations can be sent to the initiative of your choosing.
---
As a reminder, all donations to this post, our previous fundraising post and fundition donations this week will be sent to help the work of our first sponsored initative: Yokaenso

Reintroducing Yokaenso:
Project Giving's first supported initiative
Read our full Yokaenso fundraiser initiative here
---

Yokaenso is a small non-profit organization based in Mwanza, Tanzania, which seeks to promote environmental conservation, food security and create youth employment & empowerment in their local community. Started by a former street-child turned social worker, this initiative exemplifies everything that Project Giving seeks to support and is our first sponsored charity.
Yokaenso has created a community organization which employs youth and teaches them essential skills that are necessary for escaping poverty. This is done by having all members of Yokaenso be active in the essential services their project provides to their local community. Their work is separated into a 4 step program explained below.
Step 1: Waste collection - The proliferation of waste is a serious problem in Tanzania. Yokaenso tackles this by organizing weekly waste collection by their team. Plastic waste is then recycled and organic waste is used to create compost/high quality fertilizer.
Step 2: Waste collection - To reduce the use of plastic bags, Yokaenso distributes reusable paper bags to their local community.
Step 3: Waste collection - Using the fertilizer created from collected organic waste, Yokaenso seeks to create a local small-scale farm which can distribute locally produced goods to the community. This is both sustainable and improves the food security of their community.
Step 4: Waste collection - Education is key to development. Yokaenso showcases this by holding regular community workshops where they talk about the benefits of environmental sustainability as well as the benefits of entrepreneurship.