At EmpowermeEOS, our students are not only being equipped with tools and gadgets, such as smartphones, laptops and internet subscription etc, in order to connect them to the rest of the world and break the digital divide, they are also being empowered with a wide array of digital skills and mentorship towards attaining financial independence. Equally, ensuring community development is of high importance to us and this is why our students are being trained to become leaders in their various communities so that after we empower them, they can go ahead and help others, creating a ripple effect. One of the ways they can learn leadership skills is by emulating role models who are already leading lights in the digital/tech world. As often said, the first step in becoming a leader is following. In this post, EmpowermeEOS student, Mercy Akande, talks briefly about one of those role models, Rhett Creighton
---
---
Rhett Creighton
Rhett Creighton is the founder of ZClassic (ZCL) and Bitcoin Private (BTCP). He also co-founded Blockchain Health, before which he served as a lead developer of OtherLad, and R&D lab. Being a serial entrepreneur, he also co-founded Camm security Inc, which is a company that develops video security cameras that can send footage to your smart phone. As far as his educational background, Rhett holds a bachelor's degree in physics and a masters degree in Nuclear engineering, both from MIT.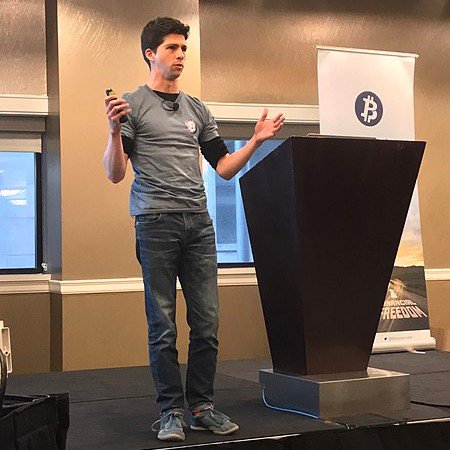 Rhett speaking at an event. SOURCE
Rhett is also popular speaker on cryptocurrencies and blockchain technology (the SF Bitcoin developer meet up, cryptocurrency market and the Disrupt Podcast). He was listed by Mobidea Academy as one of the 9 cryptocurrency experts. He is known world over as a Cryptography professional, shitcointologist, as well as a Bloomberg featured Author, BTC core contributor, MIT alumna and as the creator of #800cryptoclub.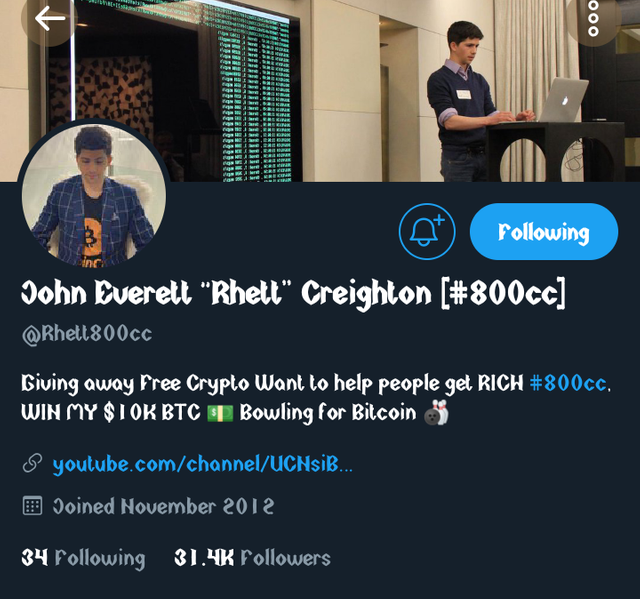 Rhett's twitter profile
Being an advocate for the adoption of cryptocurrency and blockchain technology, he is well known on Twitter for spreading information and educating people about cryptocurrency and blockchain technology. He challenges people to become legends and also inspires people to give and do good.
Rhett has been of a great help to a lot of people on Twitter as he has educated many on how to start their cryptocurrency journey. A lot of people have benefitted from this and they have attested to this.
"Rhett is one of the most innovative and driven people I have met thus far . Once he's behind a project, it will get done. If you need a programmer , system administrator, creative thinker and a strong motivator on your team , Rhett is your man" - Radu R
Written by Akande Mercy,
EmpowermeEOS Student.

You can learn more us and connect with EmpowermeEOS via the following media:
Our Website:
https://empowermeeos.org
Twitter:
https://twitter.com/empowermeeos
Telegram:
t.me/empowermeeos
Instagram:
https://instagram.com/empowermeeos
Facebook:
https://facebook.com/empowermeeos
Email:
[email protected]
Steemit
https://steemit.com/empowermeeos