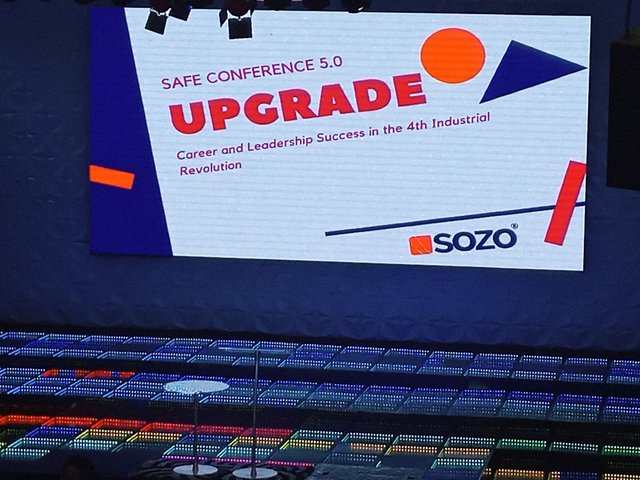 EmpowermeEOS has always looked to partner with reputable organizations in order to fulfill our vision of educating and empowering youths and teenagers in Africa. Sozo networks is one of such reputable organisations, known for being a "non-profit organisation promoting participation of youths in leadership and tackling unemployment through leadership and mentorship programs"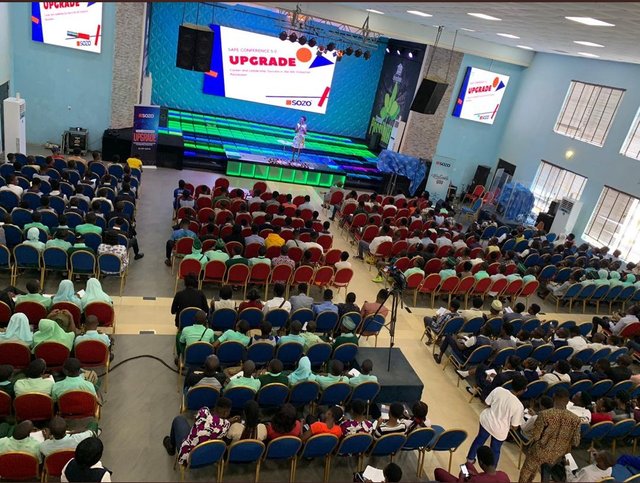 On the 13th July, 2019, numerous teenagers and youths from around the city of Ibadan, Oyo State, Nigeria, converged at the Harvest House for the 5th edition of the SAFE conference tagged, Upgrade: Leadership and Career Success in the 4th Industrial Revolution. The conference, organised by EmpowermeEOS' partner, Sozonetworks, was targeted at the youth population and aimed to teach young people varied life skills such as mental health, proper use of social media, sex education and blockchain education.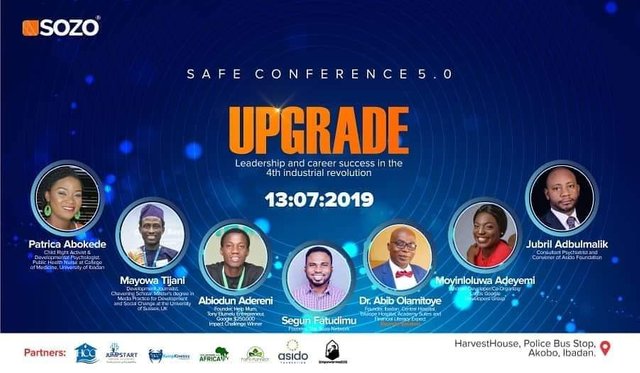 source
The keynote speaker for the event was Dr. Abib Olamitoye, the Founder of Ibadan Central Hospital. He kicked off the event with the story of how he started his journey from a small mud house with a thatched roof, how he has grown his hospital to unprecedented heights and how he has built successful businesses in Europe and other parts of the world.
Other speakers at the event included: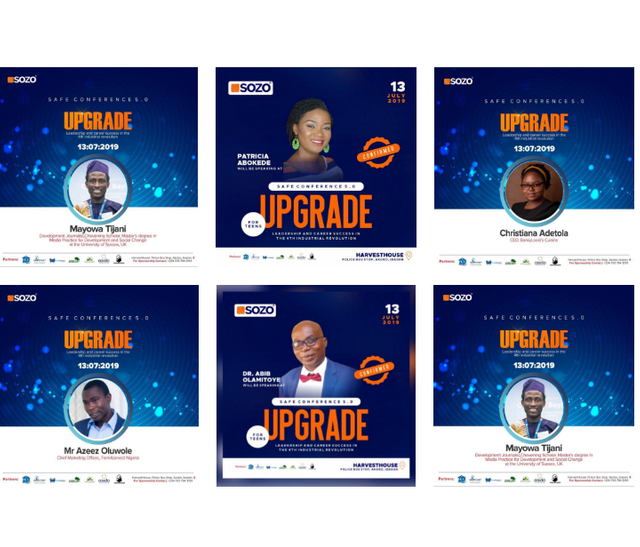 Patricia Abokede: Child Right Activist, Developmental Psychologist, and Public Health Nurse at the College of Medicine, University of Ibadan.
Oluwamayowa Tijani: Development Journalist & Chevening Scholar.
Abiodun Adereni: Founder, HelpMum and Google $250,000 Impact Challenge Winner.
Dr. Segun Fatudimu: Founder of Sozo Networks, Mandela Washington Fellow, Associate Fellow of the Royal Commonwealth Society, Lead partner at UrDentalPlace place limited.
Moyinoluwa Adeyemi: Android developer/Co-organizer Lagos Google Developers group.
Dr. Jubril Abdulmalik: Consultant Psychiatrist University Central Hospital and Convener of Asido Foundation.
HIGHLIGHTS.
During the program, EmpowermeEOS student, Deborah talked about "Safe the Girl African Movement", a movement which she started in 2018 to educate young girls all over Ibadan about sexual education and which has successfully educated 600 girls so far. She also encouraged other young people present to use their time wisely and spend it doing things they love.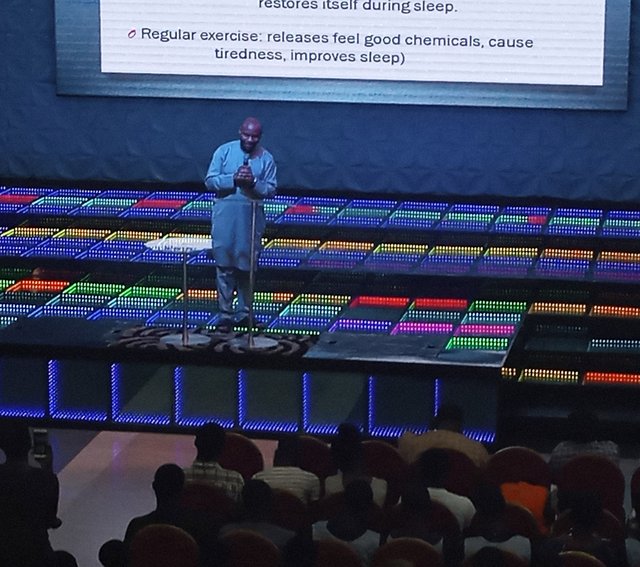 Dr. Jibril Abdulmalik, Consultant Psychiatrist at the University College, Ibadan and convener of the Asido Foundation (a non-profit Mental Health Advocacy Charity) delivered a lecture on mental health, emotional intelligence and well-being. Being a columnist for the Nigerian Tribune and an expert on Mental Health, he spoke at length on the importance the knowledge of mental health and well-being. Also, he charged the young ones present at the event to embrace challenges, upgrade their resilience and learn to rise up anytime they fall. After his speech, he was asked questions by the young audience, which he dutifully answered.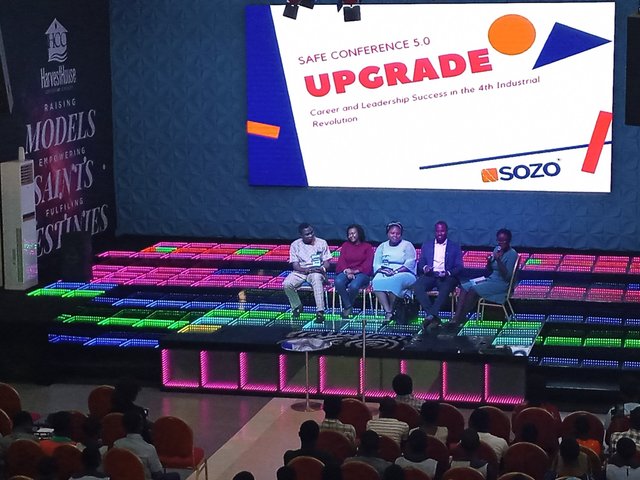 Subsequently, there was a panel session in which various experts such as Mr. Azeez Oluwole (CEO, Farmconnect), Miss Amarachi and Christiana Adetola formed a panel, for a session anchored by Chineye Nzom, that answered various questions posed by the audience and discussed issues ranging from important life skills to technology and the importance of networking etc.
EmpowermeEOS student, Heritage "The Oracle" Osofowora, gave a spoken word presentation titled "The Dreamer" which centered around the importance of dreaming and striving to achieve or fulfil those dreams in spite of whatever challenges one may face.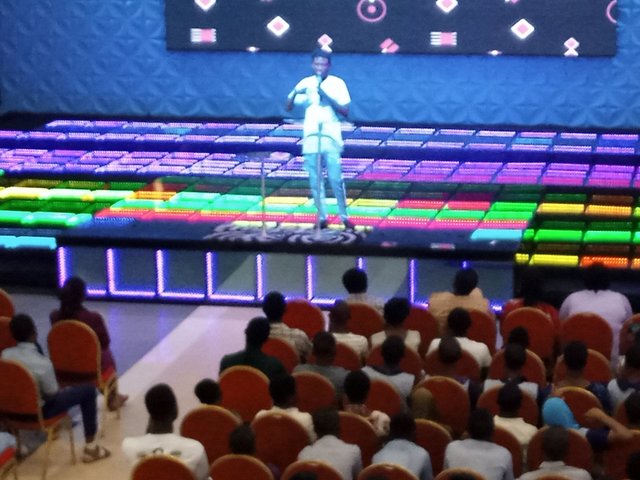 Mayowa Tijani, a development journalist, multi-award-winning public speaker and chevening scholar named one of 50 young leaders, and the only African journalist, from over 144 countries around the world to discuss and proffer solutions to sundry education and human rights issues at the Cumberland Lodge, Windsor Great Park, UK, gave an address on Social media. He noted that Social Media is a tool that can be used for good or bad and urged the audience to use it rightly.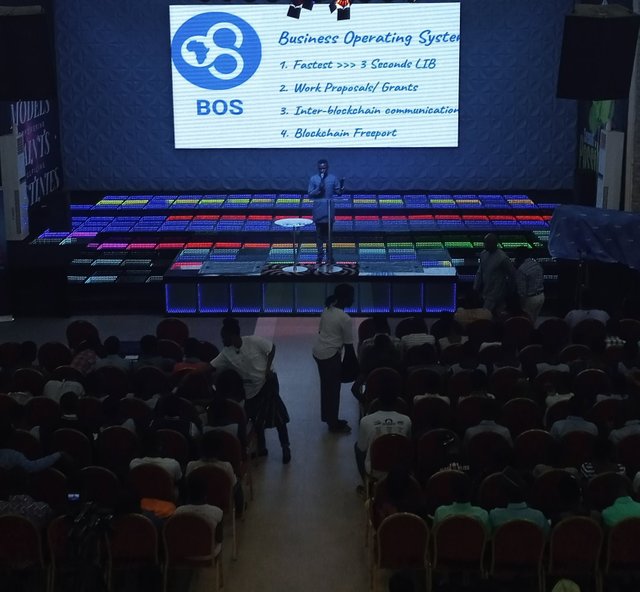 EmpowermeEOS was also involved, as a lecture titled "Career Opportunities and Prosperity on the Blockchain" was delivered by a mentor in our program, Toju Kaka, which dwelt on the importance of Blockchain technology as a vital sphere in the new industrial revolution. In his address, he broke down the meaning of blockchain, what it entails and its importance. Equally, he spoke about BOS and the advantages that come with it. He related his Steemit experience to the audience and also spoke about EOS before wrapping up by summing up the goal of EmpowermeEOS as wanting to teach young people to "use their skills to earn an income leveraging on Blockchain Technology".
Reference:
BOS Presentation at SAFE Conference by Toju Kaka

OUR MISSION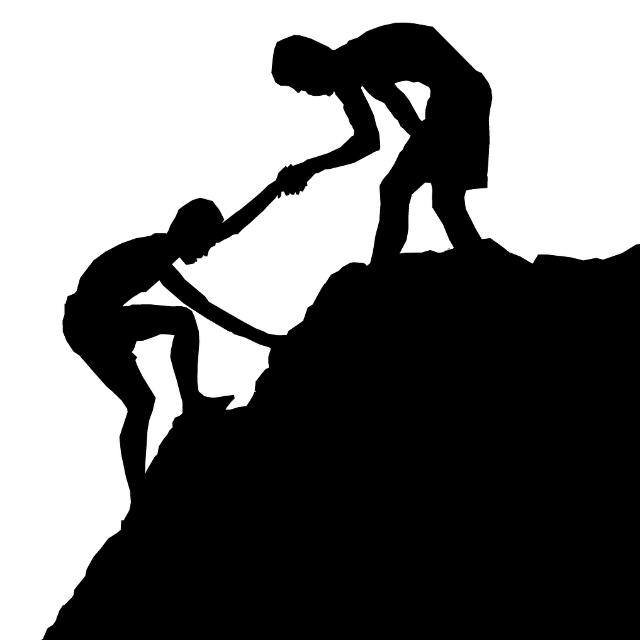 EmpowermeEOS is truly passionate about building communities. Partnering with organizations such as Sozo Networks is a great way to connect with different communities in Africa. We hope to partner with many more organizations and educational institutions spread across Africa and the world over.
---
---
You can learn more about EmpowermeEOS via the following mediums:
Our Website:
https://empowermeeos.org
Twitter:
https://twitter.com/empowermeeos
Telegram:
t.me/empowermeeos
Instagram:
https://instagram.com/empowermeeos
Facebook:
https://facebook.com/empowermeeos
Email:
[email protected]
Steemit
https://steemit.com/empowermeeos

Written by Owolabi Jeremy,
EmpowermeEOS Community Manager