A new micropayments system RandPay by Emercoin will be deployed by DeNet
03:30 PM - 23 JUL 2018
DeNet is the first company to deploy Emercoin's new micropayments system RandPay. Finally, it will be possible to make an unlimited number of payments in a decentralized network.
It is an unprecedented event in the blockchain world. Previously, the number of transactions was limited to 7 transactions per second on Bitcoin and 16+ transactions on Ethereum networks. The average time for one confirmation of payment varied from minutes to many hours, making it almost impossible to transfer money in no time.
RandPay makes transactions in the blockchain faster and cheaper. The system is easy to implement and offers a high level of security. The DeNet platform takes a lease of the unused computing power of users and companies around the world, giving them an opportunity to make a profit leasing the unused computer capacities. It is a mutually beneficial partnership as Emercoin has innovative technology and DeNet has services where such technology is needed. DeNet will be able to pay every user within the network for used capacities.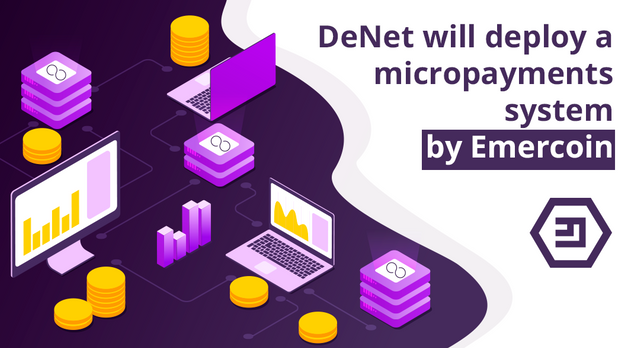 DeNet is a developer is cloud services for distributed storage of confidential information. DeNet solutions provide anonymity and revolutionary level of protection for commercial and personal information, reputation, and personal data.
The company was founded in 2017 and works to create an alternative to centralized cloud services. At the end of 2017, Denet released an alpha version of a distributed static hosting, and in July of this year – a pre-beta version of DeNet.Storage.
Read more articles about Emercoin on our Medium
Join our official Telegram channel