Here is a five minute podcast by serial entrepreneur Gary Vaynerchuk I'd invite every content creator on Steemit to listen to,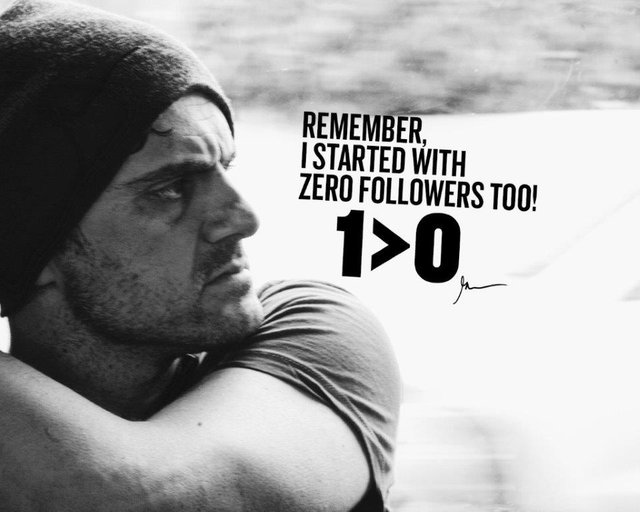 https://player.fm/series/the-askgaryvee-show/why-one-view-is-everything-vaynernation-reads
Here are some excerpts:
It's better to get one view than zero, because you're waiting for that big break. Big breaks don't exist…. Nothing happens overnight.
Why aren't you willing to get 100 views? Why are you so fancy? Until you're Oprah or The Rock or Tony Robbins, you can't be romantic.
I promise you every view counts… you may look at a video and only see 246 views and write it off. But one of those 200 viewers might be a Producer at CNN or the CFO of a big company you're trying to reach. And 10 years later that content creator could become a massive celebrity and all of a sudden your podcast interview could have a million views.
My personal aside
I think Gary's words are really pertinent to Steemit content creators. Most of us are at the stage where our posts on Steemit are receiving sub-1000 views. Yet paradoxically the Steem token is worth almost $300m. Are we fortunate early adopters of groundbreaking technology? Or is Steem an over-hyped fad? Only time will tell...
Regardless of where Steem is in 5 or 10 years time, you can never under-estimate the potential of the people who are consuming your content right now. Who know where your readers today will be in the next decade? Your one view today, could be the quality attention of an influencer of tomorrow?
I feel privileged to have interacted with and met some really smart and forward-thinking people on this platform. And while the numbers may be small, I'm grateful for every view I get and for any time I can spare to read and look at their content too.
Whether by design or serendipity… who knows where these connections could lead...
Food for thought Steemians...
---
Further reading:
https://medium.com/@garyvee/why-1-view-is-everything-3fe415cf3678