Embercoin is the latest coin to be promoted by paid youtubers (part of the scam). Otherwise, there is no need to go all crazy on it and promote it all over the place. Although, part of the scam can be considered every individual in Embercoin's discord channel that were pushing with positive comments for newbies to buy EMB. It seemed to me as a very well lesson learned aspect where every individual is part of the scam to raise the coin's value without even having a team that is "legit". Non-Legit, for the reason that they all hide behind nicknames, fake pictures, and a discord channel full of issues around the wallet/technology in general. Nevertheless, there is no real roadmap for the coin and none knows what is supposed to do or will eventually do.
When you see a team, asking the public regarding the coin's future and getting ideas from general investors. Then, that should be alarm number 1. Reasoning behind that, is a well-established team has a plan and does not just do work without a purpose. 
When you see a team, motivating people to stay on discord channel and give out free coins that is alarm number 2. Although, it should be number 1 since that indicates desperation of a broken product to be pushed massively.   
When you see a team fixing a broken wallet and that very same wallet comes up with the very same errors then, there you have alarm number 3. Because that indicates their programming skillsets are bellow junior level and they can barely handle some if/then/else statement in C++. Because if they knew, they would be able to handle wallet errors like professionals. Anyhow, to a coin is not just updating a wallet… there is way more to an currency than just a wallet/bank/institution, is the purpose it serves. EMB coin serves nothing!  
When you see a team, that keeps changing the nodes of a staking wallet that indicates they have control over staking and can possibly shut it down any second. That is alarm number 4 and that was happening on ember frequently. How do we know this, we know it simply because we did not stake for 2 months on the coin while Youtubers/promoters were posting fake pictures of staking wallets.    
When you see a team, that in any challenge they bail out; on any confrontation on discord they become racist, vulgar and mad; then, that is a great indication one have placed his money into a broken team of thugs and irresponsible individuals that want to fail everyone. So, failing their very own coin investors is not a problem to them hence, in such an environment one should know that alarm number 5 is up and is game over. 
What's the future for EmberCoin?
Is very simple and easy to predict. They will do a coinburn as they said already then, they will come up with some stupid concept. They will promote it again same way and they will be able to "fish" another set of newbies with the very same hooks. So, I recommend just ignore this coin totally. 
To sum it up staking on ember was performed once since the 25th of September and ever after the coin kept dropping in price while the staking was impossible to come around. While at the same time exchanges were blocking/removing the coin from their systems. Some call it inflation, but I think there is a coordination between small coins and small exchanges where they have some under the table agreement to be able to scam everyone. Closing BTC trading on Cryptopia for instance made no sense. But it was done although, there were people waiting to trade.  

So, when it comes to coins that you can stake be very cautions:
check if wallet stakes flawlessly
make sure you work with responsible people (not projectchaos)
make sure the coin is in some decent exchange not on yobit/cryptopia/nova.


Generally speaking, I wanted to go through this in order to learn how it all works but it was a good lesson learned and now I know where to put my money at.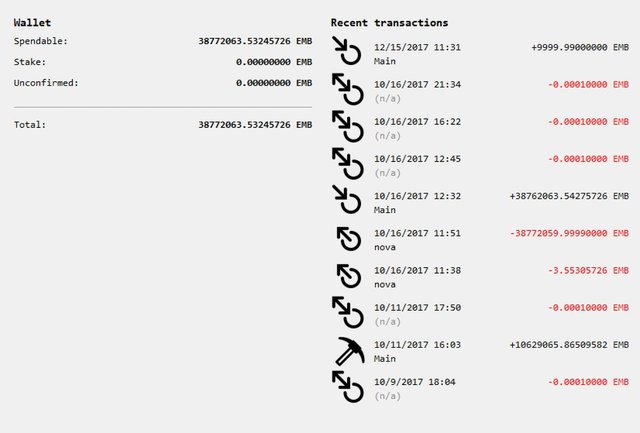 This article was put together to help those that are new into the business and want to get an idea of how this world works.