FatPanda Tiki Time E-Liquids Review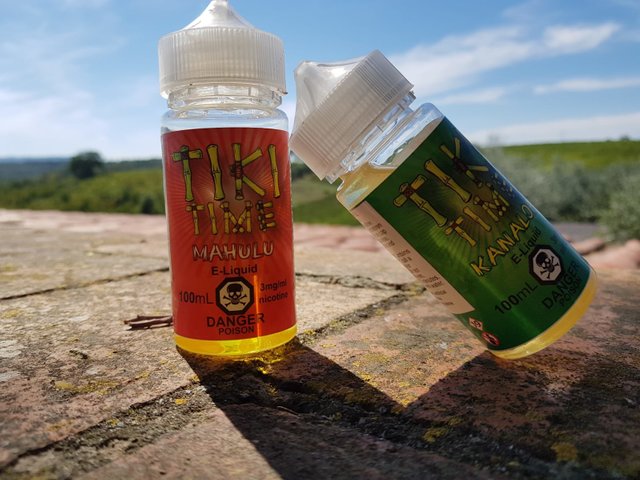 FatPanda Tiki Time E-Liquids
Sup vapers, LorenzoTheVaper here, and today I'll bring an
e-liquids
review. The
juices
I will review today are the
Tiki Time series by FatPanda
. The flavors are
Kanaloa
and
Mahulu
. Before telling you my thoughts I'll write down what is inside and how they should taste.

Tiki Time Kanaloa
What should be inside: Sparkling Pear Soda mixed with Lemon and Apple in a 75/25 Base.
My Thoughts
The first smell on the
Kanaloa
surely makes you feel something like a sparkling lemon with a backside smell of pear that completely covers the apple. It is
pungent
as the sparkling water but at the same time very fresh.
The taste in self is a very nice flavor combination, well studied and combined. It is a bit aqueous like a real drink and reminds me of an alcoholic cocktail. The freshness and hydrating make it a very good liquid for the summer as for the autumn. Since the pear is known as an autumnal fruit.
The balancing is well made, you instantly feel the sparkling on the tip of the tongue while the pear completely covers all the mouth. Instantly after comes in the clutch the apple mixed with the lemon that complete the juice living in your mouth a sensation of completeness.
Even if in the beginning with only a first look I wasn't impressed by it, I changed my mind. It surely isn't a liquid for everyone but I think it works, right now I am vaping it as an all-day finding on it a surprise.


Tiki Time Mahulu
What should be inside:
A Piña Colada with Strawberry and Lime in a 75/25 Base.
My Thoughts
Before starting I want to say that I am a lover of
Piña Colada
so knowing how hard is to reproduce a cocktail in e-juices I had a bit of prejudice on this liquid. Anyway, the
smell
of it is nice, you feel instantly the Ananas inside the Piña Colada and the sweetness of coconut. A smooth smell that even without the alcohol can remember the cocktail.
The taste is fabulous, really close to the cocktail, the balancing isn't perfect, I tried this cocktail on several atomizers but I didn' feel the lemon. The alcohol is missing so it feels more like an analcoholic Piña Colada but with strawberries. The Strawberries really fix the juices giving him a satisfyingly full and fruity aperitif flavor.
Once you vape it you instantly feel the coconut all over the mouth and the Ananas all over the tongue, instead of after you puff it out you will fill feel the strawberry that will leave you an amazing aftertaste.
This is a perfect e-juice to vape before dinner and on a hot afternoon I think, it surely is a perfect summer liquid. I am really enjoying it so much that I already vaped 50ml of it in 2 weeks matching it with some nice fruity beers. It is definitely a must for everyone that like Piña Colada and fruit e-liquids.


Conclusion
That's it guys, before concluding I want to thank
FatPanda
for sending me those e-liquids and giving me the opportunity to write this review. I also want to say that this review is the fruit of days of flavor tasting and that I tried those liquids several times in many different atomizers and kinds of cotton.
THANKS FOR READING, DEAR VAPERS. I REALLY APPRECIATE. I HOPE THIS REVIEW WAS HELPFUL TO YOU. IF YOU WANT TO KNOW MORE ABOUT ME, YOU CAN CHECK MY INSTAGRAM PAGE AND MY PERSONAL BLOG.
Remember guys, keep on vaping but do it safely!!!