Hello kittens! 🐱
🌌🐾🌏 What inspires me ...
Inspiration ... Such a simple exalted word.
⏳🌊🌊🌊 Each person has experienced inspiration - at least several times in his life - spiritual ascent, freshness, a lively perception of reality, the fullness of thought and the consciousness of his creative power.
Why am I looking for inspiration? Create for people. If I create for myself, for glory and self-satisfaction, then what I do, loses vitality, dies and therefore can not kindle fire in other hearts.
Inspiration, like the wind. You do not see, but you feel. Sources of inspiration for each individual, some attract new ideas from communicating with people, and others - from reading books and visiting cinemas.
In fact, inspiration always comes into this process and never before. You can think for many years about changing jobs / making repairs at home / writing a book / yes anything, waiting a minute, and so nothing can be done. But you just need to start, because you will have both inspiration and strength to fulfill your plans. 🌊🌊🌊⏳
What inspires you? 🌌⏳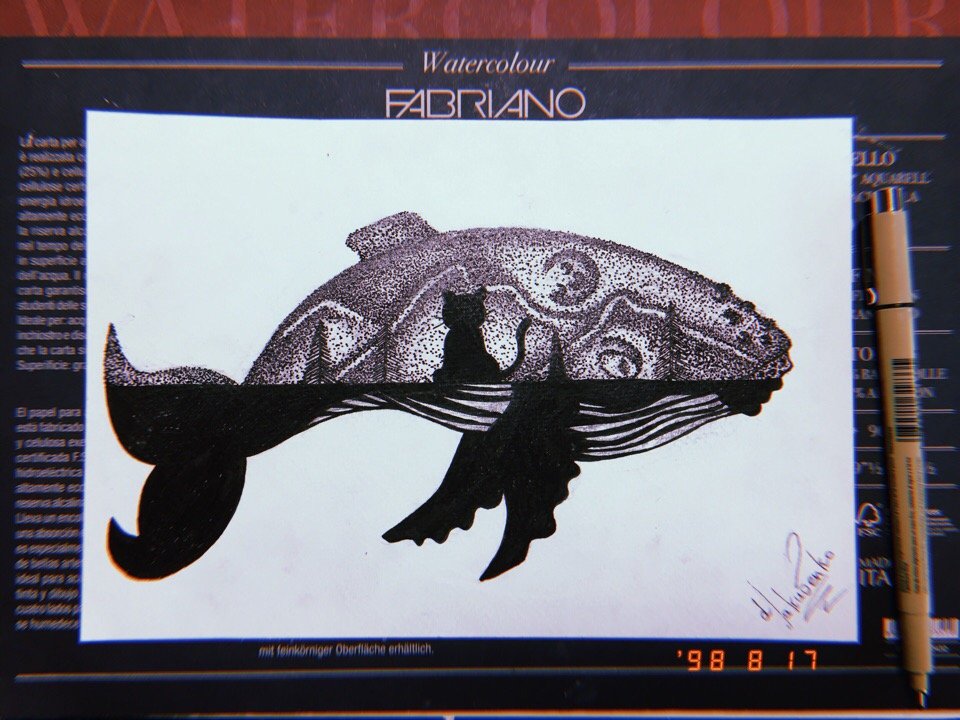 Is it important for you to have a text under the photo? Or are there enough tags and a couple of emoticons?
I notice that some post the post and do not make signatures, well, in general, only tags.
For me, it was so natural to share my thoughts about drawing, materials and art "problems" that I no longer know how to lay out the post and tags 🙈
Although earlier it usually did so), tags were quickly typed on tags, I did not think that it would be interesting to someone to read what I write!
So thank you very much to those who read my posts, who puts hearts and instead writes comments🌿 as a matter of fact, so it turns out to be a return.
New sketch by new pencil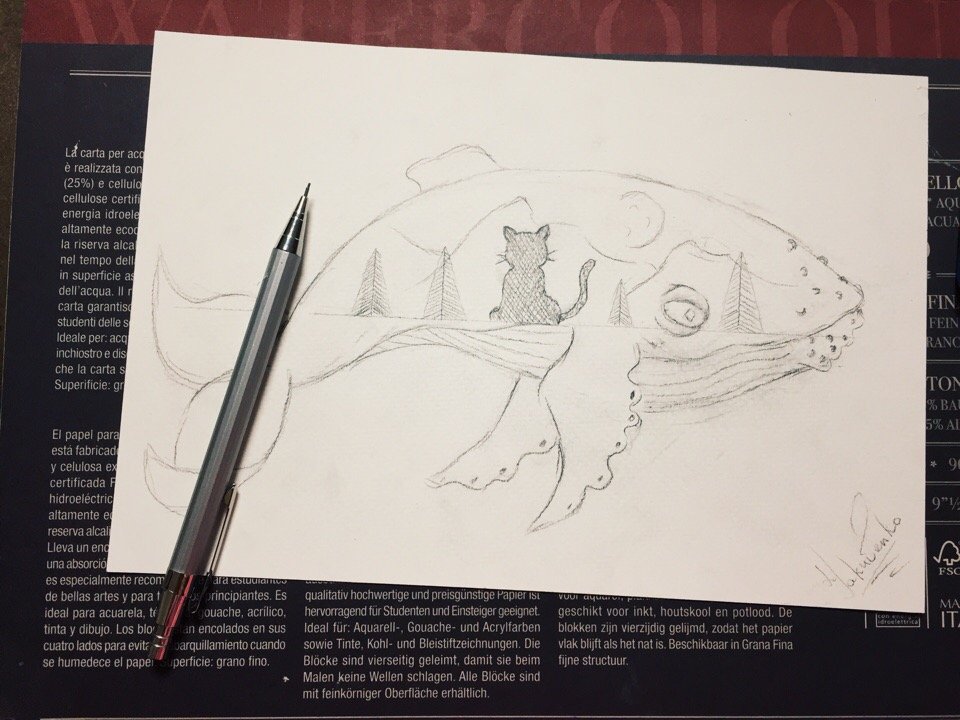 My furry love 🐱 💖
My cat's favorite pastime is sitting on the window when the sun is shining, watching passers-by come to the branches of the bird's trees. Seeing them, she immediately worried, bends his back, now ready to jump, but the glass is obstructing and birds are flying away.
I tell her my secrets, and she tells me her.
Wherever I am, my kitty is always there. When I play on the computer, she is always next to me. She likes to drink Vodichka straight from the tap. We often play together. She at us simply beauty! When I'm swimming, Mashulka is with me.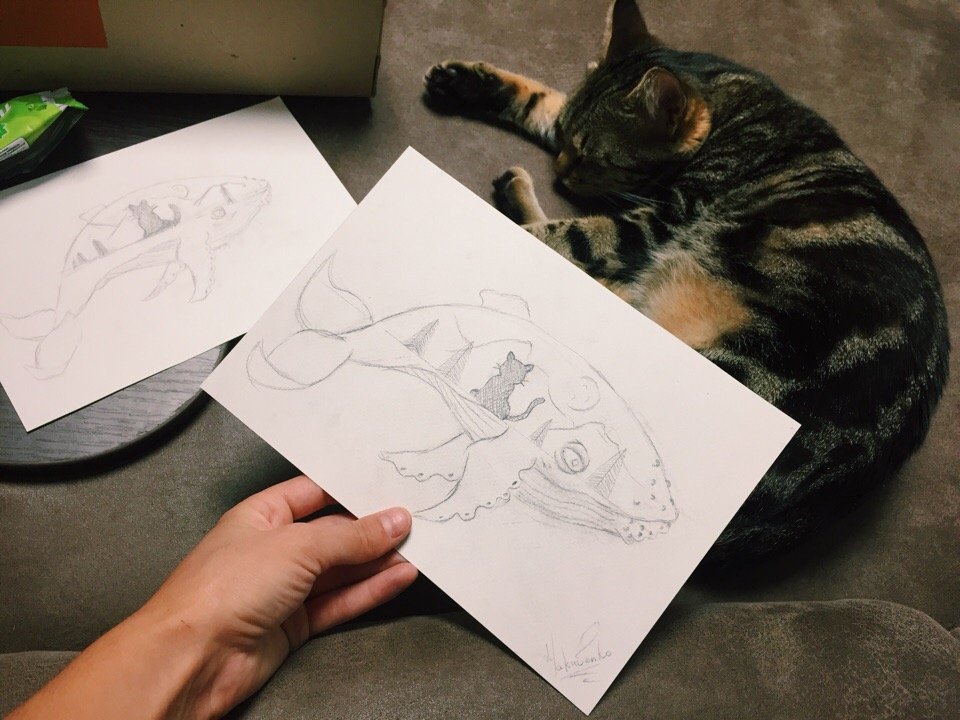 By the way, my name is Dasha. Why am I saying this? Because it's funny when they treat me with a different name. 😃
Guys, if you do not know someone's name, then try to find it somewhere, and if it does not work out, do not put yourself in an uncomfortable position ♥ ️
I get a lot of different reports about this. Decided to answer a little.
I have long wanted to learn how to draw, only now there is an opportunity.

I'm not in real life, and I'm not going. I feel uncomfortable.

I like to draw on photography, and I want to come up with something unusual on myself.

This is a hobby for me

Cosmetics do not harm my skin, like other people. In order not to get angry, you need to monitor nutrition and take care of the skin, as well as remove cosmetics well. Cosmetics are not the main factor in the deterioration of your skin, but sweet yes. ,
I did not remember any more questions to answer them. You can ask below if it is interesting.
Now let's go back to my art
Many already know that I love watercolor, but this time I put my love aside. Because I have a sketch today.
Material: liner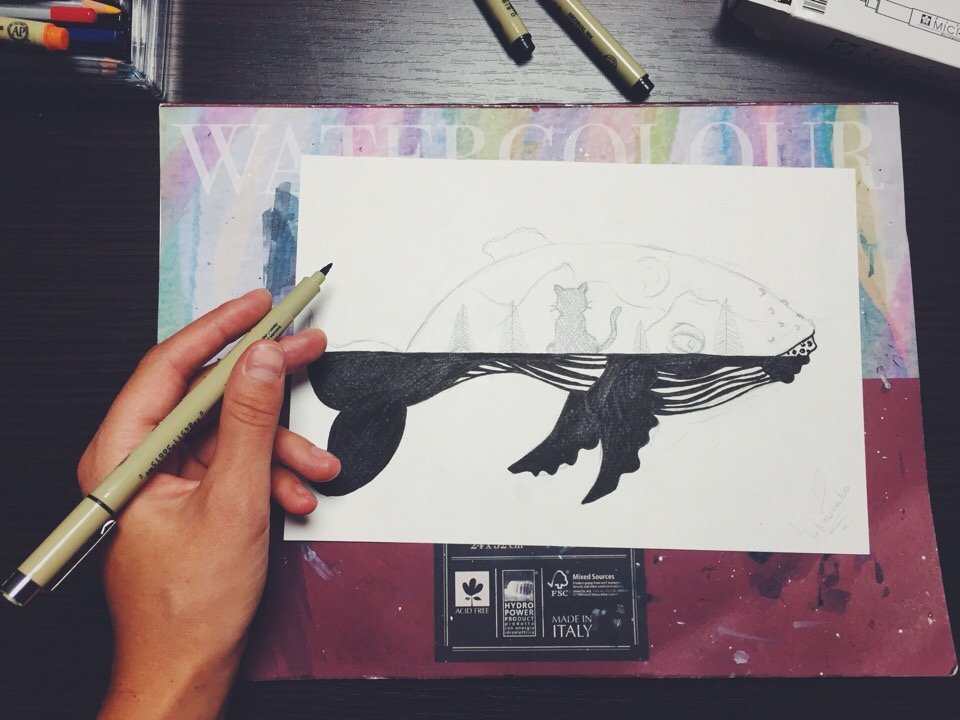 Liner
These are micropigmented moisture resistant markers for professional drawing. Manufactured in Japan, produced in several variations of the thickness of the line and even in different colors. Because I need them to draw a contour, which I later painted with pencils or paints, for me enough of the usual black color.
Pros:
A thin, clear line, regardless of the angle of inclination and pressure.
Does not shine through the paper from the back.
The work of the liner is enough for an oooochen a long time. It is clear that everything depends on the technique in which the artist works and on the frequency of drawing.
This is a cool drawing tool! I can not recommend it.
Personally, I bought myself two sets of liners, one set consists of black flowers, only different thickness of the rod, the second set consists of colored liners.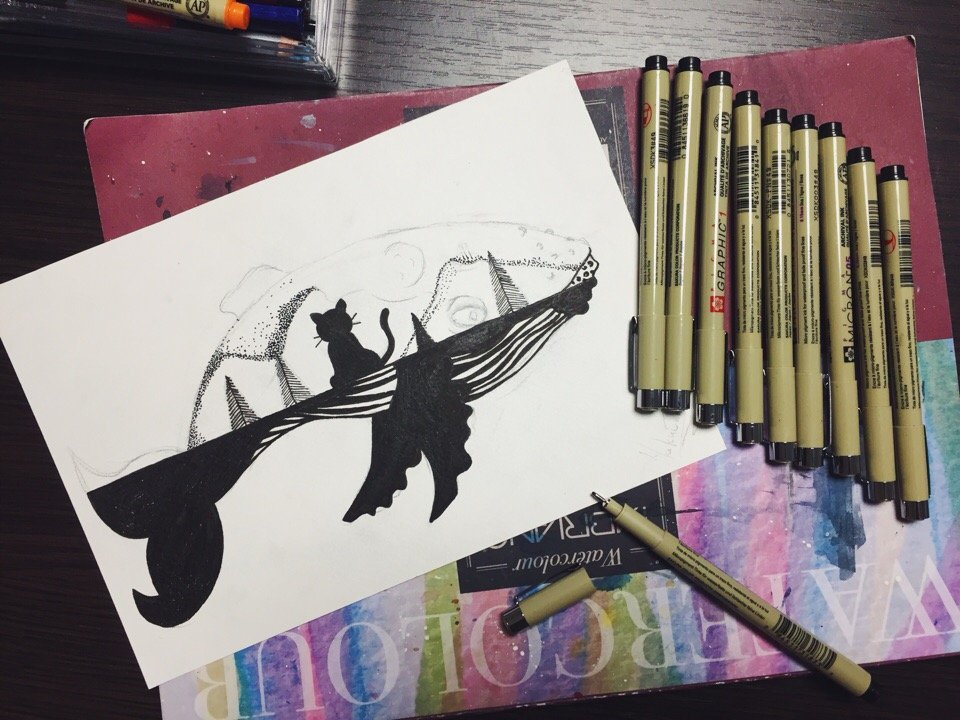 I will always be able to resist gymnastics if it is criticized too much, or if this criticism is completely wrong!
I believe that this is how I can support people who are faced with criticism of another kind. It's better than running and talking - DO NOT PLEASE NOTE. These words do not help in any way, and the person will not have relief.
And in fact, every time I start to express my opinion, some of them become clear from the answers of some, some do not even want to understand what other people can feel, but also I find like-minded people and those who are perhaps helped by my words . And it makes me very happy.
And you know. I have already expressed my attitude to this, and I think it's enough if someone does not understand, then everything is in order. Only I do it not for them.
You can distort my language and understand what you want, but I tried to convey everything that I feel and think. Do not go into a place, it's better to pass if you do not agree.
Just sometimes your answers to me are so contradictory. You express your opinion in my opinion, and when I do this, you start throwing phrases that say only one thing:
I can express my opinions in your comments, but you will not.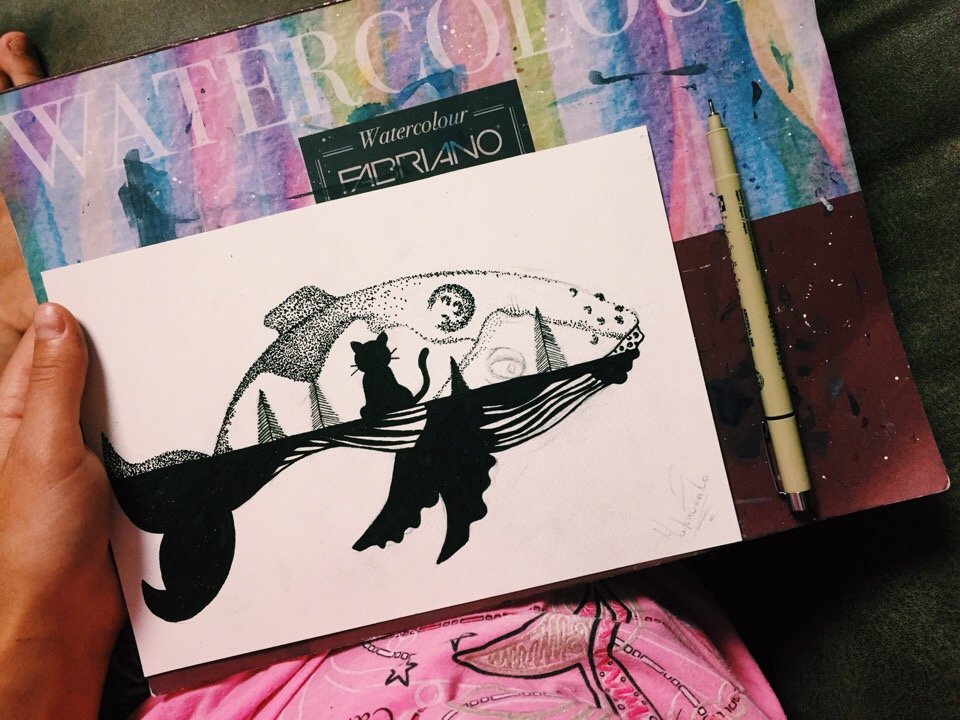 In the last blog I told a little about myself, now I want to add.
"Artist", I guess. I myself am not yet ready to call myself that, I still can not fit into my head, how drawing can be something more than a hobby for me. They could also call me "perfectionist". I can long and tediously draw every detail until I get the desired result.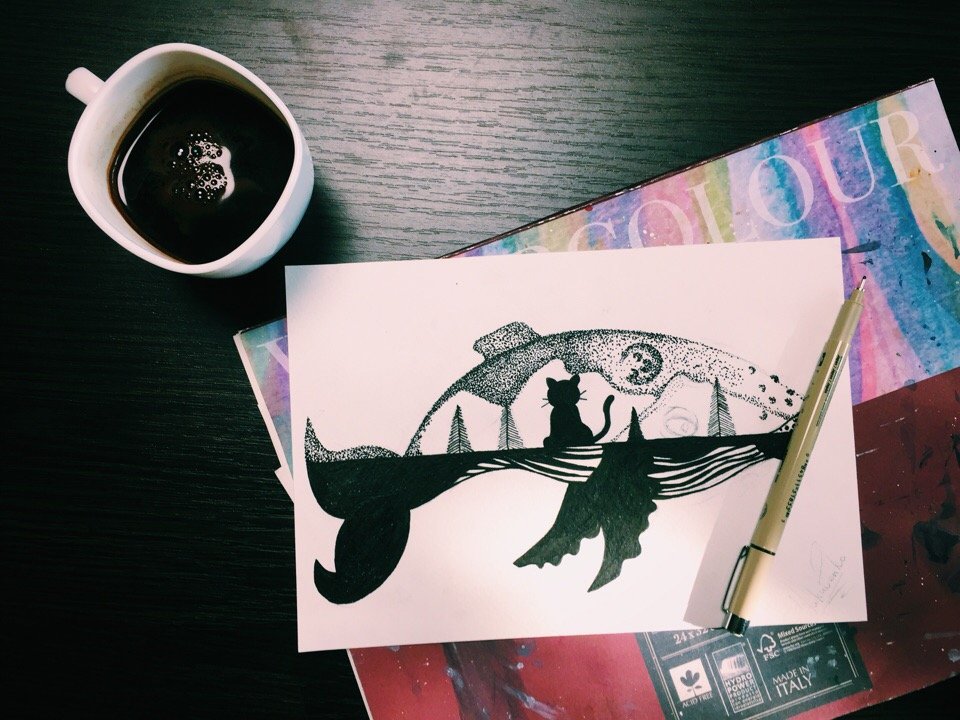 What else does he say to me about not what I'm experiencing right now?
For a long time I was not at home, and for the first time I was not alone, but then I really felt sad. Perhaps because I knew the exact date of departure and already mentally preparing for it, maybe I really missed the house and all the people in it. And maybe both.
I just do not usually miss you very much, but there's a longing for me here.
I'm happy to be home!
Now I have works that were not originally created for watercolor.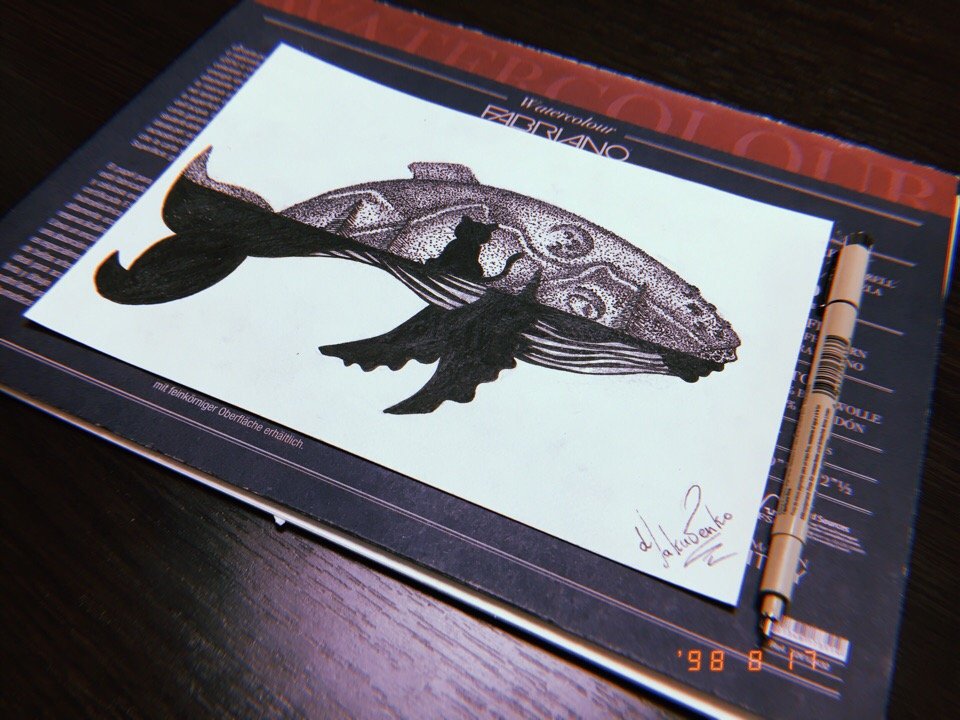 Thank you for support! ❤️ ✨
Great support! Thank you! Will be able to continue sharing your work with you 💕
I feel like drawing hours are pouring into something more ... I never imagine how I want to draw, it turns out all by itself.
Even now I'm on the verge of new discoveries and experiments! Let's see what happens next, I hope you will be with me and will also support, for me this is important ❤️