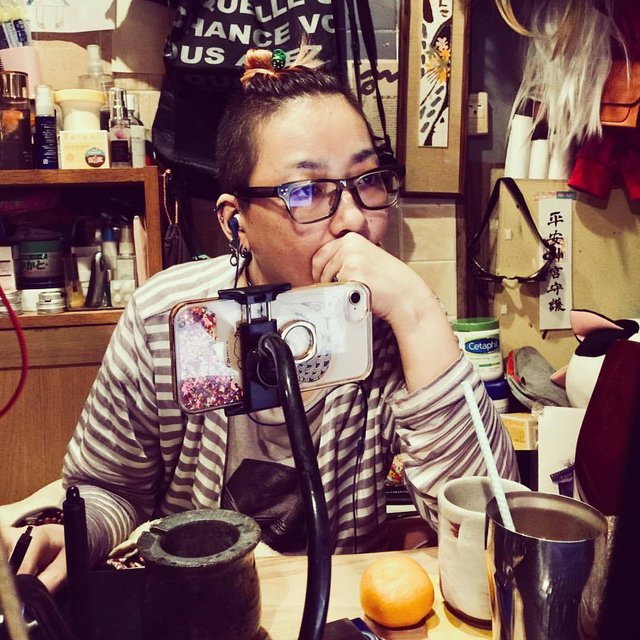 [JPN]
昨日は @ayumi884 がTシャツデザインに応募したいというので、資料の作成をした。
彼女にとって絵を描くことは仕事ではない。
そのことで随分と苦しんで来た。
彼女は制作と言っている。
それで良い。
その姿勢が好きなのだ。
手本であり、僕ではなり得ない姿である。
彼女は、昔からそうであるが、作るだけである。
それどうすることもなかった。
展覧会に出品することもほとんどなかった。
あまりに出さないので、もったいないからと、僕が何度か準備をして出品したこともある。
彼女はただ見て欲しいのである。
自分の頭の中にあるものをただ取り出しているだけなのだそうだ。
誰にも似ていない、彼女自身の世界である。
非常に強い世界観である。
勢いに任せた世界ではない。
それでいて、力強い世界である。
破滅的な世界ではない。
沈黙の世界である。
ただそこにあって、じっとこちらを見据えている、草木の強さがある。
彼女は樹になりたい、とよく言っている。
誰を傷つけることもなく、与えるのみである。
樹に憧れる自分とニンゲンの自分との間にあるものに苦しんでいる。
じっと苦しんで来たが、ここ最近は少し様子が違うようである。
何かが変わって来ている。
おそるおそる変化している。
何かに応募したいという事を言ったのは、本当に久しぶりである。
過去の作品から、最近の作品まで、いろんなデータを漁って彼女がよく現れたものを選んだつもりである。
12枚応募した。
僕も便乗して3枚応募した。
どうなることやらわからない。
これは横柄な言い方であるが、見る目のある人に見てもらいたい。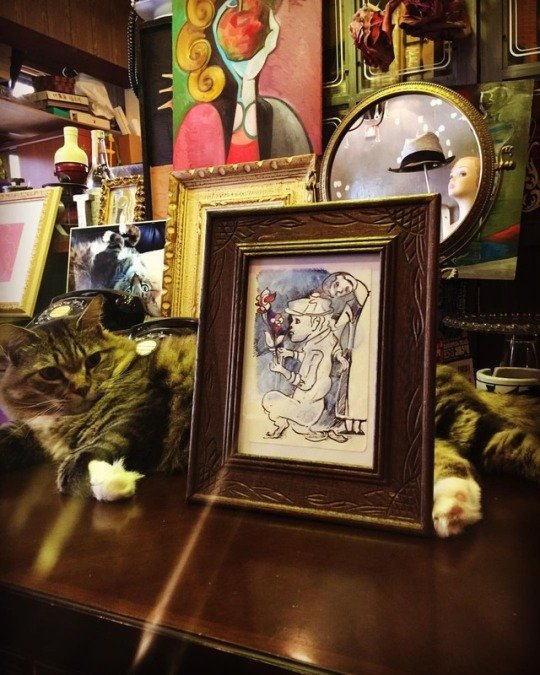 [ENG]
Yesterday @ ayumi 884 wanted to apply for T - shirt design, so I made materials.
Painting for her is not a job.
I have suffered quite a bit with that.
She says production.
that's fine.
I like that attitude.
It is a model and it is a figure that I can not do.
She has been doing so since long ago, but she only makes it.
There was nothing to do about it.
I rarely exhibited at the exhibition.
Because I do not put it out so much, I have prepared a few times and sent it out because it is a waste.
She just wants to see.
He seems to have just taken out what is in his head.
It is her own world that does not resemble anyone.
It is a very strong world view.
It is not the world we left to the momentum.
Still, it is a powerful world.
It is not a catastrophic world.
It is a solitary world.
Just there, there is the strength of plants, staring at this stare.
She often says that she wants to become a tree.
It only gives, without hurting anyone.
I am suffering from what is between me who adores the tree and myself of Ningen.
I suffered quietly, but recently seems to be a little different.
Something is changing.
It is changing awfully.
It was truly a long time since I said that I wanted to apply for something.
From past works to recent works, I intend to fish a variety of data and choose what she often appeared.
I applied 12 copies.
I also applied 3 tickets after piggybacking.
I do not know what will happen.
This is an arrogant way of saying, but I would like people to see it.