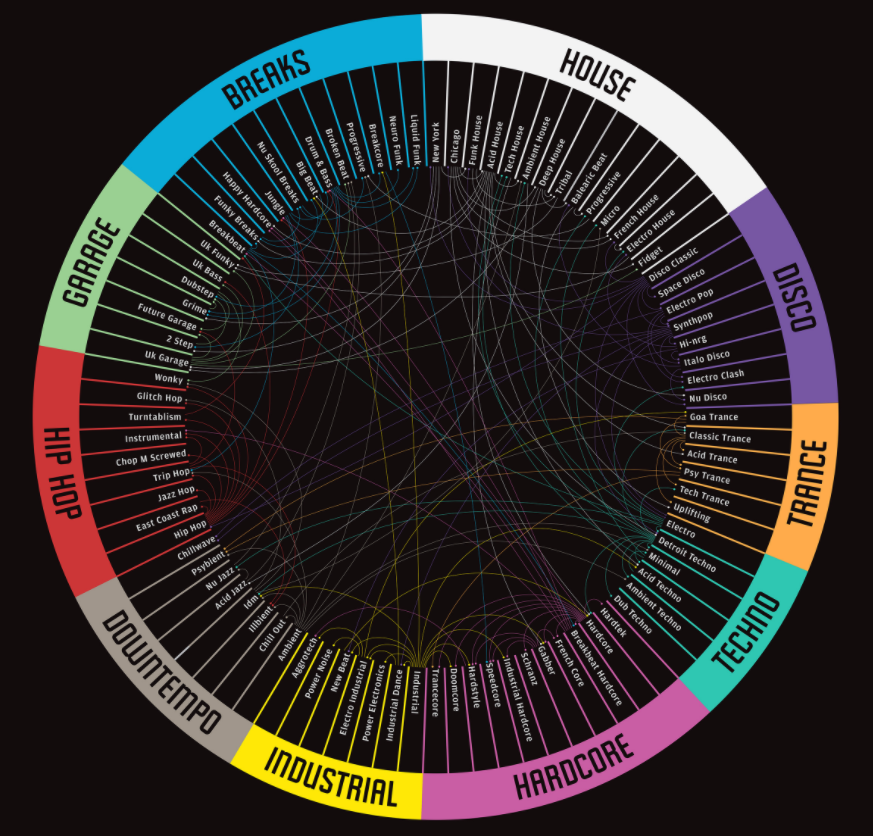 First a disclaimer. The contemporary electronic music scene and EDM stand apart. Don't mistake this for a snobbery. Despite their shared history, the two markets have now mover far apart into mutually exclusive circles. There is no judgement here, merely an acknowledgement of fact.
There is also a lot of heavy lifting going on here from YouTube, be it hour long documentaries or sprawling three CD mixes. Even then, this isn't quite enough to be exhaustive coverage, merely a sentiment. Bookmark this, add the videos to your playlist, revisit later or have playing in the background as you browse Steemit. They are not mandatory. This piece is not about the next seven days, it is a reference point locked in the blockchain.
One of the first pioneers, this Radio 4 documentary explored the work of Delia Derbyshire.
Compared to other contemporary genres, electronic music is the baby of the bunch. Its roots began in experimentation, discovery, an unusual element that sat between sound effect and alien melody. Whether it was the futurism of Forbidden Planet's unnervingly organic heartbeat or Delia Derbyshire's iconic resonant wail that immediately identifies Doctor Who. However, electronic music only really came into its own right as a popular genre in recent times. Synthesisers were an expensive luxury restricted to masters of their art, prog-rock virtuosos who delighted crowds controlling hulking machines costing thousands.
Let us just take a pause there - dwelling on the past is not the purpose of this piece. Re-telling of the past is ground well traversed and there are a couple of prime documentaries for those wishing to immerse themselves in some background appreciation before we re-commence.
Synth Britannia
This documentary takes us from the early days of electronic exploration and long hair prog extrapolations, through to the first wave of synth pop leading into the eighties. Acts such as Cabaret Voltaire, Throbbing Gristle and Kraftwerk, taking home made and the budget array synthesisers into a larger appreciation. This before the likes of Gary Numan, New Order and Joy Division truly took electronic music into the stratosphere.
Pump Up The Volume
The history of house and techno is well known from its rise from the ashes of disco. Powered by the 808 of the Chicago scene, embellished by the 303 as acid house went into territories unknown, galvanised by the 909 as Detroit harmonised soul and machine in techno. Every major producer and DJ, plus clubbers from the era, combine on this documentary, leading up to the transatlantic explosion in the nineties. And this is where we pick up the baton.
Genre Fragmentation
As we progressed throughout the nineties, grandfather genres had established themselves. House, techno and electro all stood distinct, encompassing for any producer operating within and outside of the rules. Veteran DJs from the disco era who had helped blood the new wave of sounds were versatile, adept at weaving between classic disco breaks, through Phuture 303's acid workout, into crate digging exercises like The Clash's Rock The Kasbah or Nitzer Ebb's electronic body music anthem Join In The Chant. They defined these new genres but were not constrained by them.
An all time classic from founding house music label Trax.
New fans and appreciators began to come through. They took the new templates to heart and started to ask the question "where can we go with this?" The genres became defined, new icons were made and barriers were increasingly torn down.
Nothing quite said techno like Energy Flash.
When describing music, as with anything, a turn of phrase can often speak volumes about what it sounds like. Why spend paragraphs encapsulating the concept of Aphex Twin, Squarepusher and Autechre when the three initials of "IDM" immediately fires up the synapses? The nineties saw fading fads come and go - happy/handbag house was a commercial piece of shameful gratification, rave exploded leaving behind the truly awful happy hardcore and evergreen drum'n'bass, and ambient house began a greater distilling into its purer form. There were some names attributed that stuck and began to tell stories of their own.
Phuture 303 invented acid house, a genre based around a sole machine and as evergreen as the likes of electro.
The First Death Of Deep House
House music was very much a US centric item. It wasn't as jealously guarded as the UK gripped drum'n'bass, yet the DJs and the music from over the Atlantic was the most desirable and attracted the big budgets. Let's not forget the time when Todd Terry demanded that the DJ booth be rebuilt in the middle of the dancefloor for his live recording of a Hard Times set. Business class air fare perks were normal and fees, for the time, were seeing the legendary status worldwide touring DJ making a pretty comfortable life. Then came the new blood.
Nobody seemed to embody deep house more than Kenny Dixon Jnr.
Junior Boys Own popped up, showing that the UK was able to generate hype. From their roster, Fire Island and Roach Motel gave a spin on house, Underworld took techno into new territories, X-press 2 managed to walk the line between party and deepness with quite some style, and The Chemical Brothers sounded like The Chemical Brothers and made a great career of continuing to sound like The Chemical Brothers without imitation (well done).
The Black Science Orchestra fused together gospel, funk and disco across their short lived by acclaimed existence.
Focusing on X-Press 2, for example, the trio of Ashley Beedle (mainly), Rocky and Diesel spun off into deeper side projects such as The Black Science Orchestra, Los Jugaderos and The Ballistic Brothers. Adding greater musicianship to house music, it began to spread. Labels such as Classic Music Company became specialists in this deeper sound, NuPhonic was a notable imprint that increasingly dialled back on the big and bolshy synthetic trademarks of house music in favour of more organic sounds.
Plenty of Guidance Recordings tracks still feel fresh today.
Over the ocean, the US house scene was becoming increasingly focussed on delving back into its roots in disco and latin, sometimes to a fault as production levels became saccharine. Others began to chase chart success as anthems began to bother mainstream radio playlists. There as disillusionment and the deep influence was felt here too. Guidance Recordings was an icon of the deeper sound, inhabited by the likes of house legend Larry Heard, while Joe Claussell had also been bitten by the organic soulful vibe. Deep house, it seemed, was a thing.
UK label Classic Music Company has enjoyed a recent renaissance. It used to be one of the prime deep house imprints back in the day.
With hype came coverage, and within a short space of time dedicated scenes began to pop up. New labels, new DJs, new clubs. There was an absolute laser focus on the genre as it became a dominating force in popular consciousness. Gradually, the vanguard of US house DJs suddenly found their tenure as headliners coming to an end.
NuPhonic wasn't always a victim of its own success, it did have dance floor rocking beats in its catalogue.
Established at it seemed, it felt like deep house vanished overnight. This isn't strictly true as there were a couple of factors at play. Much like the US house scene, the deep house scene became overly fascinated with looking back to its roots to a fault.
We sadly lost Heiko M/S/O last year, his under the radar mix in the nineties encapsulated the free spirit of deep house at its peak.
Obsessed with live instrumentation, moving into realms of jazz funk fusion, it began to lose sight of what made house music unique, its energy. Let us never forget, this music is primarily made to move dancefloors. While listening material is a nice diversion, it if become the sole focus, then you are cutting off your lifeblood. This fact, coupled with the rise of a new media darling, signalled what very nearly was a terminal death knell.
The Rise Of Progressive
While house music was finding its own path, techno had branched out when it encountered Europe. Infusing the machine driven music of Detroit with a flamboyant sense of psychedelia, trance arrived. European labels began peddling this more melodic strain of techno and it wasn't a hard sell for the dance floor. Like the spread of embers across a lit piece of paper, trance began its own journey. Goa trance, taken from the beach parties that timed its musical climax to the sunrise, appeared to many a cover feature before quickly returning to its shores. Trance gradually became more and more defined by its angular melodies and increasingly paper thin pleas for emotion, leading to a darker and more hypnotic strain. Progressive trance and progressive house were spoken about in the same breath and essentially became interchangeable.
Arguably one of the greatest mixes of all time, Northern Exposure was one of the greatest summaries of the burgeoning progressive movement.
Before this came the three CD epic Renaissance mix.
The leading lights of the scene were Sasha and John Digweed. While the forefather DJs before them were iconic, they brought in the sense of super stardom and celebrity status. Their vision of progressive was all encompassing - stop off at their legendary Renaissance mix and you'll find it draw in records from Leftfield, the Italian house scene, keystone New York duo Masters At Work, Detroit supergroup Inner City, trance and rave favourites nestling aside items from the London house and techno sound. Diverse yet a distinct sound.
Nothing quite demonstrated the tectonic plates shifting quite like Deep Dish's landmark Yoshiesque mix.
While peak Sasha shows Global Underground at its heights.
As with deep house, producers began to pop up that put a framework to the sound. Digweed's Bedrock imprint was muscular and angular, American producers Deep Dish deftly sidestepped the demise of the US jock by embracing a chunky electronic house and tribal vibe, Global Underground rose to power, and progressive quickly knocked the perceived chin stroking of deep house to one side.
A UK number one, Rui Da Silva brought the tribal edged prog sound into the charts.
If you're ever curious about the sheer dominance of progressive, dial back through the Resident Advisor review archives to its formative days, where you see the sound frequently championed. However, there is no such thing as a status quo.
Fabric Takes Underground Mainstream
The millennium saw the concept of the superclub become a dwindling presence. Ministry Of Sound strayed a little too far into commercialism and branding, names such as Gatecrasher and Cream started to find their draw become less magnetic, bastions of the nineties became fading memories. Going against the grain was Fabric, who launched with a singular vision. In the depths of Farringdon, a three room cavernous basement was reclaimed from a former meat market, drafting in the best of the upfront underground and breaking through names to perform to superclub sized crowds on a top drawer soundsystem. Away from the glitz and headliners of the traditional flagship club, the concept took hold.
Hot Lizard was a moniker of deep house man Charles Webster, yet you cannot deny the techno energy in 165 Drop.
Fridays were themed around drum'n'bass and breaks, with Saturday being directed by Craig Richards - formerly of progressive duo Tyrant with Lee Burridge - and tech house maestro Terry Francis. Tech house had existed as a genre for some time by the time Craig and Terry really started to push it, the concept being techno sounds and house tempos. It's DNA was remarkably similar to that of deep house, with Terry in particular first coming to prominence through his uncanny ability to select amazing pieces of body music from a diverse array of sources - techno, house, deep house, progressive. Craig also became a pivotal figure of the electronic music scene. His entries on the Fabric mix series often act like the ring of a tree stump, significant in bringing in change.
Terry Francis was more about urgent and deep energy
His first Fabric mix was full of under the radar tech house cuts, a sorbet in the face of a progressive house scene that was becoming increasingly murky, overly serious and stifled of creativity. Think someone slopping mud around in the bottom of a bucket with a kick over the top and you're part way there. Tech house brought back freedom, new markets from the West Coast US sound, a chance to shine for under the radar artists like Layo & Bushwacka!, plus a freshness from idiosyncratic European labels.
An early highlight from Craig's first Fabric mix.
Much as with what went before, tech house began to become defined by its own rules. Gradually descending into copy and paste tracks, many variations on a rolling theme, its time in the spotlight was then turned away by the very hand that fed it. Craig Richards resumed the Tyrant moniker as a solo entity for the fifteen entry in Fabric's mix series. The only two disc entry in its history, the sparkling grooves of his inaugural mix were replaced with spiderish rhythms, deeply dark and twisted tracks, and a frank disregard to stick to static sixteen bar patterns. This was minimal.
Villalobos was pivotal in defining a sound.
Now minimal - or its semi-derivative minimal techno - didn't just happen, it was pushed over a careful period of time at the London club by Craig and Swiss Chilean DJ Ricardo Villalobos. Once again the spotlight had shifted and minimal offered a safe haven for older names that were adept at navigating changing trends.
This mix by Daniel Bell just about pre-dates the minimal explosion. It highlights the genre at its best, sourcing from multiple labels and artist, making a sound before it really had a name.
Ex-Deep Dish man Dubfire found a new lease of life with his brand of main room techno and eternal figurehead Richie Hawtin began to define the minimal sound through his M_nus record label. These straight edged sounds lived alongside the weirder contingent from the likes of Villalobos, the Perlon collective and the melodic strains of Kompakt.
Doing a lot with very little was the hallmark of minimal.
In tandem with advances in technology in terms of Ableton and Traktor, the excitement of being able to piece together tracks live gradually became more fascinating for the conductor rather than the listener. Artists signed to the M_nus roster were obliged to create as per Hawtin's strict template, which was hardly a melting pot for creativity. Once again, the media darling fell foul of its own ruleset and began to starve itself of oxygen.
It wasn't all darkness and thunderstorms in minimal and tech days.
Then Craig released another CD.
Outsider House, The Dissolution Of Genres And The Return Of The Kings
Imagine the journey to date being like climbing a mountain. Each intrepid step brings you to a new basecamp, a genre found and new paths to follow. The paths split off like capillaries, sometimes to many new hubs themselves, sometimes to a dead end. Over time, countless have been discovered - nu disco, electroclash, progressive breaks, glitch house, micro house, blog house, big beat, 2step, UK garage, psy trance, filter disco, french house, speed garage, jump up, liquid funk, trip hop, nu rave. After a while you will reach the summit, it is inevitable. Minimal sat at the top of the tree and for the first time there did not appear to a pretender in waiting. Electronic music had developed itself into a spectacular cul-de-sac. So what better to thing to do than flatten the mountain into a plateau.
Mumdance and Novelist recently did an ode to Fabric's early dubstep days.
Fabric's Friday night series had help forge its own unique genre, born out of the ashes of UK garage and 2step. Grime and dubstep broke onto the scene and seemingly lived the previous musical lifecycle at accelerated rate. As soon as it was new and exciting, it was already fragmenting. Its most obvious tangent was becoming one of the founding principles of EDM, a genre seemingly focused on a single element, namely "the drop". What of the other disparate parts though?
Once the epitome of dubstep, Scuba's DJ Kicks mix expertly demonstrates the embracing of multiple genres all under one roof.
Dubstep was never going to shift minimal from its throne, however it had brought with it a young crop of icons. These icons, faced with a scene that was suddenly experiencing an identity crisis, began to look backwards as a means of going forwards. Disregarding the herd mentality to keep moving forward, never to stray from the crowd, the purist genres of the past became a refuge. Techno returned in its most visceral and creative best, house music threw off its commercial shackles and regained its rawness, ambient also came back incredibly strongly in an unusual twist of fate, plus the always evergreen electro simply decided to start rubbing shoulders with its difficult brethren once more.
Nobody is quite as good at bridging genres as Ben UFO.
Where Fabric had been a single unique entity for so long, a new name had entered the fray. Berlin's Berghain and Panorama Bar became a place to showcase forgotten names, creative taste-makers and fresh talent, all wrapped up a concrete shroud of mystery. Rather than competitors, the two became inspirational, as the "music first" mentality began to spread and the crowds began to become more and more receptive and curious.
Representing the Ostgut Ton crew, Marcel Dettmann's sets take in flavours from house to techno to EBM to acid.
While genres were mingling on the dancefloor, the old rules were being abandoned in the studio. Much as Nintendo source their most innovative talents from designers who are not necessarily engrained within gaming, the old genres were being taken for a spin by those from the outside. The phrase "outsider house" was coined by one time dubstep DJ Ben UFO, derived from the outsider art movement and quickly regarded with an ironic disdain as the media sensed a buzzword. While some elements of minimal had brought a sense of experimentalism with it, the outsider influence started to break out old hardware standards where most producers were encapsulated within a laptop. Fuzzy tape hiss steaming throughout tracks, completely non-dancefloor minded structures, absolutely blown mastering, combinations of esoteric genres. Nothing was off the table.
Long Island Electrical System's catalogue is prolific, this cut from Daywalker + CF stands as a favourite.
This is where Craig Richards stepped in his timely summary, signifying the winds of change. Named after his new record label and leaving the Tyrant moniker behind, The Nothing Special mix showcased his talents of discovery and the depth of his collection. Overlooked and awesome archive gems from Convextion and Gemini rubbed shoulders with articles from Long Island Electrical Systems and Don't Be Afraid. You honestly couldn't tell new from old or where the genre alliances lay. This mix was swiftly cemented on the series by entries from the likes of Ben UFO and Pangaea. The boundaries were gone and all that remained was to experience the future based on the experiences of the past. Growing pains now aside, the electronic music scene had matured.
In From The cold
Everything has come full circle. The discoveries and progressions over the years have now been incorporated into the grandfather genres of old, the barriers have been brought down and free spirited musicality is king. What of the one time sonic darlings that found themselves treated with utter disdain?
Nobody does deep quite like DJ Sprinkles.
Deep house rose to a second prominence a few years ago, mainly popularised by the Visionquest and Hot Creations sound finding favour with their warm grooves. With sudden popularity came an apparent ire. A pushback happened from those who were original deep house purists, turning their noises up the slick shuffle of the new pretender and its pop up scene. Deep house actually was facing a second crucifixion. Instead, the focus shone a light on the great works that had existed over the past decades. Now deep house is ubiquitous, galvanised and happily integrated with its companion genres rather than being walled off, allowing it the scope to be as experimental or dancefloor orientated as it wishes. The maligned sound that attracted so much negativity simply found itself pegged as tech house.
House? Techno? Deep? Dancefloor? This promo has been doing the business in my headphones this week.
Now possibly the most disparaged genre In the current climate, tech house is a distant shadow of its former self and deserving of every meme and withering social media post it gets. Still obsessed with barebones percussive grooves, it is still subject to the very same hallmarks that brought it down in the first place. Though there is an argument to be had here. Let us dial back to what defined tech house - techno sounds and house tempos, and vice versa. Much of the current output fits into this loose definition, existing across a broad tempo range and providing everything from the visceral to the cerebral. Rather than being tagged with a name, it simply exists. Some call it house, some call it techno, but it is evident that it is a grey area. There is little doubt that pinning an artist or a release as tech house would cause outrageous offence, yet perhaps there is no need for such classifications. Tech house is dead, long live tech house.
Holy crap, that breakdown. This is peak progressive, however living on Scuba's Hotflush imprint.
Another genre back in all but name is progressive house. The one time icons of the scene are still peddling derivative fodder. Like the current definition of tech house, it is by the book, copy and pasted variations on a theme. Music seemingly designed around how easy it is to mix together on a big system rather than actually striving to achieve something that is musically distinct. Yet there are sounds existing out there right now that fit the one time dominating force. Bicep's album of the year in 2017 was effectively a love letter to the nineties Northern Exposure vibe, the work of Locked Groove is pegged as melodic techno yet it would not have been out of place on a barnstorming Global Underground mix, and the forthcoming James Zabiela mix on Balance - a lower key progressive house mix series that has since managed to evolve and step from Global Underground's shadow - is a prog masterclass that touches on just about every desirable artist and record label of contemporary times.
Hello rave, you're back I see.
Through the rave revival spearheaded by Paul Woolford's Special Request project and the broadening of scope offered by dubstep's dissolution has afforded breaks to come in through the back door. Once an ultra-cool companion genre spearheaded by the likes of Adam Freeland and the Plump DJs, it too suffered from a stifling of creativity, with Freeland especially becoming disinterested in it as he moved into more rock influenced waters. Yet it appears to be back and in rude health, thriving as the walls have been thrown down and no longer being an exclusive genre.
Deep techy house man Ripperton is dropping a full ambient album next month. Keep an eye out for my coverage that will be pasted here via Inverted Audio.
Finally, much to everyone's surprise, ambient and Balearic even made a return, and prominently. With chill out rooms forced out of clubs to make away for more banging headliners, and trip hop and IDM seemingly satisfying the downtempo needs of listeners, that seemed pretty much it for ambient. Yet, in 2014, it surged back and is stronger than ever. It's rude health is bolstered by the multi-discipline nature of today's artists, adept at putting out both club banger and wispy drone at ease.
Everything is IDM
Only briefly touched on earlier in this piece, what of the fate of one of the most influential genres of our time? IDM - or intelligent dance/digital music - was the name given to the work of Aphex Twin, and generally broadened to the sound coming out of Sheffield's Warp Records. Although a title that Aphex disliked himself, it was at the forefront of seeing how far it could push technology and music. At the most daring side of the spectrum were Aphex Twin, Squarepusher and Autechre, with the likes of Plaid and Boards Of Canada being the more accessible of the Warp icons. Once Autechre started to become more maths than music, Aphex and Boards Of Canada vanished on hiatus, plus Plaid and Squarepusher increasingly losing the lustre they once had, it seemed that IDM had run its course.
Objekt's Kern mix pretty much touches on every sound under the sun.
Except it hasn't. IDM was driven by technology being pushed by a few. The technology is now adopted by all, be it digital or through new hands exploring the boundaries of old hardware that was seemingly long forgotten. Rather than being discarded, IDM is now a part of everything. Techno artists are capable of putting out music that is as challenging as any of the one time astonishing works of peak IDM, woozy Boards Of Canada electronica flows through so many tracks - with Analogue Roland Orchestra, Solar Bears and Pye Corner Audio immediately coming to mind, and experimentalism exists in headline DJs sets - Call Super's techno dissolve session and Midland's genre hopping and expectation defying Fabric mix from last year immediately coming to mind.
Call Super's Fabric mix starts at techno but melts down somewhere unexpected.
If anything, IDM now represents the maturity of the electronic music scene. Nothing is off limits, everything is possible. This young branch of music's journey from the dawn of man finally has its life experience and is in control of all its faculties. The only thing that put its growth at risk are its enthusiasts. Forum dwelling gatekeepers, guardians of "the rules", the tendency for overt classification and then maintenance of boundaries are the mechanics that stifle creativity. We've seen outsider house and lofi house appear as facets of a new appreciation of classic house music. So far there has been a resistance to form an exclusionary scene around these sounds, yet we must remain vigilant. As soon as your internal critic starts to question whether x should go with y, the answer should be "why not" rather than "y not". The future is in our hands.
Enjoy this piece? Want to talk about favourites of our recent genres and generally chew the fat? Chime in below.
Header image via Reddit,