...and then FINALLY! first snow crystals coming down to mother earth here in Amsterdam! it took a while with temperatures just above and around zero degree Celsius for the last couple of weeks; Thor's water was only turned into the beautiful crystals last night. Ok ok technically maybe not turned into, more like stayed crystals and not turned into water before it hits the ground, but you know what I mean :)
...also this morning I received this photograph from my brother, he lives in Germany and also they got the first snow of the season; and they really got a good chunk of it! I wished I was with him at the moment, since Amsterdam only got 1 millimetre and not worth to even try and take a photograph of it.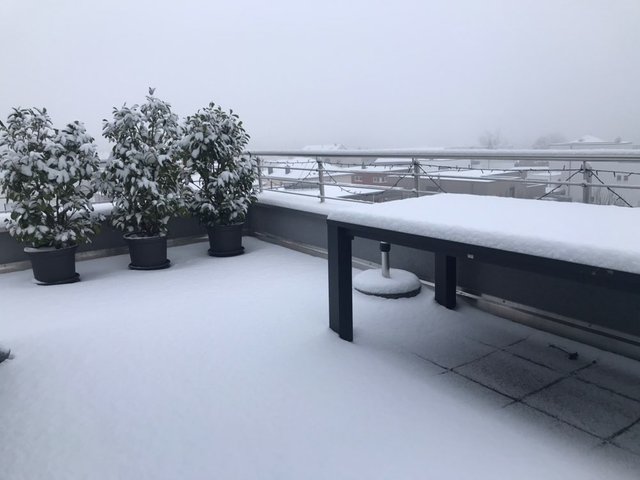 © my brother (source)
...anyways, this beautiful day requires beautiful music... already before I introduced you to these Italian guys... they are still working on their big breakthrough - maybe they are not working on it, but I certainly hope they will be picked up by the bigger promoters sometime in the future... anyways, they create BEAUTIFUL electronic music and sets... the one I share with you today is one that is making me feel super happy... the cold outside, the warmth from the floor heating AND the music inside...
PPB
Press Play Below
NJOY SUNDAY

Artist: natural/electronic.system.
Set: INVEINS Podcast 047
Year: 2018
Country: Italy
source soundcloud
Artist Music
Spotify Beatport Soundcloud YouTube
Artist Discography
Artist Gigs
Artist Website

Music Library with more than 250 Entries
blockchain curator and reviewer for @illuminati-inc
you like stories and music? check @qsounds