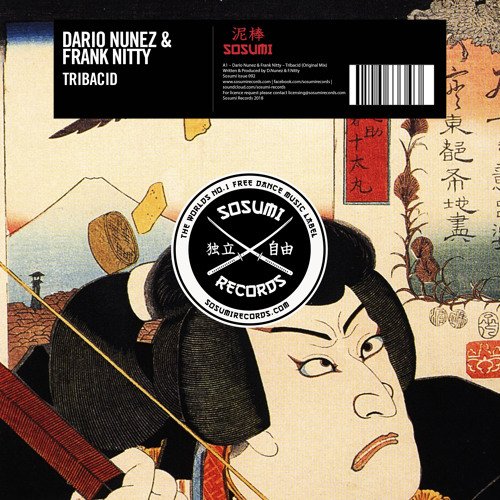 Tribal and Acid - you'd think there would be no surprises in the track that wears it's fusion of the genres on the sleeve and you'd be right in a way that after listening to it you'd go "Yep, it's Tribal, yep it got nice Acid", but the devil is in the details, as they say, and it's the execution that made this track truly stand out for me.
It might be not the most straightforward first thing to highlight, but I immediately enjoy the top end on this track, having crisp and bright layers of percussion along with which the mids and the tight kick create a nice separation of the frequencies resulting in a exceptionally well balanced produced track.
Overall, I just love how loose and fun this track is with interesting choices for creating the aptly named TribAcid fusion. Without giving away too many spoilers it is not quite as cookie cutter as you'd think and throughout the track there is a plenty of unanticipated progression and melody going into provocative directions. 
This tune doesn't pretend to be anything it's not - and that is an immensely high energy, unapologetically minimal and catchy, punchy and booty-shaking-provoking track meant to dominate the peak hour slots and give a listener a taste of uninhibited raw dance pizzazz.
What is Tune of the Day?
Something that I do for my rising revelations series is search for new music daily. So it is only natural that I should be sharing some of the daily highlights as too often the tracks are amazing but they don't make it into a final episode as they might not fit that week's mood or concept.
More than anything, the reasoning behind the series was always sharing new exciting music by artists that are longing to be heard so any extra exposure is a good thing.
All artists featured on the blog are contacted and notified of the post, and get a gentle nudge to join this incredible community.
I love putting my feelings about music into writing so each post will also have a couple of my own words on why I love that particular track and how I perceive it, a mini-review of sorts.
As an added bonus all tracks featured are available for a free download, generously provided by the artists. Please enjoy them in your music players, DJ sets and shared playlists and endorse hard work of some talented people.
Please support the artists and this blog, vote, follow, resteem!