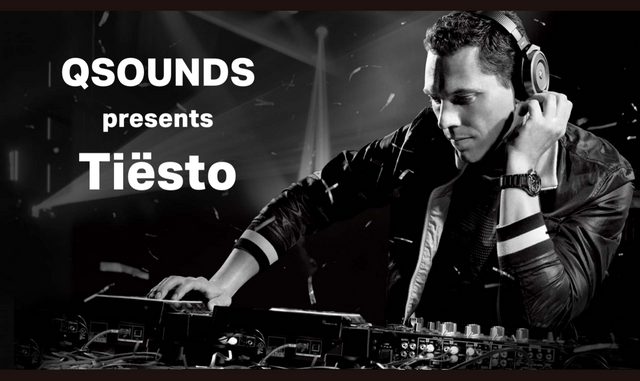 Those who know a little bit of electronic dance music - and maybe also those who don't - know this guy for sure, Tiësto. He is the one who put Trance on the world map. He is the one who lead the DJ charts for a very long time. He is the one who played at so many festivals prime time at the main stage. He is the one who put the Netherlands at number one with respect to electronic dance music - by now we have more than 800 dance festivals a year, and Amsterdam Dance Event became the biggest dance music event of the world - bigger than the one in Barcelona and bigger than the one in Miami. He is the one who earned himself a Grammy. He is the one who played at the opening of the Olympic Games in Athens Greece - the first ever DJ playing live at the Olympics opening. Maybe he is the one who made a success out of many festivals. Whether you like his sound or not, he meant a lot for the electronic dance music industry.
His real name is Tijs Michiel Verwest, a Dutch guy from the city of Breda. Under pseudonyms, he started producing hardcore and gabber records. Later, while producing his Forbidden Paradise series with an early version of his trance sound, he regularly played techno at various location in and outside Rotterdam. Building further on his trance sound, he focussed more and more, and left the 'harder' styles behind him. Late 90s he already started to make a name in the Trance scene, but his trance sound also had techno elements in it. A good example of that is his set he played at Innercity - an ID&T concept that was touring around Western Europe a couple of years later - in 1999. This live set, was released as an album by ID&T after the event. Although I'm not particular fond of trance, this album I liked back then very much, sometimes a bit too trancy, but I certainly like his record choices, and the arrangement is solid with a great opening!
By now Tiësto plays more EDM than Trance, I think. He has already for many years residency in one of the big clubs in Las Vegas, a new mecca for electronic dance music since EDM became HOT in the USA. Outside his gigs in las Vegas, he is touring the world with a loaded agenda. He is also responsible for boosting the careers of other artists, the youngest maybe Martin Garrix, a 19 year young guy who wanted to become DJ after hearing Tiësto's opening act at the Olympics in 2004.
Artist: Tiësto
Album: Live At Innercity - Amsterdam RAI
Style: Trance / Techno
Year: 1999
Certainly a good way to start the #danceweekend of @uwelang. I hope you agree with me :)

Tiësto - Live At Innercity - Amsterdam RAI (1999)
Tracks
Push - Universal Nation (Live At Club Illusion)
Fire & Ice - Out Of Darkness
Agnelli & Nelson - El Nino
Kamaya Painters - Endless Wave
Systematic Parts - Deja-Vu
Straydog - Mirror
Loop Control - Reflections
Orbital Velocity - Last Voyage (Club Mix)
Lord Of Tranz - Sanctificum
Yves DeRuyter - Feel Free
Plastic Boy - Twixt
DJ Tiësto - Theme From Norefjell (DJ Jan & Christophe Chantzis Mix)
Evolver - Evolver (Wavestate Instrumental Mix)
Fridge - Paradise (Nu Gray Mix)
Gouryella - Gouryella
Cygnus X - The Orange Theme (Moonman's Orange Juice Mix)
more Music
Spotify: click here
YouTube: click here
Soundcloud: click here
Mixcloud: click here
Discography
Discogs: click here
Gigs
Resident Advisor: click here
Artist Website: click here
Website
Artist Website: click here

sources [1]