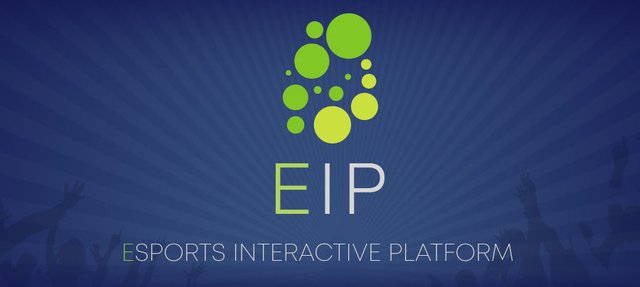 Hello everyone, today I will introduce you to the project named EIPlatform.
Global esports market is day by day. Newzoo predicts global sales will reach $696 million by 2017, up 41.3% in 2017 and $1.65 billion by 2021.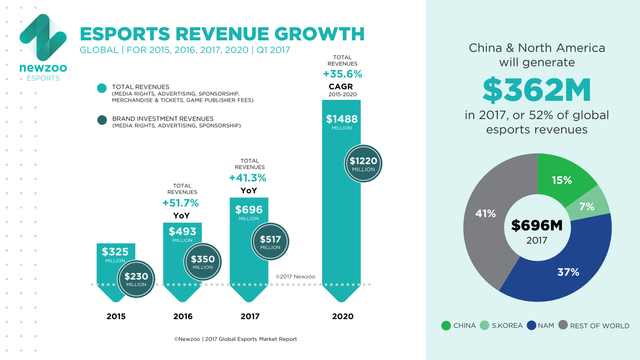 However, it is essential that brands understand the esports market. For one thing each esports game is different and has its own fanbase. To group all esports fans together would be like saying soccer, snooker and baseball all appeal to the same people. According to Nielsen's Esports Report, fans typically only follow two to three genres of esports. Typically, they are raving fans of just one or maybe two. A separate marketing strategy is required for each esport and audience.
The user data of the esports market is very valuable to advertisers. They are mostly in their 20s and 30s, full of enthusiasm and high income.
More and more non-endemic brands enter the market. Due to the popularity of esports around the world, this becomes an important part of all major brand promotion campaigns.
All major analysts (including Newzoo, Statistica, Nielsen, Deloitte, Kleiner Perkins, Super Data Research) agree that the esports industry will grow in the future. Esports is an important marketing area in the next decade.
Key issues
The esports market is very complex and it is difficult for brands to reach their target audience. As a result, marketing campaigns are less efficient and cost effective with low ROI. This complexity is a barrier to branding with limited budget participation.
Big brands tend to work only with top teams, tournaments and streamers. Money flows in the industry tend to be in the bigger ones, and drip down to the lower levels. This is not good for the future development of the esports industry.
Fragile and inefficient esports market. A large part of the brand's marketing budget is spent on research, contract management and other intermediary fees.
The solution of the EIP platform
Advanced data management and analysis will allow advertisers to understand and target audience segments more effectively. Marketing will be more profitable and brands will be able to access the market with lower investments.
EIPlatform will create a global decentralized network that allows direct interaction between participants at all levels of the esports ecosystem. Brands of all sizes will be able to reach their target audience. Tournaments, teams, players, and content creators of all levels will be able to monetize and benefit from the budget of top brands.
EIPlatform technology will allow transactions to take place directly between parties with consistent benefits. Smart contracts show transparency and security for the esports industry.
Why invest in EMI?
Unlike many ICOs, EIPlatform presents the solution to the digital industry. Transactions in EIPlatform will be made using a limited EMI. Once the platform is widespread and the EIP expands global reach, the demand and value of EMI will increase accordingly.
The EIPlatform concept is absolutely unique in the world of esports - there are currently no similar projects in the esports field and no project is comparable to EIPlatform. Lack of efficiency and other issues due to the fragmentation of the esports industry will increase without solutions. Therefore the Esports market needs EIPlatform.
The EIPlatform team holds capabilities with knowledge of esports, blockchain technology, and marketing. They understand the issues that exist in this area and how to utilize appropriate technology. They live on the project and have passion for success.
The founders of EIPlatform are committed to the EIP project. They have an understanding of how the esports market works and there is no doubt that EIPlatform will be successful.
ICO is a way to call capital not only to fund the project but also to raise awareness and attract future users for the platform. If for some reason the ICO does not meet the target, the project will continue as originally planned with the founders' own pocket money.
Roadmap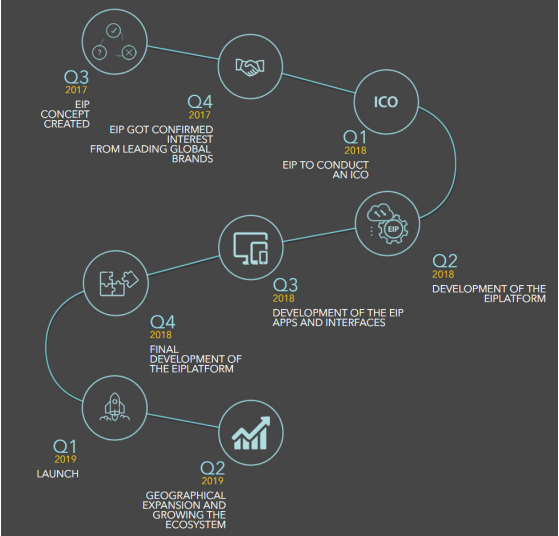 EIP will be under heavy development after the ICO, with launch planned Q1 2019.
EIPlatform's tokens
EIPlatform ecosystem is an analog of planet Earth ecosystem, in other words, it is a world, a separate universe, where people (users, Eguys) live, communicate, make agreements, deals etc, and of course for purchasing something or selling something they (users) need a currency.
EIPlatform created it's own currency — EIPlatform's tokens. EIPlatform's token is a coin, which would being used inside created ecosystem, based on EIPlatform. By using these tokens (coins), users would be able to make payments for some goods and services. For example: purchasing in-game items, buying goods from Brands and Companies, paying for services, make payments under agreements and contracts etc.
ICO Details
The main crowdsale will be launching June 18th. The soft cap is set at $6,000,000 USD and the hard cap at $60,000,000 USD. Base exchange rate during the ICO will be 1 EMI = $0.1 USD. Total supply will depend upon amount raised, which can be calculated as being between 60,000,000 and 600,000,000 EMI.
45% of funding will go toward R&D, 20% to marketing, and the rest to operation and legal support.
Pre ICO:
Start date: 23, May
End date: 30, June
ICO date:
Start date: 07, July
End date: 28, July
EIPlatform will help consolidate the current market allowing brands to access events, teams, players and streamers of all sizes. Using advantages of blockchain technology, such as transparency and accessibility, EIPlatform will give all participants in the market the ability to bypass intermediaries and agencies and interact directly. Investments can be more efficient and barriers of entry lowered for smaller brands and advertisers. Smaller teams, tournaments and streamers will be able to access the larger advertising budgets which are currently out of reach.
Thank you for read article. See you in the next article!
To learn more about the EIPlatform project, please refer to:
Website: https://eiplatform.io/
Whitepaper: https://eiplatform.io/doc/WhitePaper-Eng.pdf
Telegram: https://t.me/EIP_ecosystem
ANN thread: https://bitcointalk.org/index.php?topic=3331909.0
Bitcointalk URL profile: https://bitcointalk.org/index.php?action=profile;u=2296878