Quadrant Partners with Effect.AI to Deliver Location Data for Singapore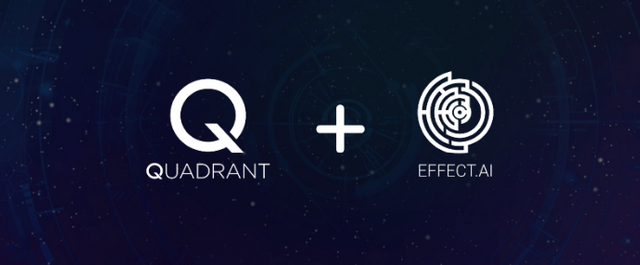 We are excited to announce that Quadrant Protocol this week concluded a partnership agreement with Effect.AI, a decentralized network for Artificial Intelligence being developed on the NEO blockchain. On the sidelines of RISE Hong Kong, I presented with Effect.AI CEO Chris Dawe a demo of the project to attendees. Through the agreement, Effect.AI will leverage its Effect Force platform to help Quadrant Protocol provide high-value location data and services to the Government of Singapore. The project is a component of an existing partnership between DataStreamX, Quadrant's parent company, and the Government's Info-communications Media Development Authority (IMDA).
In order to build a robust data ecosystem for location analytics and AI services, multiple layers of data sets, including mapping, polygon traces, point-of-interest labelling, and live location feeds are required. As a decentralized platform for data, Quadrant and DataStreamX can provide great value to the Government as it seeks to improve and perfect its location analytics and locations services. Amsterdam-based Effect.AI, with its robust Artificial Intelligence capabilities, holds the other piece of the puzzle. Effect.AI and DataStreamX will look to build the foundational layers of a location data ecosystem for the Singapore market, enabling organizations to create and commercialize location data services.
Here is how the partnership will work: Quadrant will supply satellite images of Singapore to Effect.AI. These will then be annotated via a micro-tasking methodology carried out by a crowdsourced workforce selected on a reliability scoring system, and distributed into smaller files classified on Effect.AI's Effect Force platform. These files will be rendered as pixel polygons, returned to Quadrant, and finally converted into GPS polygons. Through this process, Effect.AI takes data from Quadrant, converts it into smaller files that are given qualitative markers by a crowdsourced workforce, and returns them to Quadrant to power its location data system.
Effect.AI's crowdsourced workforce consists of numerous individuals who classify images. For example, they may see a satellite image of a soccer field next to a lake, surrounded by high-rise apartments. They will be given a list of features to associate with the image, and select all that apply — in this case, they would select soccer field, lake, and apartments, but not mountain, forest, or amusement park. Participants are paid for this categorization, and the aggregate of their efforts creates a landscape of GPS markers that Singapore can use to provide high-quality location information and services. In essence, Quadrant is combining its unique decentralized data platform with Effect.AI's Artificial Intelligence tools to create a dynamic set of location data points that the Government can use to put Singapore at the global forefront of location services to better serve its residents.
Through this partnership, we expect to build additional Singapore-related datasets with Effect.AI in the future, further strengthening the city's local data ecosystem. Ultimately, the goal is to expand beyond Singapore to other Southeast Asian countries. To learn more about Effect.AI, please visit their website here.
For more information on Quadrant Protocol and its vision, please visit our website and download our whitepaper. You can also ask any questions you may have in our Telegram channel, and a team member will get in touch. https://t.me/quadrantprotocol