Hello everyone, Hope you all enjoyed your weekend? Mine was boring as usual. Anyways welcome to my blog
In the world we're in now it's hard for people to say "I'm sorry" when they did something wrong and knew what they did wasn't right because of pride.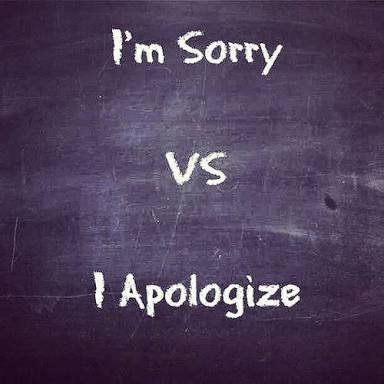 Source
Sorry is when you feel remorse or regret about something. Apologizing and been sorry are different like day and night. For example, "I apologize for what I did yesterday" and "I'm sorry for what I did yesterday".
An apology is a planned admission of wrong doing while saying sorry is usually seen as a genuine admission of a regret.
You might apologize and not meant the sentiment because apology is easier to say than saying Sorry because as I understand it makes you look weak which is just stupid.
Let's use our Politicians for example: They often apologize for their foolish errors but they seldom say they're sorry for their actions.
As I understand, Apologizing instead of saying Sorry, it's like the person just wants to close the chapter and forget about the incident. Apology has the ability to disarm others of their anger and to prevent further misunderstanding.
Sorry is deep, because once you admitted you're sorry, the other party would want to know how sorry you're and what are you going to do about that thing that puts in the position in the first place.
Sorry won't change a thing unless you work towards been better, because people tends to forgive but not forget.
Kindly follow, upvote, resteem, and comment if you like this post