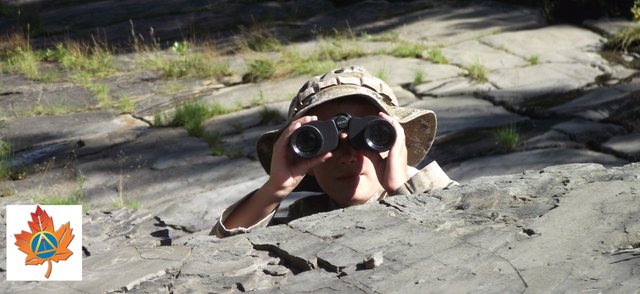 This is part three of a five part series of lesson plans for the Situational Awareness For Everyone (S.A.F.E.) level one course I developed at SATAS Co. I believe those in the emergency preparedness community will find this very helpful. This course is designed to be meaningful to all citizens. You are free to review this material, you may even share this material - so long as links to the original material and credit are given to this author, me, V. Andrew McMillan of SATAS Co. www.SATAS4.me
Lesson Plan
Topic/Title: SAFE One, Lesson Three/BUBBLE Mapping
Presenter/Instructor: V. Andrew McMillan
Lesson Length: 60 Minutes
Required Resources:
Supplies/Reference Materials - "On Sheep, Wolves & Sheep Dogs" by Lt Col (retired) David GROSSMAN
Demo Items
Handouts – Self-Evaluation Form & Skills Audit, BUBBLE Map
Projector/Blackboard/Whiteboard
Pens, Pencils & Stationery (PP&S)
Introduction:
Welcome back. I hope you have learned something about yourself since our last class. Any questions about your homework assignments?? The answers you generated are for you & understanding who you are, where you came from, where you want to go & what you need to achieve it. Disclosure of any of your answers is purely voluntary.
We will work towards our first objective, defining and understanding your BUBBLE. Once each of you have a clearer idea of the size of your BUBBLE the easier it will be to identify when something/someone has entered your space/BUBBLE.
Main Topic:
For those who are visual learners, this mapping process will appeal to your learning style. Everyone else, let's hope the combination of labeling the diagram/map and group discussion will secure your grasp and understanding of this concept/idea.
Using our diagram/map we will add our own labels to each ring surrounding you, the heart shape image in the centre of the map. Only use the labels that connect/apply to you. If you do not have a connection to a label do not use it. And if you find that a correct label is missing, please add them to your BUBBLE Map. As you are each unique individuals, I do not expect that two BUBBLE Maps will be exactly the same. However, I would not be surprised to have similarities between BUBBLE Maps when folks share a common belief system, ideology, culture or core value system. Thus, those who are from an Eastern value system may have different order to the rings/layers of their BUBBLE Map compared with those from Western cultures. Where we were raised and what we were raised to believe will influence/impact how we see the World. There is no right or wrong to this, it just is.
Once we have identified how we filter what we see in the World and how our interpretation of this information is perceived – whether threat or non-threat; will ultimately determine our range of response.
So, before I ask you to label your own personal BUBBLE Map, please know that only you can label your map correctly, because only you know which is the correct label for each layer/ring of your map. Finally, the there is no scale for these layers/rings.
Possible labels for each layer/ring:
Physical
Emotional
Spiritual
Intellectual
Meta-Physical
Psychological
Financial
Ego(tistical)
Pride(ful)
Stress(ful)
Other (student generated)
(Take a few minutes to have all students label their BUBBLE Map)
(Sample BUBBLE Map and BUBBLE Map Worksheet Included at the end of this post)
Now that we have completed our BUBBLE maps, you have a better idea of how you filter the information you receive from the World around you and what you value as important.
Further, these layers/rings will change dimensions as new information or experiences are learned or experienced by each person. Your BUBBLE is a growing part of you. Starve your BUBBLE and it will shrink. Feed your BUBBLE and it will grow. Being here, right now in this class is helping you to grow your BUBBLE. So, where does this take us. What's next??
Your homework hopefully helped with today's exercise of BUBBLE Mapping. The skills audit helps you identity what you have experienced thus far on your journey in this life and the self-evaluation should hopefully help you identify who you are and where you want to go. For us to progress into situational awareness, you need a baseline understanding of you. At this point I believe we have achieved this. Moving forward we will begin to identify challenges and threats to your progress towards your goals in life.
We have already defined situational awareness as:
"Situational Awareness – (1) The art of knowing what is happening around you, recognizing threats/hazards, contriving a response plan & then putting your plan into action to minimize risk to your personal survival. (2) Is the sphere around a person which the person is aware of in the physical, emotional, spiritual, intellectual, meta-physical and/or psychological planes of existence. This is the BUBBLE, more specifically, this is your BUBBLE. Tactical Assessment – Is the critical thinking process when something enters your BUBBLE. Is it a THREAT?? Do you NEED to deal with it?? What SKILLS do you need to deal with it?? Do you HAVE those skills?? Did you ACT/REACT in the situation?? What did you LEARN?? What will you do next time??"
Every minute, of everyday forces beyond our personal will are exerted on or against us. As we travel on the path of life, if we do not recognize these forces or identify these forces we will be pushed off our path onto a path we did not want. We cannot go through life with our eyes glued to our iPhones, uploading/downloading experiences from the interwebs and still be allowed the expectation that we will get to where we want, when we want. Not going to happen. First you may miss a stop walking signal at a crosswalk and step out and get hit by a bus. Game over. Or, while focused on updating your stats on FB, you do not perceive the tag team phone snatchers – who bump into you on one side, while the other snatches your phone at the same time. Because your were using your phone it is unlocked and in a few moments the snatch team will program their password/code into your phone. It happens faster than it took for your to hear/read this. (YouTube:
)
It is now time to introduce to you how those in the military pigeon hole the main players on our planet. In the paper On Sheep, Wolves and Sheep Dogs by Lt Col (ret'd) David GROSSMAN, we are introduced to the terms sheep(sheeple), wolves and the sheep dogs.
The wolves are any person or group of persons who have no qualms about using whatever means are necessary to get what they want, they do not care who is hurt or what is damaged. The wolves get what they want. Period.
The sheep are the average, everyday person who is just trying to live their life. Going to work or school, raising a family, taking a vacation once a year, paying taxes; in short enjoying life. The sheep do not like violence and avoid it. However, because the sheep will not use violence, they are easy prey for the wolves.
Now, we have the sheep dogs.....those in society who are willing to sacrifice their life and safety to preserve the life and safety of the sheep, from the wolves. Unlike the wolves, the sheep dogs would never harm the sheep, never. That is the rule. But, to the sheep the sheep dog looks like the wolves. It has fangs and uses violence, so the sheep dogs are scary, from the point of view of the sheep.
So, until the wolves come to town to slaughter the sheep, the sheep want the sheep dogs to stay out of sight. But, as soon as the wolves start attacking the sheep will be bleating for the sheep dog. I believe that is a quick version of the Colonel's paper. (On Sheep, Wolves & Sheep Dogs" - Link: https://www.killology.com/sheep-wolves-and-sheepdogs)
How do you reduce your risk of becoming the prey?? You have to see the wolves coming. To see the wolves, you have to increase your personal awareness of what is happening around you. You have to be able to identify who or what is threat. You have to analyze the magnitude of the threat. Then you have to develop a plan/counter-measure(s) to that threat and then you have action your plan. And, after everything is said and done, you have to reflect and review just what happened and determine what worked, what didn't and how to make your plan next time work better. We will cover all of this before we end today.
By this point your personal awareness is growing. We will take this one step at a time. (The following lessons will focus on plans and actions.) Being aware of what is around you, brings us back to your BUBBLE. Do you walk around with you head down focused on your iPhone or are you looking ahead and side-to-side?? When you enter a new building/office/theatre/arena do you take note of the fire escape routes?? the location of stairwells?? Elevators?? Parkades?? Payphones?? Or the security desk?? Most people do not. They do not look for help or self-rescue until they are in danger. Being aware means you are taking in information to help you now, as well as, information to help you just in case.
When walking down the street and you see a group of unknown persons hanging out at the end of an alleyway do continue walking towards them or do you cross to the other side of the street?? If at the mall, and some poor fellow falls down the escalator do you stand around and watch?? Or do you leave the area clear for the EMS crew?? When driving on multi-laned streets/roads to you stay to the lanes you are must comfortable in or do you travel in the left lane even when the traffic in this lane is exceeding the posted limit?? If you do not drive in excess of the speed limit I would suggest using the centre lane. With road rage on the increase these days, it would be ashame to be physically assaulted just because you are rightfully observing the speed limit in a space that other drivers habitually drive faster. Pick your battles, wisely.
Continuing with a driving example, if it is a blowing snowstorm and you are not a strong winter driver and you decide to go for a drive, please chose a route that will impact the least number of fellow drivers. Contrary to what the newsman may repeat over and over, just driving slowly does NOT make you a safer driver. If you lack the skills to drive in conditions you will be facing, be proactive and seek professional training from experts in that subject. You may find the answer to safer winter driving is a well maintained vehicle, with quality winter tires, properly operating brakes, driving with your lights on, leaving an increased safe following distance and knowing how to steer your vehicle out of slide or skid. On the other hand, if the condition exceed your skill level, stay home and wait out the storm.
Now that you have a better understanding of you and your BUBBLE, you are now ready to proceed to the next levels – threat assessment, planning and actioning your plan.
Questions From Class (QFC):
Review:
In this lesson we have mapped our BUBBLE. We know what our BUBBLE includes and how far our BUBBLE reaches. We recognize when someone or something has entered our BUBBLE and we are ready to learn how to deal with someone or something when they Bust Our BUBBLE!!
Questions To Class (QTC):
Has mapping your BUBBLE changed the way you see the World around you??
Did you learn anything about yourself, you are willing to share with the class, that you did not know before this exercise??
Summation:
You have been an excellent class. You have worked through the toughest module of this course. Self exploration can be very challenging, however, without it the rest of the material in this course will not receive the full potential by you the student.
I hope you continue on this path of expanding your personal awareness and knowledge quest. Situational awareness, when employed correctly and continuously, can keep you from getting into troubles you never want to experience. Or, at the very least, can get you out of troubles at the soonest opportunity – because you are looking for those exit strategies.
Thank you.
Your next lesson is with: ____________________________________________
Who will be discussing: ____________________________________________
At: ________ hrs, in the main lecture room. (or __________________________.)
![SAFE 1 Bubble Map 2018.png]
(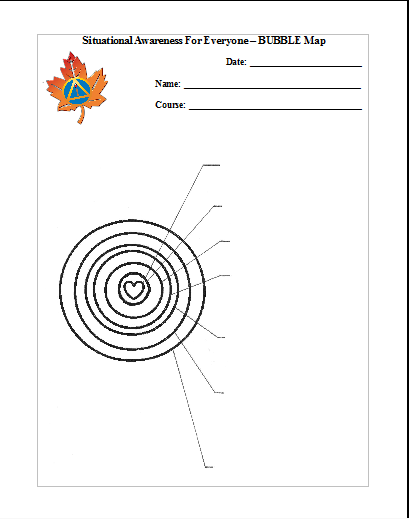 )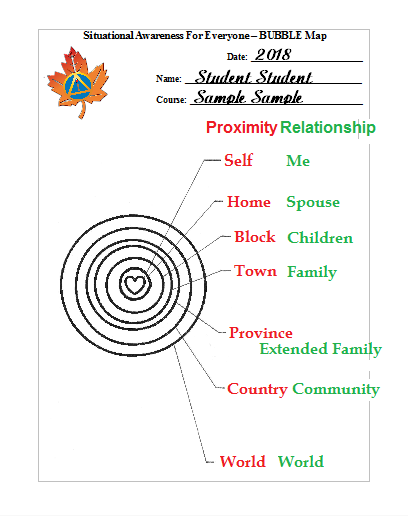 Part four will follow in the next day or two. Thank you for reading. V.A.M.
Links to Parts One & Two:
https://steemit.com/education/@satasco2017/situational-awareness-for-everyone-lesson-plan-safe-lvl-one-part-1-of-5
https://steemit.com/education/@satasco2017/situational-awareness-for-everyone-lesson-plan-safe-lvl-one-part-2-of-5