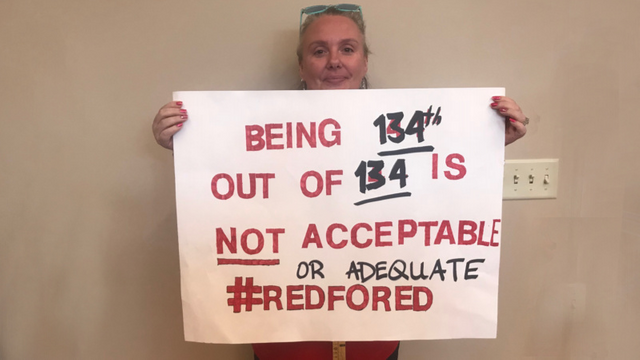 I'm the longest-serving board member of anybody up here, and I can tell you this is the hardest budget I've ever had to work with. – Mike Hymes, Tazewell County Board of Supervisors, 6/5/18
Amid a sea of red shirts, dissenting voices raised in protest of Tazewell County, Virginia, tax increases barely made a splash. "Do whatever it takes to save our education system," seemed to be the prevailing public sentiment last night at the Tazewell County Board of Supervisors budget hearing. More than thirty "# redfored" educators stepped to the microphone to express outrage, fear for the future of local children, and deep concern about the ways an underfunded school system will negatively impact the entire community.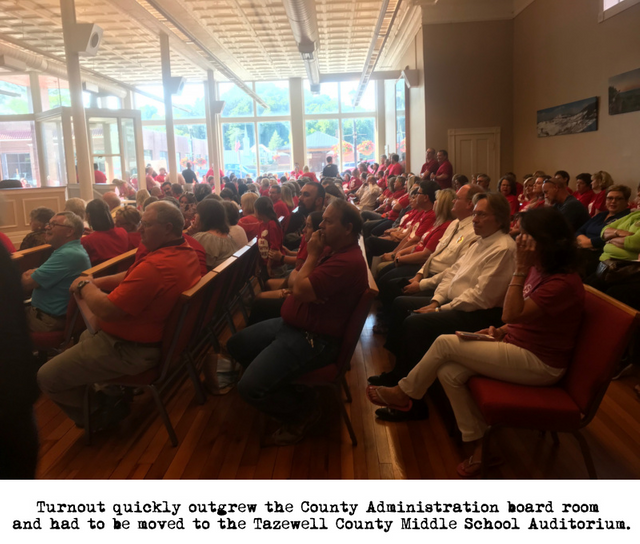 "Tazewell County Schools offer our best opportunity for economic revitalization," said Dr. Chris Stacy, Assistant Superintendent of the Tazewell County School System.
This statement, coming on the heels of a harrowing look at the county budget presented by Interim County Administrator Eric Young, seemed to toss down the gauntlet for board members and taxpayers alike. "The Tazewell County Public School System is our largest employer in the county," educator Mellet Smith said when she took the podium. Shortly afterward, Tazewell High School Principal James McGhee shared that he has recently received four resignations from "high-performing" teachers, all of whom cited fear of being laid off as the reason they had sought employment elsewhere.
In his presentation, Young pointed out that the County Board of Supervisors has worked to buffer residents from the impact of a national economic recession since 2009. "Now we've hit a wall," he said. "We started this year with a twenty-nine-million-dollar gap. There are no reserves left."
Included in the statistics he shared were details about the recent decline in county revenue. "We spent twenty-nine million more last year than we took in," he said. "Yet spending was down by one-point-five million." He attributes the negative trend in part to a marked decline in population – a five percent loss between the years of 2010 and 2016, from 45,000 taxpaying residents to 42,000. "People are moving, not buying cars, paying tax on older cars. There are currently more than a thousand homes for sale in Tazewell County due to reassessment."
He also pointed out that the decline in coal economy accelerated sharply from 2015-2016. This not only resulted in the loss of employment for workers, but the reduction in revenue from mineral rights and associated taxation. Additionally, median household income for Tazewell County is $38,000 per year, ranking it 11th from the bottom statewide. Median home value in Tazewell County is $94,000, while the average median home value across Virginia is $248,000. "They have two-point-five times the assets to tax," Young said.
Budget cuts will hit other county departments, as well. The Tazewell County Sheriff's Office is slated to lose $150,000 of their annual budget. Tazewell County Administration is set for a $740,000 cut. The library loses $94,000, and the IDA (Industrial Development Authority) is looking at a whopping 66% cut of their annual funding.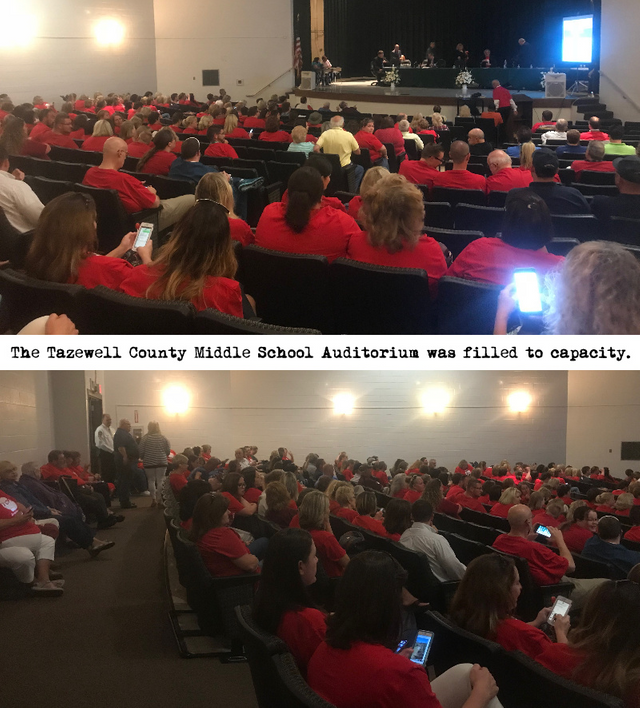 Young does offer some hope for a gradual turnaround in local economy. "Recreational tourism is increasing," he said. "And the Jonah Project is still on the hook." He disclosed that the fish farm (Jonah Project) is still under evaluation as a means of providing 100-150 jobs in the county within three years. He also discussed a potential 1.8 million dollars in revenue that could be generated by construction of a hydro-electric plant in the community.
During public comments, the Board heard from several residents who felt that property tax increases and the automobile licensing fee (decal) of $10.00 per year would create undue hardship for them. One homeowner stated that he'd seen an increase in property assessment of $33,000. Another homeowner said the appraisal value of his home had increased by approximately $24,000. The Bluestone Business and Technology center was deemed a "failure" and waste of money by Steve Davis, former school board member. He encouraged the county and its taxpaying residents to take a closer look at how the budget issues became so critical in the first place. Several people expressed concern about the empty building in Bluestone, but according to Young, that building was fully funded by VCEDA (Virginia Coalfield Economic Development) and had never been a taxpayer liability.
The Proposed Budget for Fiscal Year 2018/2019 can't be voted or approved until seven days after the hearing. Board Members speculated that such a vote likely wouldn't take place before June 20, 2018, and if passed, it would not be adopted until June 28, 2018.
Charles Stacy, Eastern District Supervisor, was clearly impressed by the # redfored turnout. He offered to personally pay for a chartered bus to take those educators to Richmond so they could make their voices heard at the state level. "We are insignificant in Richmond," he stated, pointing out that Southwest Virginia is underrepresented there among lawmakers. He stressed that state and federal funding could eliminate the crisis now and in the future for Tazewell County Public Schools. Otherwise, "we can size it down or tax it up," he said. "Those are our options."