UNIFINITY LASTING SOLUTION TO EDUCATION ON THE BLOCKCHAIN
INTRODUCTION.
Unifinity, an educational provider, has the world's first blockchain-driven software platform built on top of Ethereum's decentralized ledger technology to support academic and administrative process. it aims to make blended education more affordable, accessible, verifiable,transferable and affordable by leveraging blockchain technology and Ethereum's ERC-20.
unifinity creates a platform through an open source onchain Ethereum-based ERC20 utility token used to transact digital assets and sets of corresponding smart contracts to manage transactional data related to education programs and credentials. This along with an offchain proprietary cloud-based platform provides students, educators, employers, and other stakeholders' easy-to-use tools to participate in academic programs and receive blockchain-based educational certificates.
Unifinity Platform Use Cases Introduction.
The Unifinity platform will provide a blockchain platform for universities to create a portal for creating forms for application. Enrollment process for new students. Create and manage tests/exams. Generate reports for students and parents. This will reduce the aspect of money laundering. Parents can make direct payment to school without any third party and schools can confirm student fees and any educational related fees without stress.
Provides financial platforms for schools. A platforms to automate payroll schedule. To automate payment schedule for fees/employees payout. Provide access to blockchain and cloud solutions.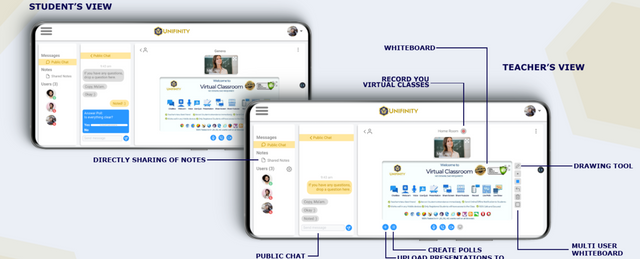 SOME FEATURES OF THE UNIFINITY PLATFORM
Accessibility Education Program for everyone. A student makes a commitment to enroll in a program offered in any school that uses the unifinity Platform. The student will typically make payments or deposit, about some certain percent of the full price of the program. The platform makes it easy for students to follow up with pending fees and also provide any pending payments, outstanding fees if available.

Verifiability and Transferability : Since educational diplomas and credentials are still managed almost entirely by centralized learning institutions, verification of one's education for the purpose of either employment or continued education is completely dependent on the physical institutions' centralized authority. unifinity leverages the trustless nature of blockchain technology to move the authority of education verification onto the blockchain. Once mass adoption occurs, it allows other decentralized educational providers to offer programs and be recognized as legitimately credentialing bodies. This will create opportunities for new and nontraditional education models to be recognized and legitimized in the search for gainful employment and better transferability for relocation and future education. Also unifinity platform will leverage the process of speeding administration process for new students to avoid time wasting.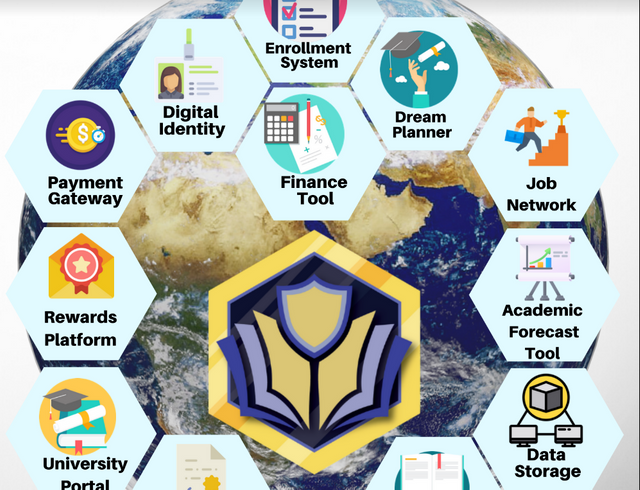 SOLUTIONS OFFERED BY UNIFINITY.
UNIVERSITY FRAMEWORK. An online platform that aims to support the academic and administrative process to make it easier to sort data by using smart contracts.
MOBILE APP: this is a unique feature because over half of the world population uses mobile phones. Every students owns a mobile phone and it can help to provide ease of access. Students and teachers can conduct online class, set up class lessons and do home lessons using the mobile app offered by unifinity.
The Financial empowerment tools.
Do you know that the unifinity app can help you manage your fund? This is a supportive way to curb extravagant spending. It is a viable means by which you can account for your spending. It is a great feature that gives the opportunity to plan how to spend, what to spend and when to spend money.
CONCLUSION:
The Unifinity project provides us a unique features and innovation that has been lacking in educational sectors. If this is well utilized will help to reduce missing funds, boost the educational systems in the Asian regions and always provide parents with a satisfying reports on how the spend for their kids on education.
In other ways, the project is focused in the certain region of the world which I think is limited and not a global project. If the unifinity project will come up with plans to make this project a global one where everyone from different part of the world can utilized it, the issues we encounter in our educational systems globally can reduced.
For more information about this project.visit
: https://unifinity.io/
https://drive.google.com/file/d/1-5tQwYOP6JQQIgZfZ5Ez6bMfz4qJ4OTM/view?usp=drivesdk
https://medium.com/@unifinityph
https://t.me/unifinity
MY BTT: https://bitcointalk.org/index.php?action=profile;u=2283358
.