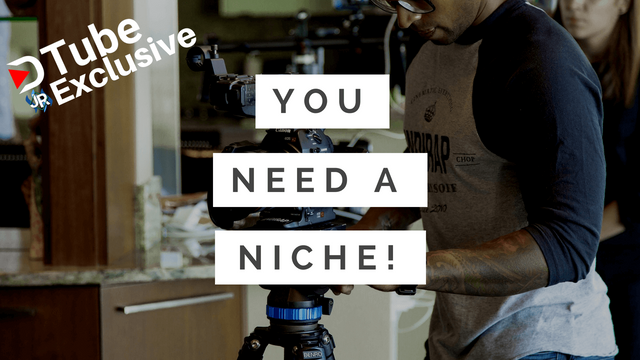 ---
You can not grow a following on any platform without a niche. Over the last 15 years of blogging, I made this mistake and especially in the beginning. Writing about whatever came to mind is not a valid approach. One day its technology, the next its politics, and the next it is cooking.
There is nothing wrong with branching out, but we still need consistency. When someone follows you, that person does so based on what they read. Getting support is not solely about the quality of your writing but the consistency at which you write. After reading a post, the person may head over to your profile page to see what other content you created.
This becomes a big discouragement to follow when no theme is present. I have not followed people all across the internet because the creator did not narrow in on a niche or even a few themes. When someone likes your cooking content, there is always the chance they couldn't care less about your fashion posts. They may not follow if the cooking content is rare and sporadic.
Your niche is the ethereal spirit of your blog, and while there may be tangents, the theme still holds true. This theme does not keep your blog alive but gives it meaning and purpose. Everything done on your blog must filter through this spirit. If the niche changes with each post it will seem like a young teen trying to find their voice. It will show inconsistency and will not look professional.
How Many Niches?
If I only posted the technology content, it would be much easier to grow. The reason I dabble in three different niches started when I saw the need for someone with over a decade of blogging experience to share what they learned. We all want Steem to be the best platform for content creation, and this is how I can give back.
I still do the technology content since that is my passion. It is the real niche of my blog and will always be at the forefront. Poetry is something I have been in love with since I was a young lad, maybe fourteen years old. The original idea was to drop it from Steem when I began to take the platform seriously. Then I met the good people of "The Writer's Block" and that changed. Now poetry is a sometimes thing but still on my schedule of content.
So I don't have a niche or do I? We see three niches and some people will follow for the technology, some of this content, and others for the poetry. It is best to find one niche and stick to it. You will grow much faster as stated above that if you don't. However, there is nothing wrong with having more than one niche as long as you pick and stick to a schedule.
---
▶️ DTube
▶️ IPFS
Thanks For Reading & Watching!
If you have any topics that you would like me to cover please feel free to comment them below and I'll add them all to my list!
All images came from royalty and attribution free sources unless specified.
---
Looking to take your Steem based creations to the next level?
Join us over at the Creators' Guild Discord group! We are here to encourage, support and increase the creation of quality content.
---
If you have any questions about the future of Steem
or my witness please feel free to message jrswab#3134 on Discord.

Click here to vote with SteemConnect!
Or go to https://steemit.com/~witnesses
You can see all active witnesses on @drakos' steemian.info
---
Click here to join the mailing list and get exclusive SDB/STEEM giveaways!
Looking to support my content creation efforts outside of the Steem Blockchain?
Check out jrswab.com/support
---
Keybase | Twitter | Twitch | Instagram | Gab | Minds | Anchor