How I earn more as a mentor in udacity than I was earning before as freelance Software Engineer?
I was working as freelance software developer for almost two years. Life was nice! I was able to earn around $5000 per month with almost $15-$20 per hour. But before two months I came to know about Udacity mentorship program. I explored it and found its a very profitable profession for an experienced programmer.
Udacity has 5 types of mentorship opportunities
Classroom-mentorship
Live Help mentorship
Forum mentorship
1:1 Mentorship
Project Reviewer
I work as classroom mentor and Live help mentor and irregylar Forum mentor.

The payment structure of classroom mentorship is shown in the above image.
And the payment structure of Live Help mentoring is given below: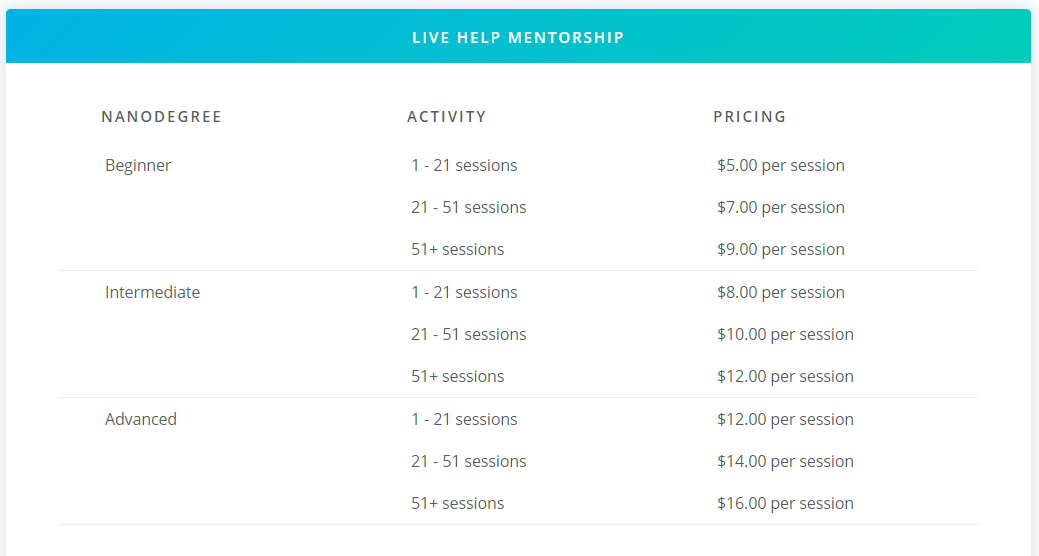 Udacity has a bunch of nanodegree programs (https://www.udacity.com/nanodegree
) where they need a lot of mentors as they have a lot of students in each nanodegree program.
I am currently doing mentorship in two nano degree programs. And they payment per month reaches near about $10,000 per month. I am a beginner mentor so they assigned less number of students to me. But I will be mentoring for more nanodegree programs very soon and will also get a lot more students. The students have a lot of questions and for each message from a student Udacity pays around $10.
And to resolve a problem of a student it takes maximum 10-15 minutes for an experienced programmer. And the student makes in average 8-10 messages within those 15 minutes. So now I can earn $80 within 10-15 minutes.
In Live help mentoring Udacity pays per session. And I need maximum 2-5 minute to solve the problem of the student. At the end of the month I got almost $10,000 from udacity and I was amazed. And frankly speaking, I spent in average less than 25Hr per week. Thats also a great advantage for me. I had a lot of time to make tours, enjoy hiking, playing!!
I hope soon I'll be also added as project reviewer, regular forum mentor and 1:1 mentor along with having a lot more students in class room mentorship.