The Language eBooks By Jasmine Lipska
How To Learn Any Language
By Jasmine Lipska
---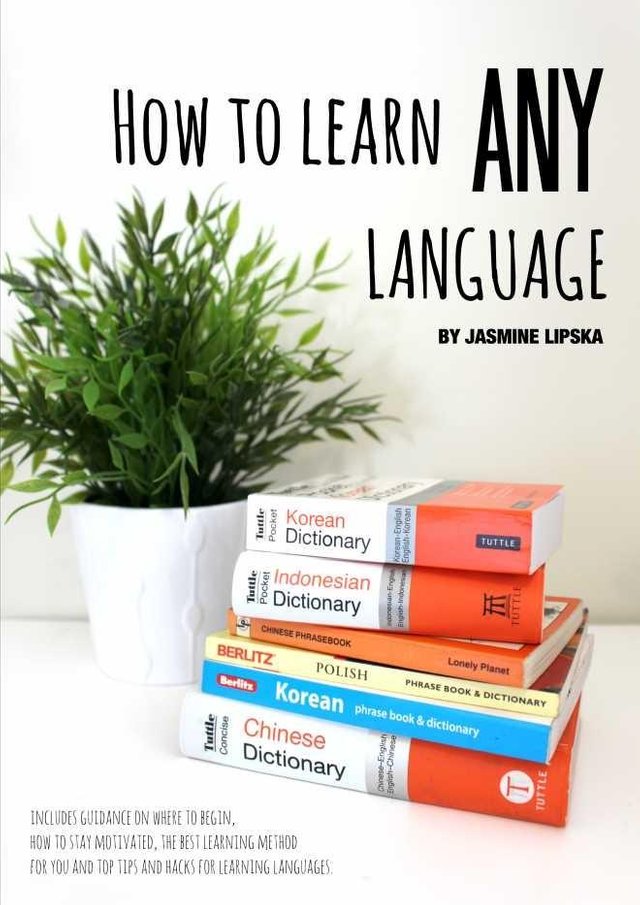 ---
Review :
'How to Learn Any Language' is a comprehensive eBook guide useful for anyone who is interested in language learning. Whether you are a beginner, intermediate learner, or simply desiring to learn a language, this eBook will help you regardless of what stage in your journey you are at. From the basics to the best tips and tricks, all you need to know about language learning starts right here.
Through my whole life of language learning experiences, and having learned seven languages and counting in my lifetime so far, I have written this eBook with all my heart, passion and knowledge to help you through your language learning journey. Not only do I have the confidence to guide you successfully, I also truly hope that I can motivate and inspire you to continue learning languages.
What's In The Book?
All about my experiences learning languages

How to get started to learn a language

What to prepare when starting out

Guidance on note taking and organisation

How to stay motivated

How to find out what type of learner you are

The most efficient learning methods for you

My best tips, tricks and hacks for language learning

My favourite general resources

My favourite Korean resources

Deep answers to the most frequently asked questions

A comprehensive guide to motivate and inspire you

Mobile and Tablet accessible

Clean and neat layout
For any inquires or questions, please contact me:
[email protected]
NOTE:
Please download the PDF to your laptop or computer first, then transfer it to your other tablets such as smart phones, kindles, ipads, etc. if you wish to do so.
Other devices may need iBooks or Adobe Reader to open the PDF.
If you have lost your copy, please refer back to the email you received when you purchased the ebook as it will have a download button.
If you no longer have this email, email me with the date of purchase and your paypal receipt as proof.
If the download fails, please ensure you have an internet connection and sufficient storage space on your device for the file, then restart your computer or laptop and try to download it again.
This ebook layout has been designed to print.
This is a digital copy only.
You will get a PDF (17MB) file.
•••
---